justinkendra - Fotolia
News
Stay informed about the latest enterprise technology news and product updates.
Lack of employee training equals lack of UC success
Employees aren't using UC tools because they're not trained on them or don't know about them, which limits UC success, according to a new report.
Enterprises are struggling with unified communications (UC) success because employees are not adequately trained on the applications or they simply don't know their company has the tools, according to a recent report from Nemertes Research.
Companies generally rate their UC success via metrics like employee usage, user feedback and business impact. Evidently, employees are simply not using UC tools.
In its 2015-16 benchmark on UC and collaboration, Nemertes asked IT executives to rate how they define UC success on a scale of one to 10. In most cases, the measure of success was employee usage of UC tools, said Irwin Lazar, vice president and service director at Nemertes.
"We're seeing people rating their success lower over the last couple years," he said. "People are saying, 'We're putting tools out there, and we don't know if people are using them or even if they know they're out there.'"
For its report, Nemertes interviewed 50 senior-level IT leaders representing 45 companies, mostly with 2,500 employees or more. Last year, about 61% of benchmark respondents rated their UC efforts as successful or very successful. This year, that number is down to roughly 43%.
Lack of use was the biggest reason for the drop-off, Lazar said. Other factors hindering UC success were tight budgets, lack of business case and interoperability concerns.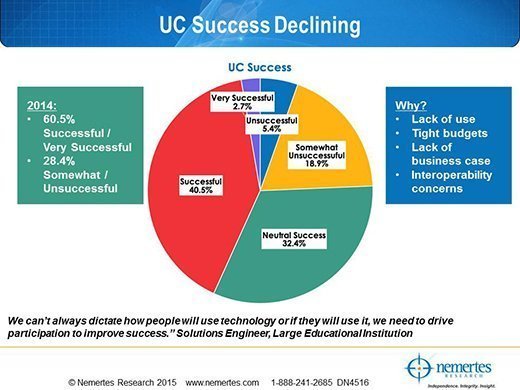 IT needs to drive employee usage
While employee usage and feedback are the primary measures for UC success, return on investment is still an important factor when justifying a UC investment, the report found. In other words, when persuading an organization's decision makers to invest in a new UC tool, the IT department often touts costs savings and return on investment. But after the rollout, IT primarily measures UC success via employee usage, not cost savings.
Lazar said some IT departments are frustrated they can't get employees to use new UC tools, which can include telephony, video capabilities, cloud, conferencing and collaboration apps. One respondent said that although IT can't dictate how people will use technology -- or even if they will use it -- IT needs to drive participation to improve success.
The lack-of-use problem is attributed to inadequate employee training, Lazar said, but many employees are just not aware of their companies' UC apps.
"IT does a pretty awful job training, marketing and trying to push the use of collaboration applications," he said. "That's the crux of it from the IT perspective -- there's not a push within IT to get people trained and up to speed on applications."
Often IT rolls out a new UC product and makes sure it works properly, yet no one is there to train employees on the cool new tool. A clear disconnect exists between the IT rollout and the employee uptake. And notifying employees about the new service may simply hinge on a quick, ineffective email.
Other key findings from the Nemertes Research 2015-16 Unified Communications and Collaboration Benchmark
Microsoft gaining ground in the UC space.
Limited WebRTC uptake by enterprises.
UC decision-making becoming more decentralized as fewer companies have a UC planning group, reflecting growing availability of UC apps via cloud and apps stores.
UC cloud adoption continuing to grow, especially around video, email and calendar.
Video adoption growing, but largely around room systems versus the desktop and mobile.
Tepid interest in mobile-centric enterprise social software like team chat apps with hooks into conferencing and collaboration.
SIP trunking going mainstream -- more than 75% of respondents now using or planning for SIP trunking as cost savings is the primary driver; nearly half of respondents have converted more than 50% of their trunks to SIP.
Programs, training enhance UC success
When correlating training with UC success, the report found virtual, Web-based or scheduled in-person classes have slightly higher success rates than no training at all. Train-the-trainer methods, where IT identifies someone in each business group to train their colleagues, had the worst correlation of success.
Most benchmark respondents, 57%, have a formal program in place where an employee serves as a liaison to the company's different business units, regularly evaluating the groups' needs and how they're using the UC tools. About 36% of respondents have an ad hoc program where they check in with their company's business units only occasionally to assess UC needs. Whether it's formal or ad hoc, these programs tend to correlate more strongly with success.
Lazar said some of the UC tools employees have available to them but don't know about include collaboration apps, Web conferencing, instant messaging, file sharing and desktop video services. Social capabilities, too, are particularly underused. Lazar has found many companies have spent a lot of money rolling out social platforms like Jive and Yammer, yet employee usage is only about 10%.
Nemertes' recent report echoes what the company hears in its consulting work, Lazar said. "Almost invariably, we find that three-quarters of what users are asking for, they already have. They just don't know about it."
Next Steps
Adaptability and agility are keys to UC success.
Keep your UC deployment from failing.
Build the right organization and solution -- and gain buy-in.