freshidea - Fotolia
News
Stay informed about the latest enterprise technology news and product updates.
Vidyo launches drone-based video conferencing service
Despite strict federal aviation rules, Vidyo and Stampede tout the benefits of the video conferencing service, including governmental and industrial uses.
Picture this: A train derailment just outside a major U.S. city is a chaotic scene. A drone hovers overhead, capturing video of the aftermath. Key transportation and emergency response experts scattered around the country jump on a video conference call. On their laptops or mobile devices, the officials watch the drone's live video feed in real time and discuss an action plan.
This scenario is one possible use case for a new drone-based video conferencing service launched by Vidyo, a video conferencing provider, and Stampede, an audio and video equipment distributor. The two companies envision industrial and governmental uses of the drone service, including emergency response and infrastructure inspection on things like bridges, dams and oil pipelines.
But strict federal aviation guidelines could bring this lofty idea back down to earth.
Video conferencing service targets new market
For Vidyo, the application is an example of some creative thinking geared toward market expansion, according to Andrew W. Davis, senior analyst and partner at Wainhouse Research.
"It's an interesting story from the point of market expansion and thinking outside the box," he said. "This is not going to win a Nobel Prize for physics. I think it's a very useful service. The application is unusual. The technology involved is pretty ordinary."
The drone application is an example of the extensibility of the VidyoWorks platform and shows how the company can video-enable different services. "We're not betting the company on drones," said Vidyo Vice President of Marketing Joan Vandermate.
The drone's camera, capable of high-definition video, uses an analog signal to stream video to the conference participants, Stampede President and Chief Operating Officer Kevin Kelly said.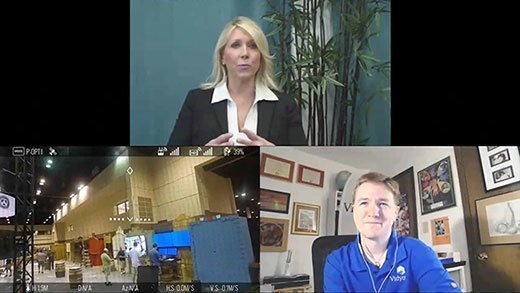 In the multi-party setup, there's no limit to the number of people who can join the video conference, Vandermate added.
Although there's no audio from the drone feed, conference participants can discuss the drone video feed in real time. The technology works off the VidyoWorks platform. Users can operate the video client running on their desktop or mobile device, or they could join the conference via a browser.
As part of the Vidyo-Stampede partnership, Kelly said, end users select a drone, select a camera and determine if they want video software with a live screen and multipoint video calling. The camera and drone are not preloaded with the video software.
Drones face strict federal regulations
The technology, however, is ahead of its time, as drones, or unmanned aircraft systems (UAS), currently face tight restrictions from the Federal Aviation Administration (FAA). Both governmental and commercial drones require FAA waivers, which can take months to process and approve.
For businesses, the FAA authorizes use of UAS on a case-by-case basis in tightly controlled, low-risk situations, according to the FAA website. Some restrictions include flying UAS at limited altitudes, keeping the aircraft within sight and only flying during daylight hours.
The FAA recently implemented an interim policy aimed at streamlining airspace authorizations for certain commercial UAS operators who obtain certain exemptions. Stampede offers services to help end users navigate the federal aviation paperwork process, Kelly said.
Vidyo finds success in the verticals
According to Davis, Vidyo's technology performs well amid network flaws, which is probably important in a drone situation. Earlier this year, Davis co-authored a vendor profile on Vidyo and wrote that the company, since early last year, has shifted to focus on video as an added function embedded in vertical applications rather than video as a stand-alone conference room technology.
"I think they will not be a mainstream player in the video conferencing market," Davis said. "I do think they will have some advantages in the vertical applications where you have a software application and want to enhance that application with video."
The drone-based video conferencing service is available in North America. Pricing depends on the configuration of the drone, camera and software.
Dig Deeper on Business Video Conferencing and Telepresence Technology