Gajus - Fotolia
News
Stay informed about the latest enterprise technology news and product updates.
Microsoft Surface Hub looks to revamp conferencing systems
Combining hardware and software, the Microsoft Surface Hub looks to replace aging conference room equipment.
Microsoft's new Surface Hub, a large screen collaboration device, will be available for businesses to order in 24 markets worldwide beginning in July, but the company may need to educate potential users about the system's purpose.
The immersive conference room device, originally announced in January, is designed to replace older video conferencing equipment, features a digital whiteboard, video conferencing and projection-like capabilities. The device works with Windows 10, Skype for Business, Office, OneNote and universal Windows apps.
The Surface Hub screens incorporate ink and touch technology, capitalizing on Microsoft's acquisition three years ago of Perceptive Pixel Inc., a startup focused on multi-touch and big screen technology. Microsoft then scaled projected capacitive (pro-cap), the same touch technology found on many smartphones, to the Surface Hub's large-screen format. The Microsoft Surface Hub feels similar to using a giant iPhone.
With Surface Hub, Microsoft is looking to replace companies' aging conference room equipment, like projection devices, analog whiteboards and old video teleconferencing, according to Hayete Gallot, senior director of product marketing. Microsoft has integrated and revamped these three features to create something valuable for enterprise groups, she said.
Analysts like Surface Hub capabilities, suggest more collaboration
Analysts seem generally positive about the product, particularly the Surface Hub's price point and capabilities, although some caution users may not understand the Hub's purpose unless Microsoft takes on an educational effort.
"The availability of fully integrated A/V solutions is rather scant," IDC analyst Ramon Llamas said. "What I like about the Hub is it's everything together under one roof and that by itself is very powerful."
But considering all the Surface Hub's capabilities, Llamas said "I think this is where Microsoft has to do some education as to what the heck this thing is."
To understand the Microsoft Surface Hub, users need to consider the amount of equipment it replaces in a typical conference room, Alan Lepofsky, vice president and principal analyst at Constellation Research, wrote in an email. "When compared to the cost of a high-end projector, screen, camera, speakers, digital whiteboard plus computers for running apps, Surface seems quite reasonable," he said.
"The initial version is not as collaborative as it could be," Lepofsky added. "I would like to see remote participants be able to draw on the whiteboard via Skype for Business, as opposed to just watch."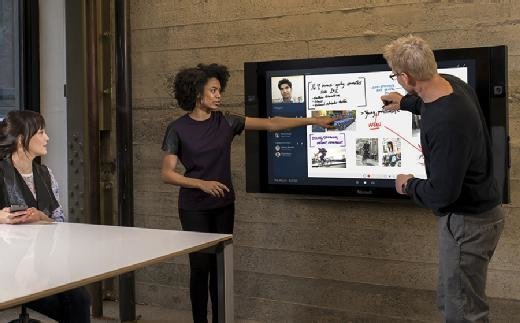 Lepofsky would also like to see more Yammer integration, such as attaching comment streams to all meetings. "Microsoft needs to create more project management features focus on the pre, during and post meeting experience; for example, drag and dropping tasks and follow-ups onto participants' avatars."
Surface Hub features and capabilities
The Microsoft Surface Hub is available in two configurations: an 84-inch screen priced at $19,999 and a 55-inch screen for $6,999, and will begin shipping in September.
The Surface Hub's digital whiteboard has an infinite canvas, unlike a traditional whiteboard. Users can draw on the screen with the Surface Hub pen and enlarge or shrink images with their fingertips like on a smartphone.
In the Surface Hub, meeting information can be saved, summarized and sent to coworkers. Remote inking, where remote users mark up an image in a meeting, is expected to be implemented at a later date. The Surface Hub can be wall or floor mounted or put on a rolling stand. Dual 1080p video cameras on the front of the device can show two camera angles for remote users -- one close-up of the presenter and the other camera can show the rest of the conference room.
A built-in, four microphone array detects and follows voice to limit background noise during video conferencing. Surface Hub also features built-in Wi-Fi, Bluetooth 4.0, Near Field Communication (NFC) and different ports for wired and wireless connectivity options, allowing any device to share content to the screen. The Surface Hub also has sensors that automatically wake it up from sleep mode when a user approaches.
Dig Deeper on Business Video Conferencing and Telepresence Technology