News
Stay informed about the latest enterprise technology news and product updates.
Jive Chime adds to business collaboration app market
Jive Software's new, real-time messaging app focuses on simplicity, mobility and consumer-grade ease of use in the highly competitive collaboration app industry.
The collaboration app space just got a little more crowded.
Jive Software Inc., a collaboration services provider, recently launched Jive Chime, a mobile-first real-time messaging app that aims to enhance team communications. The app helps coworkers communicate with each other similar to texting or instant messaging.
Available on iOS and Android devices and Windows and Mac desktops, Jive says the app delivers a consistent and secure consumer-like experience where employees can have one-on-one or group conversations with coworkers, whether at their desks or on the go.
Jive product strategists tout the collaboration app as simple, secure, mobile-centric and consumer-grade. It's like texting -- for work. Users are authenticated by their company email domain.
The app joins several other collaboration tools rolled out by other companies that aim to bridge the gap between the ease of the social consumer electronics experience and unified business communications. The different collaboration apps have varied features, some more advanced than others, like voice and video capabilities and image sharing.
"It's good to see Jive expanding their portfolio in ways that could attract new customers looking for light-weight communication tools," Alan Lepofsky, vice president and principal analyst at Constellation Research, wrote in an email. "As a longtime innovator in collaboration, the Jive name could attract customers to give them a try over other lesser known brands.
"However, it's a competitive market with products like Slack, HipChat, Glip, FlowDock, Convo and many others already established," Lepofsky added. "To win customers, they should focus on specific business use cases and product integrations to try and differentiate from general purpose solutions. They will also need to provide a roadmap for integration with their core Jive platform, so that customers using both do not struggle with silos of information."
Jive Software, an enterprise social networking software vendor, has different apps that complement each other, said Clara Liang, chief product officer at Jive.
Jive-n is social collaboration software for employee communities. Jive-x is for customer communities. Jive-w, or the company's "work style apps," features Jive Daily, a company news app; Jive Chime as the second app in the Jive-w portfolio; and Jive People, a corporate directory offering that's expected to launch later.
"Today there's not out-of-the-box integration because they're separate experiences," Liang said of Jive's different apps. But as customers use the apps, Jive could consider ways to connect them.
Jive Chime is "everything you expect from your consumer life -- how you quickly find someone, send a message and get a response in real time -- but for work," Liang said.
The three main components to Jive Chime include a desktop app, mobile app and an administrative console. The desktop and phone apps are free. The administrative feature, which adds a layer of security via user management and is typically used by someone in IT, is offered for $2 per user per month.
Highlighting the simplicity factor, a product demo of Jive Chime takes a brisk five minutes. The app has presence capabilities to let you know if people are available for a conversation. A message, or chime, appears on the desktop interface and a mobile device simultaneously.
Inside vs. outside collaboration, ease of use and security issues
Currently, Jive Chime is limited to the employee network, Liang said, but she added that Jive realizes the workday is not limited to just internal employees.
"Most of the persistent chat tools support both internal and external participants," Lepofsky said. "The challenge is to make these tools as simple as possible while at the same time ensuring security is in place."
Jive Chime's security features include the paid administrative capabilities where IT can add and delete users, who are authenticated with a company email domain.
Similar to bring your own device (BYOD), Liang said many companies are now seeing BYOA, bring your own app. Coworkers are using services like iMessage or other consumer apps to collaborate in and out of the workplace. But traditional instant messaging can lack some basic tools. While more progressive coworkers simply may text each other, that communication requires having someone's phone number. Liang said Jive Chime aims to fill these gaps in service.
Many of the new collaboration apps tout ease of use, as consumerization has certainly influenced their development. But is this drive toward ease of use overblown?
"I would not call it overblown, as people certainly want ease of use," Lepofsky said, "but to stereotype enterprise applications as not being capable of similar experiences is no longer accurate. Consumer applications, both Web and mobile, have certainly increased the focus on design."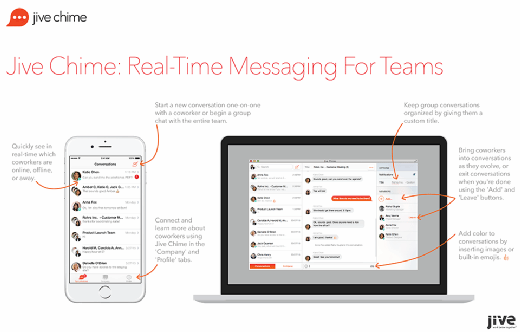 Next Steps
Enterprise messaging: Can Jive Chime rise to the challenge?
One-size collaboration deployments may not fit all departments.
Collaboration app vendors need to improve functionality and unification.
Enterprise collaboration tools hindering collaboration?