Shopping for a UC cloud services provider
Cloud UC buyers have many services and providers to consider. But a cloud services provider is also seeking the appropriate potential customers.
Selecting a cloud services provider is a delicate dance. As a UC buyer, you need to lead, but you also need to find a compatible partner, or in this case, a provider. But the good news is it's a buyer's market, and the dance floor is wide open.
Cloud services are not for everyone. But when businesses consider moving some operations to the cloud, they first need to assess their specific needs in relation to their existing capabilities, said Elka Popova, a unified communications analyst at Frost & Sullivan. After that first comprehensive step is taken, according to Popova, businesses can then start shopping for a cloud services provider.
The cloud provider market is highly fragmented with more than 100 providers delivering hosted communication services in North America, according to a recent Frost & Sullivan report, "2015 Hosted Unified Communications Buyers' Guide." Market share among cloud providers is spread thin with no clear frontrunner, the report found. And buyers have several cloud features to consider.
"In a fragmented market," Popova said, "businesses need to do a lot of research and due diligence and map all their findings to their specific needs." And interestingly, as buyers are evaluating providers, the providers are not necessarily trying to be everything to everyone.
"The most successful providers have matched their capabilities to their target audience," said Popova.
For example, she cited Vonage Business Solutions as having a simple, affordable offering that's well-designed for its target audience of small businesses with fewer than 10 users.
Other providers, like Thinking Phones, have comprehensive features including advanced analytics and video and a highly consultative sales approach. Thinking Phones has been successful among large businesses that have more than 100 users, Popova said.
Meanwhile, RingCentral has been successful with its mobility feature and appeals to prosumers and very small businesses. And now, RingCentral has added a video contact center service as the vendor looks to expand its reach among larger organizations, she said.
"In terms of features and capabilities, the providers are catching up with each other, leap frogging each other, and some have found niches where they don't need advanced features."
Digging deeper, doing research on cloud UC services
Buyers need to consider several factors when evaluating a cloud services provider, including cost, security, scalability and reliability. Popova said many vendors are actually comparable in core pricing and feature sets, but more advanced capabilities can drive up costs and differentiate vendors.
Service reliability in particular is a key factor that may go overlooked by both buyer and provider. Some providers, even top providers, don't have geo-redundancy in their data center, Popova said. A provider may house infrastructure redundancies in the same data center in the same city. But if a hurricane hit that city, customers might experience downtime. And yet other providers have invested in two or three data centers scattered around the country, giving them greater service reliability.
Marc Lindsey, a partner at technology law firm Levine, Blaszak, Block & Boothby, echoed the reliability sentiment. Lindsey, who negotiates cloud computing agreements between users and providers, said buyers need to dig deeper than service-level agreements and uncover actual provider performance data.
"What you can do is be well-informed as a buyer to know what really is the performance of the service and what really is a provider committing to," Lindsey said.
He added that buyers also need to vet third-party security management of their data. Frequently, cloud-based providers have multiple tiers of service suppliers in their portfolio. As a buyer, be sure all the requirements you impose on your primary provider also flow down to any suppliers or subcontractors that may have access to your data, Lindsey said.
Lindsey, who represents enterprise buyers of cloud services, said cloud providers need more transparency.
"Until there's more transparency and better reporting from cloud providers," he said, "I think we'll continue to see the limited perceptivity of some of the largest corporations to embrace pure cloud for critical enterprise communication services."
Still, buyers are in charge, Popova said, but there are many cloud services and providers to consider.
"This is a buyer's market," she said. "Buyers have a lot of options -- whether they always make educated choices -- that's a different question."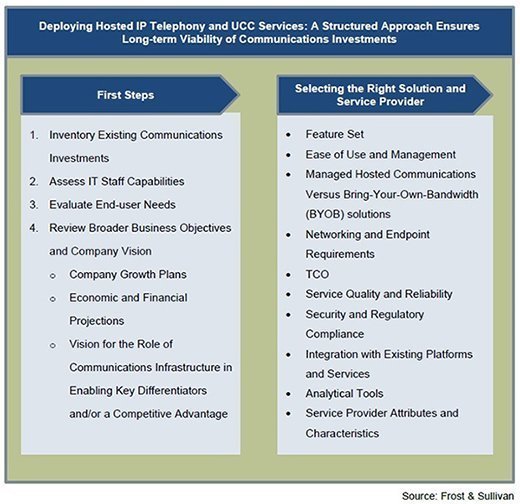 Dig Deeper on Communication Integration with Enterprise Applications