News
Stay informed about the latest enterprise technology news and product updates.
An iOS user's review of the Android-based GV3275 Grandstream phone
The latest Android-based GXV3275 Grandstream phone is impressive, but iPhone users will discover some buggy integration when syncing.
Working from home can be a challenge when you don't have the right tools to get your job done. It's undeniable: sometimes a home office needs a deskphone. There is something about picking up that receiver that still beats hitting the speaker button on your smartphone.
I recently tested Grandstream's 7-inch touchscreen GXV3275 IP video deskphone in my home office. The new Grandstream phone boasts a larger video/touchscreen interface than its counterpart in the video phone series -- the 4.3-inch GXV3240 video phone -- and it's a good fit for the home office, as well small businesses or branch offices.
The Grandstream GXV3275 gives users the all-important mobile UC experience syncing to their personal devices -- both Android and iOS -- so that users can share content and move calls between mobile and deskphones. As a loyal iPhone user with an iPhone 5 however, I discovered several bugs when trying to sync my iPhone with Grandstream's Android-based functionality.
The GXV3275 Grandstream phone: The details
The GXV3275 Grandstream phone is built on Android's 4.2 operating system and supports up to six SIP lines for voice and high-definition video conferencing. The deskphone can connect with both Android and iOS-based mobile devices, as well as Plantronics wireless headsets via BlueTooth. If a user is on an Android-based mobile device, they can access their Google Play apps right from the Grandstream phone, and also auto-populate contacts from their mobile phones onto the deskphone. Most deskphone manufacturers use Bluetooth solely to connect a wireless headset to the phone, but Grandstream has taken the technology a step further by using it for data exchanges and voice call transfers.
At a list price of just over $200, the Grandstream phone makes video conferencing affordable for many businesses, since expensive video equipment isn't necessary. The phone supports three-way video calls using any SIP-based video conferencing platform, including Microsoft Lync, GoToMeeting, Google Hangouts, Skype and ooVoo. The GXV3275 also can be plugged into any Power over Ethernet (PoE) port, and has integrated, backward-compatible 802.11n Wi-Fi and a built-in Web browser.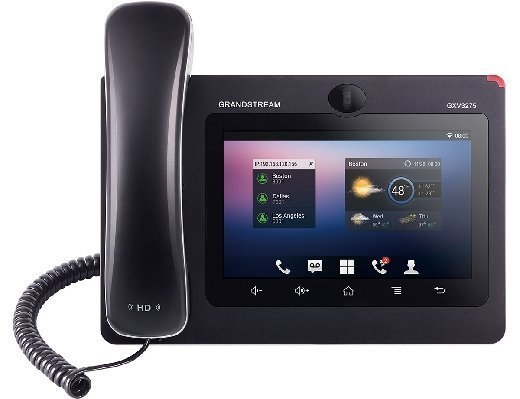 The deskphone's sleek, thin interface is the size of a small tablet, only with an attached handset. It doesn't take up any more room on a desk than a conventional deskphone. Unlike the older GXV3240, the GV3275 has no number pad. Instead, users can access a virtual number pad on the touchscreen by tapping the phone icon.
Unless a screen saver is selected, the touchscreen remains dark and blank when not in use. My review model's screen saver had a slideshow of stock landscape photos by default -- however, I did see an option for users to select photos from their phones to be used as a screensaver. This is where the integration challenges came in. I suspect Android users are able to populate the Grandstream phone with their mobile phone's camera roll, but I was not able to do the same using my iPhone.
iOS challenges on an Android phone
After plugging in my Grandstream phone, I attempted to connect my iPhone via Bluetooth. I ran into trouble from the outset, receiving out-of-range error messages coming from the deskphone. I was able to sync the Grandstream device with an Android-based smartphone, so I was sure I was dealing with an iOS compatibility problem. I worked with Grandstream's support team and eventually got my iPhone to sync, but only after several more unsuccessful connection attempts and one software upgrade.
Once the sync was established, I was able to toggle audio calls back and forth between my iPhone and the Grandstream phone easily. If I was sitting at my desk with both phones, any dialing I did on my iPhone would automatically send the call to the deskphone. But, if I walked away with my iPhone, the Bluetooth connection would drop and not reestablish when I walked back into range of the deskphone. Instead, I had to go into the settings window on the Grandstream phone and reconnect the two phones manually each time.
When I interview people for a news story, I use my phone's speaker function for a hands-free experience, which allows me to type and take notes without trying to balance a phone on my shoulder. Using speaker function on the Grandstream phone proved a little difficult at times. While I could hear the people I talked to just fine, those on the other end of the line told me they heard a distracting amount of feedback when they talked. When I put myself on mute the feedback disappeared, but the process was a little clunky for back and forth conversation. Using the handset made for a good quality audio call every time, however.
Grandstream's ability to transfer voice calls between a mobile devices and the deskphone via Bluetooh does not extend to video calls, however, so I was unable to take advantage of the video calling feature by just using the deskphone as a thin client. Grandstream says this is because Bluetooth does not support video.
While the Grandstream phone does have limitations for iOS fans, the GXV3240 is still a good fit for many small businesses using any SIP-based audio service. The touchscreen is very responsive, and even though I'm not an Android user, I found the settings and layout of the features to be very intuitive. It was easy to fire up a conference call, check my personalized account settings within the phone, and even right-and-left swipe to scroll through applications -- even if it was just the phone's built-in weather and camera app, in my case.
Let us know what you think about the story; email: Gina Narcisi, news writerand follow @GeeNarcisi on Twitter.