News
Stay informed about the latest enterprise technology news and product updates.
The UC market picks up where PBXes left off
A recent unified communications and telephony report from Infonetics Research shows the UC market has healthy gains as the PBX market falters.
Plummeting PBX sales in the struggling telephony market are tipping the scales in favor of unified communications technology. A recent Enterprise Unified Communications and Voice Equipment report by Infonetics Research found UC market sales are up 27% from a year ago, displacing dwindling telephony purchases.
SearchUnifiedCommunications spoke with the author of the report, Diane Myers, principal analyst at Campbell, California-based Infonetics, to discuss where the majority of enterprises are spending their communication budgets and why businesses are taking more time to reach purchasing decisions.
Why is the PBX market declining?
Diane Myers: Historically, businesses held onto their telephony systems for a long time. It was not uncommon to hold onto a system for 20 years because you bought a system, it worked, and you really didn't need to replace it. Then you had a lot of businesses, particularly in North America, who got on board and started purchasing newer IP PBX systems and the same thing [happened]; it worked, it did the job they needed it to do -- why would they need to upgrade it? Across the world there are still businesses that haven't upgraded [their desk phones]. Maybe they don't see the benefits yet of IP, so they stick with a hybrid or analog [PBX].
In general, enterprises … have smaller [IT] budgets. A lot of those dollars are going into other areas, like UC. [Businesses] maybe have telephony with call control and calling features, but now [they] want collaboration, video, Web conferencing and document sharing. So instead of upgrading to a new PBX, they upgrade to UC. Or, maybe [the IT spending] has nothing to do with telephony or UC, but other areas such as data center build outs. We've hit this piece of the market where upgrades have significantly slowed and money is being put elsewhere.
In previous years, economic conditions really slowed things down, so that reprioritized budgets in terms of IT spending.
Why is the market trending more towards UC products? Can't enterprises have both a PBX and a UC deployment?
Myers: Absolutely! You can have a PBX today and go and buy a UC system and work to integrate them -- often they're blended. That's why UC for many years was very cost-prohibitive, because you did have to patch it together. So it wasn't for the faint of heart. It was for larger enterprises that had those resources. You either had to hire someone financially to do it or [use] the resources internally to do it.
Now, a lot of the vendors have the PBX and the UC altogether. They've done some of the integration. That's not to say it's plug-and-play by any means still. But let's say I go to Cisco and I already have a Cisco PBX, I can start to upgrade and use the Jabber client.
Your UC market report noted purchase cycles are getting longer for UC and telephony products across the board. Why is this happening?
Myers: When we look at the overall UC and telephony/PBX space, particularly with the higher end of the market, we are seeing that the decision process has been stretched out, because in many cases, there's more to consider. It's not just a PBX ... it's applications, [too]. Maybe they are re-evaluating vendors. Maybe they used one vendor for a long time and now they're moving to a much more enhanced UC type of application. For example, maybe [a business] wants to use Microsoft Lync for UC, but they have an existing PBX platform and they like that vendor -- so they [ask] ... 'Do we continue with [our current] strategy? Or would it be more advantageous to take the telephony piece from Microsoft?' Those decisions are wrapped up altogether, and so that stretches out ... the sales cycle longer because they're trying to determine what to do going forward all across the board -- not just with UC or [a] PBX; you're talking about things that are much more sophisticated and take a little bit more planning and thought.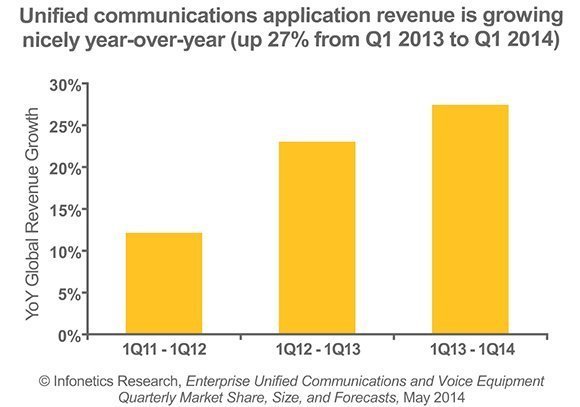 Are the UC products themselves lasting longer or are there just more moving parts?
Myers: A sales cycle is different than the length of holding onto equipment. ... [Purchase cycles determine] the amount of time it takes to make a buying decision. It's more to do with [the fact] that these are much more complicated systems and solutions. [Businesses need to ask], 'Do I stick with one vendor? Do I look at multiple vendors?' For the large and medium-sized businesses that are moving down that path of UC, it all gets taken into account.
Your report mentioned that pricing for similar products varies greatly. What does that say about the overall telephony and UC market?
Myers: Pricing has been tied to longer sales cycles and sales people trying to close deals and make their numbers. But in general, we know that pricing is very competitive on the telephony side. On the UC side, it's not as competitive as you might think. We have very dominant UC players that are the defacto [standards] -- companies like Microsoft and Cisco. But on the PBX [side], we still have quite a few vendors and fewer people buying. It's not where people are spending their money. So it's much more of a competitive market overall, and that's where you see these fluctuations in pricing. That's why you also see the market consolidating.
Late last year, there was Mitel and Aastra and other smaller vendors [consolidating]. The market just can't sustain all these different companies. You see [vendors] struggling and trying to reinvent themselves. Unify came up with a new business plan and strategic direction. Alcatel-Lucent worked really hard to sell [its] enterprise unit and now it's moving over to a private equity firm. It's a tough space to be in.
Even [on] the UC side, you have Microsoft becoming very dominant in this market -- not with smaller businesses but at the higher end -- and Cisco really battling it out with Microsoft and Avaya, to a certain extent. You have some of these companies who have been in the enterprise telephony market for a long time -- like an Alcatel-Lucent and a Siemens Enterprise, now Unify -- and maybe not quite successfully making that transition fully to UC, compared to other vendors. That creates this fluctuation in pricing because everyone is trying to compete and get business where they can.
Let us know what you think of this interview; email Tessa Parmenter, site editor, and follow @TessaParmenter on Twitter.