News
Stay informed about the latest enterprise technology news and product updates.
Enterprise session border controller market to reach $422 million by 2018
The enterprise session border controller market in 2014 is bustling, and it isn't set to slow down any time soon, according to an Infonetics Research report.
At $60.3 million USD, the enterprise session border controller market in 2014 is bustling, and it isn't set to slow down any time soon. Infonetics Research predicted the market will grow to $422 million by 2018. But with many businesses showing interest in purchasing an enterprise SBC, how will this affect the overall pricing of these devices?
TechTarget spoke with report author Diane Myers, principal analyst at Campbell, California-based Infonetics, to discuss the reasons why enterprise session border controllers (E-SBCs) are hot to trot, who needs them, and what happens to the businesses who go without them. This Q&A also highlights why the market in North America is in the lead, and answers why E-SBCs cost less per session than VoIP-TDM gateways.
How is it possible that the E-SBC market can be forecasted to grow from $60.3 to $422 million by 2018?
Diane Myers: Because of the rise of SIP trunking in the rest of the world. Much of that growth does not come from North America. It comes from all these other regions that are now just starting down that path.
Has North America always led the E-SBC market over EMEA?
Myers: North America has always led the E-SBC market, largely because North America has led with the adoption of SIP trunking. Most enterprise SBCs are really there to help facilitate SIP trunking services. The rest of the world is still very much in catch-up mode. North American-based enterprises have just been way out in advance of the adoption of SIP trunking. You can use SBCs for other things, but the biggest driver and biggest use is really tied to SIP trunking.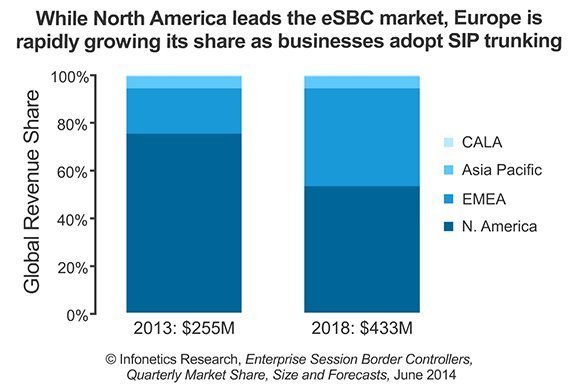 How does an increased interest in SIP trunking translate into larger growth for the E-SBC market?
Myers: If you're going to use SIP trunking, you often need an SBC. If you don't have any SIP trunking today and now you move to SIP trunking, in many cases, you'll have to go out and purchase an SBC to help facilitate that service.
The enterprise session border controller market has a lot of competition.
Can businesses interested in SIP trunking go without an SBC?
Myers: [Businesses] can, but it's not as easy. Most enterprises, especially midmarket to larger enterprises, will put it in for security purposes. Especially if I'm in a remote, highly distributed business, the SBC makes it easier. It …[also] makes sure that your on-premises IP PBX speaks the same SIP as whoever you're getting your SIP trunks from…. [If it doesn't speak the same SIP, then the E-SBC] translates one SIP to another SIP.
[You need this SIP translation because] SIP is not universal. How Cisco implements SIP is going to be different than maybe how Verizon implements SIP in their network. It's like variations in a language. Because my protocol stack might be a little different than yours, we need to make sure that they can talk to each other. You can think about it as a data router. If I go and get a data service, I put a router on my network to help route that traffic and to make sure the IP traffic flows correctly. That's kind of what an SBC does, along with making [the network] highly secure.
Your report said the average revenue per session for E-SBCs is $29, which is considerably lower than traditional VoIP-TDM gateways. Why is the cost of a traditional gateway significantly higher than an E-SBC?
Myers: Some of that has to do with the [VoIP-TDM gateway] market being dominated by Cisco. When you have just one vendor who overall dominates, they can have a better price advantage. Whereas the enterprise SBC [market] has a lot of competition -- there are lots options out there. I think that has part to do with it.
Some of [it has to do with] vendors, for example Acme Packet, [which] is now Oracle, [which] makes large highly scalable SBCs for carriers. Carrier prices are always going to [make products] be less expensive because of the volumes [that they sell E-SBCs at]. So just in the way that they were pricing and leading in the E-SBC market, overall, those numbers were just less than traditional enterprise gateways.
Let us know what you think of this interview; email Tessa Parmenter, site editor, and follow @TessaParmenter on Twitter.
Dig Deeper on VoIP Migration and Implementation