News
Stay informed about the latest enterprise technology news and product updates.
Business VoIP services market to reach $35 billion by 2018
A recent Infonetics Research report finds that a healthy VoIP and UC services market will infiltrate more enterprises by 2018.
Voice over IP (VoIP) and unified communications (UC) services are forecasted to grow from $68 billion to $88 billion...
Continue Reading This Article
Enjoy this article as well as all of our content, including E-Guides, news, tips and more.
by 2018, according to a recent report from Infonetics Research. These inflated numbers, however, account for the residential and business sectors and lump together managed, cloud and Session Initiation Protocol (SIP) trunking services. For a market of such magnitude, what's to stop these numbers from growing, and how much of that market accounts for business VoIP services alone?
SearchUnifiedCommunications.com spoke with Diane Myers -- Infonetics principal analyst for VoIP, UC and IP Multimedia Subsystem -- to see how these numbers compare to previous years and what might affect this forecast for better or worse.
How much did the global business VoIP services market grow from 2013, and how does that compare to prior years?
Diane Myers: The global overall market for business VoIP services in 2013 grew 11%. That's down from previous years, but it's still pretty solid growth when we think about the [VoIP services] revenue being just a little bit over $24 billion. It's a substantial market for sure. [Of] the hosted and cloud, managed, and IP connectivity services like SIP trunking … we see the cloud piece growing at a greater rate than maybe the IP connectivity growth and the managed IP PBX growth. But we're not talking about magnitudes of difference there. We're talking about the difference between 34% versus 31% of the market.
How much is the global business VoIP services market projected to grow by 2018?
Myers: The business VoIP market [is projected to grow] to $35 billion in service revenue by 2018. So, it [will] grow from $24 billion in 2013 to $35 billion by 2018 on a worldwide basis. While you have some markets, like the U.S., that have been a little more aggressive and more on the forefront of [VoIP] service adoption and service availability, other regions lag. Over the next five years, we will see a lot more catching up. Some of the growth won't come necessarily from the U.S. -- although the U.S. market is absolutely growing -- but we [will] definitely see activity going elsewhere, too.
What portion of the telecom market is left for the public switched telephone network [PSTN]?
Myers: PSTN connectivity … is still the majority of the market out there on a worldwide basis. Even in the U.S., over 50% of businesses note their connectivity is still through traditional connections, not through VoIP connections.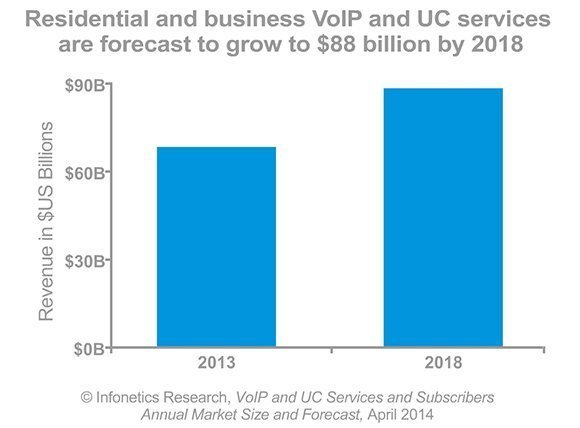 What, if anything, might hinder the growth of the business VoIP services market?
Myers: In terms of business [VoIP] services, there isn't a lot. On the consumer side, some governments might stop VoIP or not give approval, but here on the business side, it would be [companies] deciding 'Oh, I don't want to go hosted. I still want to buy a premises-based PBX, and I want to run and manage it myself." The really big factor is not technology. It's really more businesses [deciding that] 'the cloud isn't for me. I really still want to run and manage it myself.'
What might enhance the growth of business VoIP services?
Myers: The managed services seem to continue to plug along. The growth that's coming from managed services these days [is from] people who want a private cloud implementation. [For example,] a large business that is maybe interested in Microsoft Lync and wants someone else to host, manage, and run it for them. In that scenario, that's a managed service -- but it's very dedicated. No one else is going to run off those servers. No customers are going to have access to that. ... But the reality is that businesses are moving to the cloud, whether it is the private cloud that I'm alluding to, or a shared cloud scenario. It's happening, but if something were to happen and the brakes got put on [a project like that], it would impact both the managed and hosted services for sure.
The VoIP and UC Services and Subscribers report stated SIP trunking shot up 50% in 2013 from the prior year, driven predominantly by activity in North America. Why is North American dominating?
Myers: The U.S. has been the leading country in terms of that kind of adoption. We just have the perfect environment to enable that. Going forward, we're starting to see different countries in Europe emerging and definitely different parts of Asia. The growth is really quite phenomenal in other areas because they're starting from a much smaller base.
Why does the U.S. in particular have the perfect environment for SIP trunking?
Myers: The country as a whole has a healthy, competitive landscape in terms of service providers. Typically in a market, a competitive operator would be happy just to sell their legacy service, [like their] PSTN connections. [But] the Federal Communications Commission has fostered the ability for [a lot] of different providers to come out, not just the incumbent operators or cable operators. Because of that … the competitive operators really started to do things around VoIP services.
We also have a really strong adoption of IP services for VoIP and UC equipment that really lends itself to going to SIP trunking. So, you have the supply side and lots of different competitive environments going forward putting these services out in the market, but then you have the flip side -- the demand. The U.S. enterprises have been early adopters of VoIP and UC, which then lends itself to looking for SIP connectivity.
Why is SIP trunking the fastest-growing part of VoIP services?
Myers: Hosted or cloud services aren't growing as fast, but … while the adoption is strong, it just so happens to be that SIP trunking services are growing from a smaller base; [SIP] is in an earlier stage of the market than something like the hosted PBX [and] the hosted UC market.
Let us know what you think of this interview; email Tessa Parmenter, site editor, and follow @TessaParmenter on Twitter.
Dig Deeper on Unified Communications Architecture and Service Models