Desktop and small group video conferencing solutions on the rise
Small group video conferencing solutions are emerging for enterprises looking to extend roundtable video conference meetings to lower-level workers.
Video conferencing is no longer just for business executives meeting face-to-face in a boardroom. Large conference rooms for high-level employees account for only a fraction of the meetings conducted in an organization.
Room-based video conferencing deployments continue to grow, but Forrester Research found that Desktop video conferencing is fast becoming the conference technology of choice.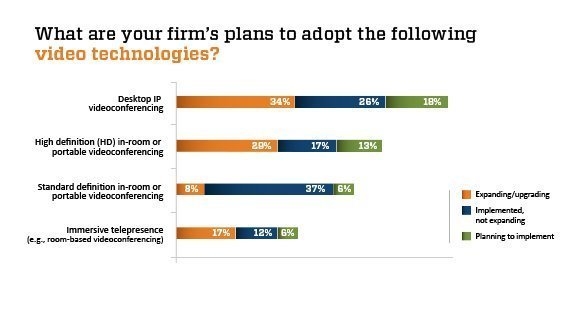 A Forrester Forrsights Networks And Telecommunications Survey found that 34% of 309 U.S.-based IT decision makers are expanding or upgrading their desktop IP videoconferencing solutions -- making it a more popular investment than all other video options, including immersive telepresence and high-definition and standard-definition in-room and portable videoconferencing. [See figure.]
Why? Logitech commissioned Forrester to dig deeper. Interviews with 50 IT decision makers using desktop and room-based video conferencing revealed that lower-level employees need business videoconferencing too, which makes cheaper desktop options appealing. Also, younger employees are accustomed to video chats on their personal computing devices, and they are asking for these capabilities.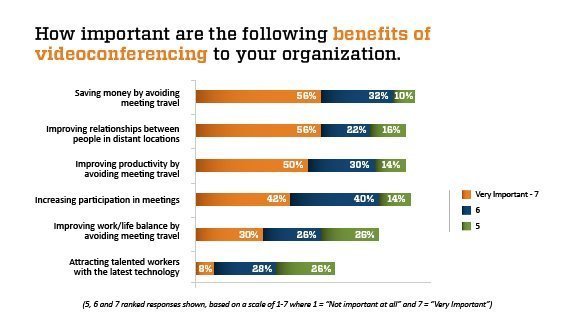 What benefits do videoconferences bring? The majority of interviewees cited travel avoidance and a better meeting engagement. Other benefits included improved user productivity and improved relationships between people in disparate locations. [See figure.]
Barriers to videoconference adoption still exist
In spite of the benefits, video conference adoption is not prevalent. A Forrsights Workforce Employee Survey revealed that employees still prefer to communicate by phone or email instead of by video. [See figure.] Other videoconference deterrents include: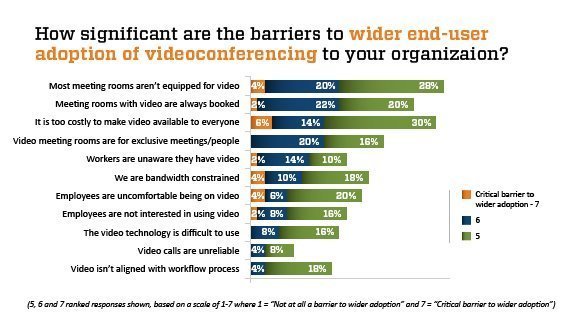 Prohibitive costs, especially for small and medium-sized businesses
Logistical hurdles using room-based video systems
Employee discomfort with being on camera
User difficulty with learning video conference systems
Vendors offer low-cost small group video conferencing solutions
Many video conferencing vendors are addressing these barriers to adoption. Vidyo and Ricoh jointly released an affordable, wirelessly connected table video camera last year. Microsoft also developed a roundtable camera (now offered by Polycom), but it goes for $5,000. Today, Logitech is offering small group video conference solutions at accessible costs.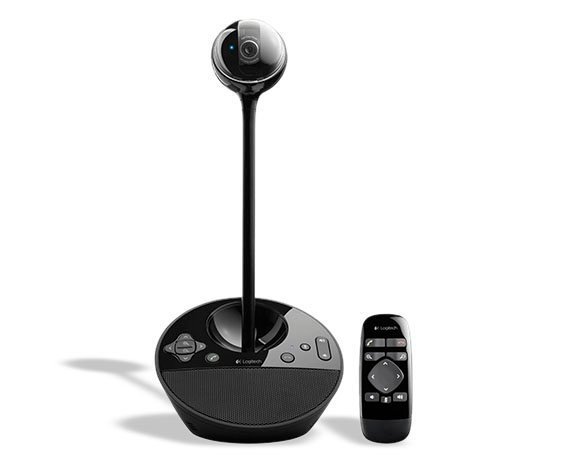 In late 2012, Logitech launched its BCC950 ConferenceCam -- a $249.99 small-meeting camera sold by business-to-business resellers. A speaker platform has a 9-inch arm that holds the eye of the camera, which is able to rotate 78 degrees; the 9-inch height is ideal for viewing a small group of users in a meeting. It's designed to bridge the gap between room-based video systems and webcams designed for one-on-one users. By using the H.264 codec, no software installation is required for either Macs or PCs. The USB-based BCC950 offers 1080p video at 30 frames per second and an omnidirectional speaker that delivers crystal-clear voice within an 8-foot radius.
Because the conference camera is compatible with desktop and unified communications applications (from vendors like Adobe Connect, Avaya, Cisco, Citrix, Microsoft and Skype) Logitech hopes to address the concerns around compatibility and ease of use.
"While desktop videoconferencing is becoming more popular in both the consumer and business markets, business buyers have a stronger appetite for high-quality audio and video. For a business buyer, the $250 price point is palatable, compared to the thousands of dollars spent on a typical room system," Forrester analyst Phil Karcher said.
More on video conferencing
Interoperability concerns deepen as desktop video rises
Desktop video and telepresence interoperability on the way
Desktop video conferencing software's Web client ups flexibility
"Everyone we looked at … [had] very expensive, proprietary, closed systems," said Tony Safoian, president and CEO at SADA Systems, an IP services company that helps customers migrate to cloud platforms. Logitech's small group video conferencing solution delivers enterprise-grade video at almost a consumer-level price, he said.
Safoian says he has a camera in his office, for ad hoc meetings, and across multiple conference rooms for his 70 employees, 25% of whom are distributed across the U.S. in home-based offices. "We've even interviewed potential candidates and have hired remote workers who have only been interviewed by video. … This broadens our pool of candidates," he said.
In addition to expanding his hiring pool, Safoian says it's helped build better relationships with customers. "They're more than just a voice and email address," he said.
Forrester's Karcher said vendors need to address the market that SADA embodies -- enterprises looking for ad hoc, desktop and small group video conferencing. "Although mobile is getting a lot of attention, there's more opportunity where people will be in the middle," he said.
Dig Deeper on Business Video Conferencing and Telepresence Technology