Evaluate
Weigh the pros and cons of technologies, products and projects you are considering.
Video conference systems capitalize on cloud, small meeting rooms
In a recent survey of video conference trends, organizations are taking advantage of cloud services, while also deploying video into small meeting rooms and across desktops.
Businesses and consumers have heard for decades that video calls are the next big thing, that their adoption is just around the corner and that everyone will use them. In reality, though, video conferencing adoption hasn't lived up to its hype. But maybe now video is ready for its close-up.
With the help of cloud technology and enhanced hardware, the availability of video conference systems has soared, while costs have tumbled. In other trends, businesses are deploying video conference systems in small meeting rooms and across desktops.
According to a recent Nemertes Research survey of 132 organizations, 64% of companies are using video conference systems in meeting rooms of all sizes. Nearly 30% are deployments this year, and just 5% have no video conferencing plans. Organizations that have deployed video conferencing have done so in at least half their meeting rooms.
Cloud-based video conference systems, in particular, have gathered steam. In 2016, 31% of organizations were using cloud video conferencing. This year, that number jumped to 40%, with another 41% to use cloud video conferencing.
"Video conferencing in the cloud has skyrocketed," said Irwin Lazar, a Nemertes analyst. "Cloud has become the elixir that allows companies to rapidly expand video without having to make a huge capital investment upfront."
Measuring video deployment success
Nemertes, a tech advisory firm based in Mokena, Ill., defines cloud video conferencing as software as a service that enables video interconnectivity.
Primarily, these cloud systems look to replace on-premises multipoint control units (MCUs) -- pieces of hardware that reside in organizations' data centers. These meeting-based cloud services are designed to integrate with existing room systems.
Organizations using cloud video conference systems have higher success rates than those not using cloud services. Success is a self-rated metric, however, according to Nemertes. The research firm asks organizations how they measure success. Typically, organizations measure success via business value, employee adoption and reduction in travel.
Most businesses are using PC laptops or existing room systems as endpoints with their cloud services, according to the survey. With a cloud video provider, organizations can expand video rapidly to support dedicated room systems or PCs, and do so with usage-based billing and minimal upfront investment.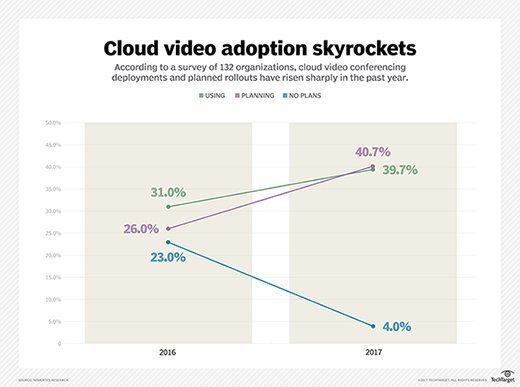 Video infiltrates small meeting rooms
Nemertes found 64% of companies this year are increasing their video conferencing deployments in small meeting rooms that have five seats or fewer. That's a big increase from 2016 when only 32% of companies were increasing video conferencing in small rooms.
Organizations typically deploy video in small rooms in one of two ways. They buy a laptop or PC with a web camera, install software and don't really have to manage the device. This approach provides significant flexibility, since organizations can run any app they want.
Cloud-based video conferencing has gathered steam recently as an alternative to expensive on-premises systems.
The other approach is a dedicated room system in which organizations outfit a room with a video screen, microphone and camera. Typically, these rooms are connected to a back-end service or MCU for multiparty conferencing.
For the most part, organizations are picking a video conferencing provider and buying a dedicated room system, which translates to greater success. With a dedicated room system, organizations can take advantage of analytics and track usage of the video service. While dedicated systems might be more restrictive, they can ease management and implementation costs in an enterprise-wide deployment.
The laptop approach also encounters some problems. If a laptop is replaced, for example, the new laptop might not have the horsepower to run video. Some laptops could face antivirus issues; others may not have a WebRTC-enabled browser or can't install a plug-in.
For success, deploy video to more desktops
According to Nemertes, 65% of companies have rolled out desktop video conferencing -- but to less than 5% of their employee base. Just 5% of companies have rolled out desktop video to more than half of their employees, but this group also reported a higher success rate.
Nearly half of the organizations said they were increasing their desktop video rollouts in 2017. The more organizations make video available, Lazar said, the more they feel their video initiative is delivering business value.
There's growing interest in video conferencing. People are continuing to roll it out in increasing numbers.

Irwin Lazaranalyst, Nemertes Research
"There's growing interest in video conferencing," Lazar said in a recent webinar. "People are continuing to roll it out in increasing numbers. Those that have video to the desktop are seeing the greatest success."
So, what else is driving video conference systems? According to Nemertes, companies want to use video simply to improve the collaboration experience for people in different areas. If people are just on an audio bridge, they might lack engagement, Lazar said. But on a video call, participants see each other, which enhances meeting engagement.
Other key reasons for adoption include curbing travel, ease of use, employees demanding video and company mandates in which a senior-level executive requires the use of video.
Four keys to success
Among survey participants, the ability to pair their smartphones with a video conference screen to initiate a session was the most important feature. Ease of deployment was also an important factor, but cost was not a top consideration.
"People aren't making their video conferencing decisions primarily on who's the cheapest endpoint," Lazar said. "They're looking at a variety of factors." Also low on the priority list is the ability to project content wirelessly from a laptop to a video screen. Users don't seem to mind plugging in an HDMI cable to share their content.
Lazar offered four keys to video conferencing success:
Make video available on desktops.
Use dedicated room systems.
Take advantage of the cloud.
Work with a managed service provider that can support and troubleshoot video systems.
Finally, implement a program to encourage user adoption. If you roll out video to desktops and rooms, but don't sell users on the business value, you probably won't have much success. Ultimately, organizations should map the benefits of video conferencing to the way people work.
Dig Deeper on Developing a UC Strategy