Fotolia
Users praise, critique Microsoft Surface Hub
As early adopters evaluate the Microsoft Surface Hub, shipping of the large-screen collaboration device has been pushed back by four months.
Users of the Microsoft Surface Hub praise the large-screen collaboration device for its ink and touch technology and collaboration capabilities. But, amid its initial rollout, early adopters also say the device lacks native software applications and the external calling feature might not work right away. And, users warn, make sure it actually fits in your office.
The Microsoft Surface Hub -- which was announced earlier this year -- promises multiple functionalities, including a digital whiteboard with infinite canvas, precise touch technology, and comprehensive conferencing capabilities. Yet, like most new technologies, the Surface Hub is not without its quirks.
Users are currently sizing up the multifunction machine and providing feedback to Microsoft as part of the vendor's early adopter program. Two users -- SHoP Architects in New York and Case Western Reserve University in Cleveland -- are impressed with the Surface Hub's capabilities, but offered some caveats.
As part of the pilot program, SHoP was supposed to evaluate both Surface Hub models: a 55-inch screen and an 84-inch display. But the architecture firm, located on the 11th floor of an old building, couldn't get the larger model up the freight elevator. As a result, SHoP is currently test driving two 55-inch models and might have to walk the 84-inch, 280-pound model up the stairs.
Surface Hub shipping delayed
The Microsoft Surface Hub is a large piece of hardware loaded with Microsoft software that includes Windows 10 and its Web browser Microsoft Edge, universal Windows apps, as well as Microsoft Office apps like Word, Excel, PowerPoint, OneNote and Skype for Business. The device is considered a mobile device and working computer, and features ink, touch and conferencing capabilities. It can be wall mounted or placed on a stationary or rolling stand.
The 84-inch model is priced at $20,000 and the 55-inch model is $7,000. Microsoft started taking pre-orders for the device last month and shipping was previously slated for next month but has been pushed back to January 2016. In a blog entry, Microsoft said shipping has been delayed due to high demand for the product, changes in the manufacturing processes, and the need to expand its business channel of resellers and system integrators.
Workarounds, future software development needed
John Cerone, director of virtual design and construction at SHoP, said that, out of the box, the initial build of Microsoft Surface Hub lacks native software apps, PDF markup and external calling.
"The glaring inefficiency is a lack of apps," Cerone said. "It's still new. People need to develop software for it."
We're still working on some bugs on having Skype for Business meetings with external parties.

John Ceronedirector of virtual design and construction, SHoP Architects
Workarounds and future software development can remedy some of these early hiccups, he added.
SHoP works extensively with 3D software, but users can't run that software natively yet on the Surface Hub, Cerone said. As a workaround, SHoP runs a 3D software program from a laptop plugged into the Surface Hub. SHoP also works extensively with PDF presentations, but users can't yet mark up a PDF on the Surface Hub, he added. As a workaround, SHoP employees can save a PDF as a PowerPoint and annotate the PowerPoint file on the Surface Hub.
Other early hiccups included configuring the Surface Hub for SHoP's Office 365 environment and setting up external calling.
"We're still working on some bugs on having Skype for Business meetings with external parties," Cerone said. "We do some workarounds where we've made it work, but, natively, it's not working out of the box yet. When that happens, we'll use that feature frequently."
Cost could also be a factor for some potential users. "If budget weren't an issue, I think we'd replace all our monitors with [Surface Hubs] because the functionality really works for us," Cerone said.
The functionalities that appeal to SHoP include internal and external collaboration, touch technology, out-of-the-box access to the Internet, split-screen capabilities, improved workflow efficiency and essentially plug-and-play installation. The native Internet access helps the architecture firm supplement its presentations with external content, like maps.
"You get a little spoiled with the functionality," Cerone said, adding that SHoP may purchase two Surface Hubs -- one of each model.
Surface Hub streamlines workflows
The Microsoft Surface Hub could also improve inefficient workflows that rely on multi-step processes and various devices.
For example, medical students at Case Western Reserve University currently follow an intricate process when researching cases. A class starts with a case projected on a screen in a classroom. In small groups, the students discuss the case and jot down notes on large analog whiteboards.
The existing complex solution is that students take pictures of their whiteboard notes with their phones for later reference, then share the photos with each other. Based off the notes and as part of their homework, students compile PowerPoint presentations to report their findings the next day.
The Surface Hub is expected to streamline this workflow. The university, affiliated with the Cleveland Clinic, is testing both Surface Hub models to assess their potential in medical education.
The Surface Hub fits in well with the university's active project-based and small group-based learning, said Brian Yuhnke, an instructional designer at Case Western. The school also foresees the benefits of inside and outside collaboration.
For example, instead of huddling around a laptop, students could collaborate on the larger Surface Hub with its interactive touchscreen. Additionally, students could access resources outside the classroom and connect with guest speakers or faculty colleagues via video conference.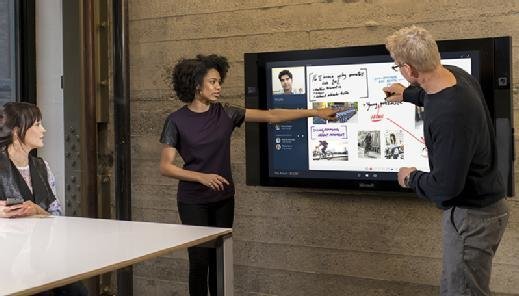 "I've been evaluating technologies for the last 20 years -- specifically these types of technologies -- and I'm pretty excited about the potential this one has," Yuhnke said. "It has the potential to create its own genre."
Screen clarity and receptivity are praised
Neil Mehta, M.D., director of education technology at the Cleveland Clinic Lerner College of Medicine at Case Western, is impressed with the Surface Hub's screen resolution and responsiveness. The digital inking, too, could be beneficial in a classroom setting, he said.
In medical education, the ability to see vivid colors and magnify microscopic images is hugely important, Mehta said, and the Surface Hub provides that capability.
Mehta envisions the Surface Hub replacing projection equipment and analog whiteboards and streamlining students' workflow by consolidating projects onto one device. Case notes can be saved and shared among students via the Surface Hub's software apps. The Surface Hub is also Miracast-enabled, meaning students with certain tablets or laptops can wirelessly project their presentations onto the Surface Hub.
"This is an incredible device," Mehta said. "It will get rid of a lot of clutter." He said the Surface Hub could also simplify meetings because people won't have to wrestle with wiring, cables and switching between laptops.
But like SHoP Architects, Case Western has had some difficulty with the size of the 7-foot model and out-of-the-box remote connection capabilities.
Because the Surface Hub is a mobile device, Case Western's network was recognizing it as such. The school's third-party mobile device management system has been blocking the Surface Hub from communicating completely, Mehta said. A Microsoft engineer recently worked on the issue and Mehta expects the glitch to be resolved soon.
But Mehta's main warning was the sheer size of the 84-inch model. Potential users really need to consider how they're going to get it in their offices. If they want the device wall-mounted, they need to make sure the wall can sustain the weight.
Mehta said Case Western took a few days to figure out how to get the large model up to the second floor with the help of a freight elevator. Yet, Mehta is quick to praise the large screen's 4K clarity.
"The large one is the best experience," he said. "It's humongous. It's gorgeous."
Despite not fully testing the Surface Hub, Case Western is confident in the device's capabilities and potential.
"We've already requested several Surface Hubs based on this initial experience," Mehta said. "Several people in leadership have looked at it and are impressed. We are negotiating with Microsoft on how many we want to buy."
Next Steps
Keys to collaboration software success
Why companies may be hesitant on collaboration tools
With mobile collaboration, small screens present big challenges
What's new in Windows 10? Test your knowledge of the new OS
Dig Deeper on Business Video Conferencing and Telepresence Technology