Share this item with your network: Building the infrastructure for the changing face of IT

leungchopan - Fotolia
Manage
Learn to apply best practices and optimize your operations.
UC federation: Last hope or lost cause for multi-vendor UC?
Multi-vendor UC is still a struggle for many enterprises. UC federation products claim to fill the gap, so why haven't they taken off?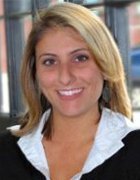 By
The IT team at American Public Media, the second-largest producer and broadcaster of public radio programs in the United States, didn't have anything as lofty as a "unified communications strategy" on its mind when it deployed its Avaya telephony system 14 years ago. It simply needed the phones to work.
Over time, however, more types of enterprise communication tools emerged and matured, and the broadcaster's IT team realized its users needed more than just a phone line to get their work done. American Public Media has since subscribed to Cisco's WebEx Connect service for instant messaging, WebEx for Web conferencing, and Microsoft's cloud-based Office 365 suite to manage some of its communications in the cloud, including email.
"We are a classic example of a mishmash of a whole bunch of different things without any real integration," says Jess Probasco, senior network engineer at American Public Media, based in St. Paul, Minn. The broadcaster's unified communications (UC) tools "are all disparate platforms," he notes.
It's a dilemma facing many enterprises with multi-vendor UC strategies that have grown organically over time. Employees started asking IT for tools and services like IM and video conferencing, or sometimes just downloading them on their own, to get their work done. Meanwhile, vendors began building up their UC portfolios similarly -- gradually adding new tools through acquisitions or having disjointed product teams develop them à la carte -- without much thought to a wholly integrated, interoperable platform that offered everything in one package.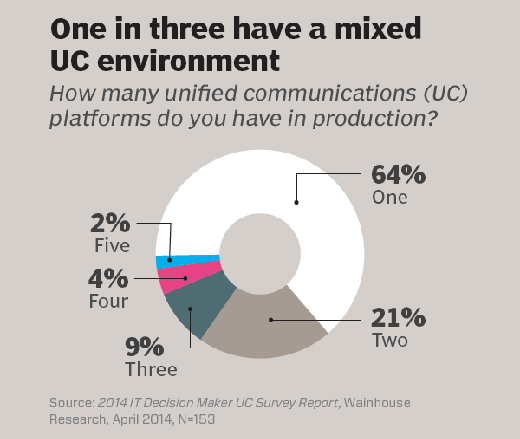 As a result, many businesses today are using at least two different vendors to fulfill their communications needs -- often a legacy voice system from one vendor, and some newer collaboration features or services from another, says Irwin Lazar, vice president and service director at Nemertes Research. But due to the way many UC vendors have developed their products, these enterprises are stuck with proprietary systems that are unable to talk to, also referred to as federate with, other vendors' UC tools and services.
Enterprises seeking a tightly integrated UC experience have two choices: rip and replace until all but one vendor remains and use only features and tools from that vendor's portfolio, or turn to UC federation products and services from a third-party provider. Moving away from a multi-vendor approach isn't a viable option for every enterprise, especially if its current UC tools haven't reached the point of depreciation. But many companies would still appreciate integration between their disparate UC systems and even to be able to use their enterprise UC tools to connect with third parties -- like partners, clients and suppliers -- by federating with external communication systems.
Despite the real-world applicability, however, UC federation just hasn't taken off. And despite its insistence on sticking to the phrase unified communications, the industry seems to have stacked the deck against providing a truly unified UC experience.
The case for UC federation for external communications
UC vendors have tried addressing the problems associated with businesses using a mix of communication products by adding more features to their own platforms, or by creating entirely new product suites or services to encourage customers to stick with a single-vendor model for their UC needs. But neither of these strategies has yet to address the issues that businesses have while trying to communicate -- either internally or externally -- using disparate tools from different vendors.
UC federation services have emerged in recent years from specialized providers like Esna Technologies, IntelePeer and NextPlane. These providers offer various integration services for multi-vendor UC environments, and mostly focus on providing federation between different IM and presence platforms -- the two communication features that have the most pressing need for interoperability.
Bellevue College in suburban Seattle has a UC environment consisting of two different vendors' tools: Microsoft Lync for collaboration and Mitel for voice. The college sees a value in interoperability between its communication tools, and currently has some federation in place that allows calls placed through Lync to run on its Mitel voice system, says Russ Beard, Bellevue's vice president of information resources.
Rather than turn to a standalone, third-party federation provider, Beard and his team are working with F5's virtual IP technology and will standardize on the Security Assertion Markup Language (SAML) standard for exchanging authentication and authorization between UC tools. Currently, Bellevue College is able to communicate with several of its partners and suppliers through federation with Lync.
"I can IM Aruba and Dell employees, [and] we're in the process of federating with a couple of other companies, like Microsoft," Beard says.
Being able to maintain a dialogue in real-time with employees and partners is critical, and being able to communicate regardless of platform or employer via IM is becoming just as important as voice communication, Beard adds.
"I think the industry is moving that way," he says. "And quite frankly, I can't think of any [vendor] out there that will cover all your needs. You have to be able to put multiple solutions together."
What will it take for UC federation to blossom?
Businesses may be able to get by without a federated approach to UC if there isn't a compelling use case, Lazar says.
"For businesses that have a use case for regular, real-time interactions with clients, partners or suppliers outside of the company, UC federation could be an easy sell," he says. These use cases can include complex manufacturing scenarios. "Where [there are] supply teams that are tightly integrated, like manufacturing of airplanes, and automobiles -- that's one of the areas where there is an argument made for federation because [these businesses] have to stay in close contact with their suppliers," Lazar adds.
The demand for UC federation is also growing within the financial services industry, especially for institutional organizations like mutual fund companies when mutual fund managers want the ability to interact with agents, Lazar explains.
Ultimately, however, no matter what the name implies, UC federation is another investment that not every business is going to be able to justify.
"I think it's very useful. I think it's very cool, especially when you have all the mobile integration that can be done, and the [single] phone number calling," says American Public Media's Probasco. "I have ideas for what I'd do here when I can. But while I say all that, I go back to the incentive to spend half a million [dollars], or really a million, over a one-, two- or three-year period. It's hard to get a company to want it bad enough to spend that money."
Dig Deeper on Unified Communications Integration and Interoperability