Kurhan - Fotolia
Simplicity of Web-based collaboration tools gains appeal
For so long, UC apps have been in a separate silo. Web-based collaboration tools like Cisco Spark and Unify Circuit bring UC to where users actually work.
Nobody in IT ever worries about whether bandwidth, storage or critical applications like email will go unused. The same can't be said for traditional desktop UC clients, which have a habit of getting in their own way with occasionally clunky user interfaces or unnatural workflows.
Enterprises purchase and install expensive, on-premises unified communications (UC) equipment, and then IT pros typically cross their fingers and hope employees use the tools often enough to yield a decent return on investment. This uncertainty has made it difficult for businesses to fully embrace UC and collaboration products. However, the humble Web browser is changing the landscape with a new breed of cloud-hosted, Web-based collaboration platforms that use browsers as their interfaces.
This approach eliminates the need for a standalone desktop client and puts the communication tools where users prefer to use them. And while some of these new platforms still have room for improvement, pushing UC out to the browser is such a compelling model that experts and early adopters say it could eventually push traditional desktop clients out of the picture.
"If you wanted to call somebody, start screen-sharing or a chat, or have a video call, you always had to go to some other app that was optimized for that functionality. But now you can do that inside of browsers," says Irwin Lazar, vice president and service director for Mokena, Ill.-based Nemertes Research. "[This] has people thinking, 'Why do I really need separate apps anymore?'"
Powering these services is an open-source project called Web Real-Time Communications (WebRTC), which provides a framework for embedding voice, text and video communications capabilities into Web browsers. With WebRTC, users don't have to download any plugins to begin communicating.
Cisco Spark and Unify Circuit are the two most visible browser-based UC platforms available today, but the market also includes similar applications from niche players like Blue Jeans and Igloo. Polycom jumped into the fray in June with the announcement of its first WebRTC-based platform, RealPresence Web Suite, at the InfoComm 2015 trade show in Orlando.
Browser-based UC also allows IT pros whose users spend their time working in cloud applications Salesforce.com to build hooks into UC tools like Cisco Jabber or Skype for Business so employees can IM or click-to-call their contacts right from Salesforce, Lazar says.
Traditional UC clients don't provide users the ability to insert communications right inside existing business applications. Vendors are trying to address this shortcoming through acquisitions, such as Cisco's grab for Tropo, whose cloud APIs can be used to embed UC tools into Web applications, and Avaya's acquisition of Esna Technologies, which provides communications widgets for tools like Google Apps, Microsoft 365 and Salesforce.
Users find flexibility in browser-based UC
Browser-based UC tools can be valuable to enterprises that already have a collaboration strategy as well as those that are just starting to build one. Some businesses in that latter category can't justify the investment in a full UC suite for their desktops because they don't need all the features. These platforms also take up precious physical space in the data center and can be difficult to maintain due to frequent software updates, Lazar says. Browser-based UC tools hosted in the cloud, on the other hand, display the latest version of the interface every time the Web page is refreshed.
Telstra, the largest telecommunications provider in Australia, is no stranger to UC and collaboration. In addition to its other services for businesses and consumers, The company resells cloud-based collaboration services from UC vendors like Microsoft and Cisco to Telstra's business customers.
The Melbourne-based service provider has also cultivated its own internal collaboration strategy over the past 15 years to improve the way its 30,000-plus employees work and communicate. Telstra has taken a multi-vendor approach to satisfy its voice, video, instant messaging and content-sharing needs. Its employees use Microsoft Exchange, Cisco Jabber and most recently Cisco Spark.
Some desktop UC clients, such as Jabber for instant messaging, are standard-issue applications on every user's computer, but Telstra also promotes a "flexible" approach to UC in which the user chooses which tools -- and devices -- work best for them, says Akash Jattan, a senior product manager at Telstra, who has become an informal evangelist for UC adoption within his company.
Jattan downloaded and began using Cisco Spark for team collaboration after learning about the app from Cisco. Through word of mouth, more Telstra employees began downloading the app, and the company now has 1,419 users on Spark. Cisco Spark is a UC service that allows colleagues to create "rooms" for both real-time and asynchronous Web-based collaboration using group messaging, video calling and content sharing. Spark has both a mobile app and a browser-based component. Jattan and his colleagues use Spark through the browser while at their desks, and fire up the mobile app for ad hoc communication while on the move or commuting.
I can reduce the time it takes to finish a project by at least four to six hours [when using Cisco Spark].

Akash Jattansenior product manager, Telstra
Jattan attributes the high adoption rate of browser-based Spark to both its ease of use and ease of deployment. Additionally, Telstra employees were able to come to their own conclusions about whether they wanted to use Spark; it wasn't forced on them by the IT department. They were also able to easily download the app on their mobile device of choice and access it from the browser simply by entering in a work email address, Jattan says.
Spark, like other mobile and browser-based UC tools, eliminates the pain associated with downloading plugins or launching a separate application to get a meeting up and running. It's the antithesis of what many traditional UC clients resort to, says Alan Lepofsky, vice president and principal analyst at Constellation Research in Cupertino, Calif.
"One of the goals of browser-based clients these days is to simplify the start-up experience and get rid of that horrific conference start-up time … with just a one-click entry into a meeting," he says.
Spark also allows meeting attendees to have all the modes of communication and information in one window, rather than having to jump between applications. Prior to a meeting, Jattan copies and pastes any documents his team might need to see into the collaboration "room" on Spark. Once all attendees enter the room, the meeting begins right away.
"I can reduce the time it takes to finish a project by at least four to six hours," he says. "Instead of running hour-long meetings, all my meetings are a half hour now."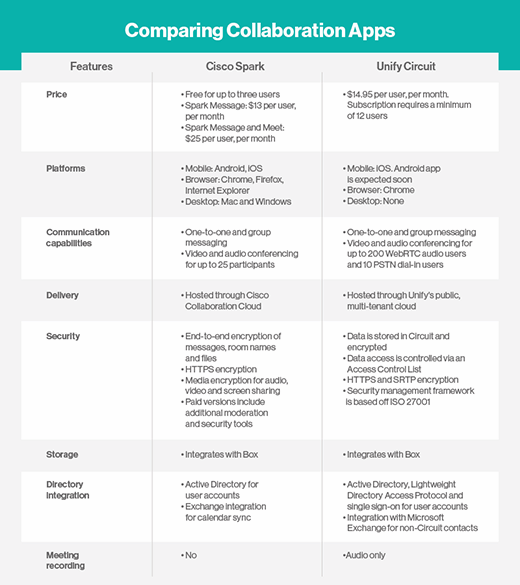 Desktop vs. browser-based: 'Both have a place'
As more UC and collaboration functions get pulled into the browser, users will become less reliant on standalone desktop clients, Lazar says. Right now, however, the lack of support for WebRTC in some browsers -- namely, Safari and Internet Explorer -- obstructs the potential reach of browser-based UC.
Meanwhile, native UC clients won't be fading into the mist anytime soon. Desktop-based clients provide a different experience that some enterprises still appreciate. These tools sometimes have faster response times and offer better security features, Constellation's Lepofsky says.
"Power users will still prefer the desktop client," he says, noting that Microsoft's OneNote app, for example, is more feature-rich than the Web version of OneNote in Office 365.
Even though many newer UC products will likely adopt a "cloud first" approach, there will always be some enterprises that will prefer to keep their dedicated communications infrastructure on premises.
"I think the most important thing that we've learned over the last few years between the desktop, Web, mobile and now the wearable client is that you don't have the same experience on all of them," Lepofsky says.
While Spark has changed the way teams collaborate across continents and time zones for Telstra, the company doesn't plan to dump its desktop voice and video tools, Jattan says.
"Spark is more for augmented conversations around specific topics, and I think both have a place," he says.