Lifesize Cloud offers alternative to traditional video conferencing
Cloud-based video conferencing, such as Lifesize Cloud, helps businesses implement scalable video systems while also curbing costs and IT resources.
Lifesize Inc. is known as an innovative video conferencing vendor. From high-definition video to virtual machine software, Lifesize has pushed quality and cost-reduction initiatives.
With Lifesize Cloud, Lifesize has evolved into a cloud-based video conferencing service, making it a key differentiator from traditional video conferencing vendors.
Lifesize has used its expertise in video endpoints to provide connections between meeting rooms and the cloud. With many business applications moving to the cloud, video conferencing vendors have realized the same benefits.
Lifesize Cloud is well-suited for businesses of all sizes. The service lets companies deploy a grow-as-you-go model and avoid upfront capital costs and major investments in IT resources that would normally be needed for on-premises video.
Lifesize Cloud features and pricing
Lifesize Cloud offers multiple services that would otherwise require on-premises servers. These services include call control, directory integration, multiparty meetings, secure firewall traversal, recording and management tools, such as call detail records and usage reports.
Lifesize Cloud supports iOS and Android mobile devices, as well as Mac and Windows desktop PCs. Customers only need to download a free client and have a subscription to connect to Lifesize Cloud.
Lifesize also has a WebRTC-powered desktop app that helps simplify deployment, which is especially useful for guests to join meetings via the cloud without requiring a download.
Lifesize offers three basic plans for its cloud service.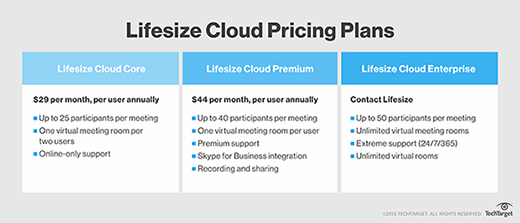 Video endpoints connect to the cloud
Lifesize Icon was the first video endpoint designed as a connected device. Auto-configuration to Lifesize Cloud allows endpoints to be up and working immediately, with access to all cloud features.
Lifesize offers four versions of Icon. The Icon 400 and 450 are for huddle or small meeting rooms. The Icon 600 suits medium and large meeting rooms. The Icon 800 is a more traditional codec server for larger meeting rooms, boardrooms and classrooms. All endpoints include a camera and phone or MicPod.
Lifesize also offers a BYOD tool, called Icon Flex. This peripheral acts as a USB device and requires a video application on your PC, such as Lifesize Cloud, Skype for Business or Google Hangouts.

Go-to-market strategy and support
Lifesize's go-to-market strategy is through distribution and value-added resellers. With the advent of the cloud, Lifesize is moving to direct sales where applicable -- for SMBs and larger enterprises. Lifesize Cloud is available globally. The Lifesize Icon series is sold where regulatory approval has been granted.
Lifesize offers a fully featured, 14-day free trial of Lifesize Cloud, available through its website. Customers can trial Lifesize Icon for 30 to 60 days.
Lifesize offers a service-level agreement for Lifesize Cloud. All Lifesize Cloud devices receive automatic software updates, including Lifesize Icon. For this, customers must purchase Lifesize Icon with one year of assurance maintenance service (AMS), a plan that provides hardware replacement and access to Lifesize support. Additional two- and three-year service is available at discounted rates. The AMS cost range is approximately 8% of Lifesize Icon MSRP.
Dig Deeper on Business Video Conferencing and Telepresence Technology