Share this item with your network:
Building the infrastructure for the changing face of IT

sommai - Fotolia
Manage
Learn to apply best practices and optimize your operations.
Land and expand: Collaboration apps gain ground, with or without IT's OK
Workers unhappy with available collaboration platforms increasingly bypass IT and download apps such as Slack and Unify Circuit, then convert their colleagues into users too.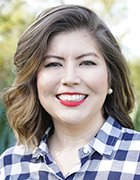 By
It all started with a tweet.
Software engineer Ben Garvey first read about collaboration application Slack about two years ago while browsing social media. At the time, Garvey and his coworkers at Philadelphia-based data analytics firm RJMetrics faced a challenge: Change the collaboration culture in the company's rapidly growing engineering team so it could more readily respond to evolving needs.
"A small group of us had a fairly active Google Hangout at the time," Garvey says. "But it was hard to add and remove people. Sometimes we wanted to have more focused conversations, and managing those hangouts never seemed to work out."
Enter Slack. In August 2014, Garvey and 14 of his fellow engineers began experimenting with the collaboration app, which allows users to exchange messages, files and images in real time. Slack stores this information in project- or group-specific threads called "channels" that preserve ongoing conversations so users can seamlessly return to them without losing ground. Many traditional web conferencing and instant messaging platforms lack this ability to preserve collaboration sessions, a feature known as "persistence."
As the RJMetrics engineering team began inviting product managers, customer account managers and salespeople to join them on Slack for specific projects, the app's footprint at the company quickly grew. RJMetrics CEO Robert Moore refers to this as the "land-and-expand" phenomenon.
"It was easier for those engineering team members to add all those other people to Slack as a centralized repository for real-time knowledge on the state of the project than it was to communicate through other more established channels," Moore says.
Groups of employees within enterprises are looking for the perfect way to communicate and collaborate with each other and often find IT-provided systems or apps lacking in features, convenience, flexibility or all of the above. Grassroots movements to use the best collaboration apps to meet needs have grown within businesses, whether their choices are sanctioned by IT or not. One major question is: What, if anything, IT should do about it.
Analysts say that employees dissatisfied with available workplace collaboration and communication tools increasingly experiment with alternative cloud-hosted, web-based applications, such as Slack, Unify Circuit, Cisco Spark, Glip, HipChat, Klik, Jive Chime and many others. They often do so without consulting their IT departments or seeking higher level approval.
"Slack allowed us to start using it without anyone's permission, which we did for months before adopting it companywide," Garvey says.
Use of the app at RJMetrics trickled up and out from the software engineers to other teams and eventually to the CEO. Before long, the company became an enthusiastic paying customer -- exactly the scenario collaboration application vendors that rely on the land-and-expand strategy hope unfolds, says Gartner analyst Mike Gotta.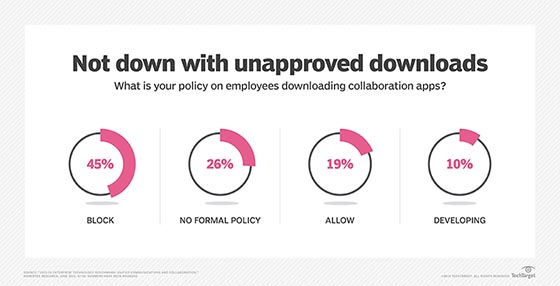 "[As a vendor,] I want to get somebody hooked on the platform," he says. "'I want it to be viral. I want to build up a groundswell in the organization. Then when the organization realizes that it's actually popular, and they want to turn it on from an enterprise perspective, the freemium model runs out of gas."
Land and expand: Shadow IT moves into the light
Enterprises have traditionally discouraged the use of unsanctioned applications in the workplace -- a concept known as shadow IT. According to a 2015 report from Nemertes Research, based in Mokena, Ill., nearly half of enterprises say they actively block the use of unapproved collaboration applications.
The idea of end users bending and interpreting the guidelines from IT for their own purposes, to use unsanctioned apps -- that goes back pretty far.

Mike Gotta, Gartner
"Often what's happening though, is that workers are finding these tools, and then they go to IT and say, 'Hey, IT, can you support this?'" says Nemertes analyst Irwin Lazar. "And the IT response is either, 'no' -- in which case the users go back and use it anyway -- or IT has to take ownership [of the app]."
Not all IT leaders have banned collaborative app experimentation outright. A survey from the Cloud Security Alliance found that one in five IT leaders say they neither know nor care how many shadow IT apps are in use at their companies. That may be, in part, because the presence of unsanctioned applications seems inevitable.
"The idea of end users bending and interpreting the guidelines from IT for their own purposes, to use unsanctioned apps -- that goes back pretty far," Gotta says. "I think what's new now is the scale and scope. It's almost like trying to avoid raindrops in a storm."
Some executives like RJMetrics' Moore go so far as to embrace the collaboration apps that first gain footholds in the IT shadows.
"I've been really impressed with how much Slack has impacted our communication internally and the efficiency of the way our teams work together," Moore says. "The benefit has been very significant and has outweighed any of the risks associated with having a casual collaborative chat that exists in the cloud."
Those risks are real, of course, and of greater concern for certain organizations than others. Lazar says industries subject to heavy regulation and privacy restrictions, such as healthcare, government and financial services, should proceed cautiously and regularly review app policies with employees. However, he adds that all companies need to acknowledge the cultural shift happening in the workplace as the land-and-expand trend accelerates.
"Users increasingly now are saying, 'I'm not going to wait six months for you to give me [a collaboration tool] that I need,'" says Lazar. "'I can go and sign up for a Hangouts account and start doing video conferencing. Or I can download Slack and start doing team chat with my team members. And I can do all of this without IT.'"
App store culture gives land-and-expand trend legs
Gartner's Gotta points to the proliferation of mobile devices and app stores as a key driver of the land-and-expand trend, and says the growing number of Millennials in the workforce may also play a role. A recent Gartner survey found that 34% of IT professionals born after 1980 use collaboration tools at work that their employers did not officially sanction. For IT workers born before 1966, that number was just 9%.
"Millennials are more eager to experiment with such apps, and they are more comfortable experimenting with [them]," says Gartner analyst Whit Andrews, who led the research. He adds that they are also more likely to use communication apps in their personal lives and less likely to be satisfied with company-provided tools.
But Andrews notes that while Millennials are the most likely to find and try new tools, they're far from the only ones doing so. Today, workers of every age and at every level experiment with unsanctioned apps.
Julie Magee, commissioner of the Alabama Department of Revenue, began exploring collaboration applications when she got fed up with email, which she says was causing misunderstandings and hurting morale.
"I was trying to find some way that we could change the dynamics within the organization so that instead of just shooting four- or five-word emails back and forth to each other … we could at least see each other's faces using the application, hear tone of voice and [get] nonverbal body messages," she says.
That's when she stumbled on Unify Circuit, a team collaboration platform that offers messaging, video/audio conferencing, recording and file sharing capabilities.
"I basically downloaded the app from the Apple Store on my cell phone and just kind of played around with it," she says. "And I thought, 'This is the problem solver for the department.'"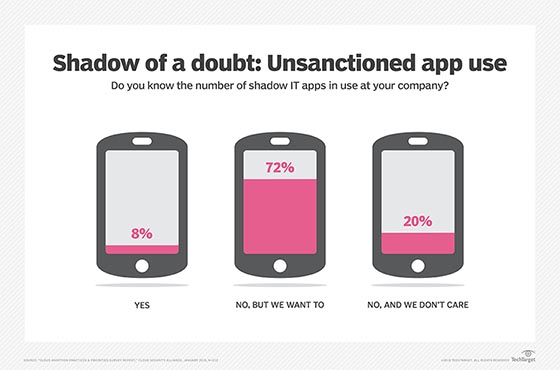 After experimenting with Circuit herself, Magee suggested that the other four state commissioners try it too. Next, they rolled it out to around two dozen state directors, and its use snowballed from there. Before long, Magee says employees began approaching her and requesting to use Circuit on other projects and teams. She then decided to implement the app in the state's nine remote taxpayer service centers to enable better communication between sites.
"For government, it is very, very hard to get new technologies going and implemented, and [to get] the people trained on it," she says. "But that's why we've been able to use [Circuit] so well, because it's not hard to onboard. It's easy."
Even if a state employee or outside stakeholder doesn't have the app, they can receive an invitation to a Circuit web video conference and join the conversation, minimizing friction between users and non-users.
"You can just send somebody a link, and boom, they're talking to you on whatever device they have," Magee says. "It's pretty intuitive."
Now, 89 Alabama Department of Revenue employees use Circuit, and that number will likely continue to grow, as the collaboration app continues to land and expand. At RJMetrics, just two years after Garvey first heard about Slack on Twitter and decided to experiment with it at work, the app has a pervasive presence. The company now uses Slack integrations with a number of third-party tools, including a Slackbot called Props. Each time an employee posts a congratulatory message in Slack, lauding a coworker for a job well done, it automatically appears on all of the office's television monitors.
"That's such a great way to broadcast little victories and successes throughout the day," Moore says. "That kind of thing really could not exist if Slack was not there."
Dig Deeper on Collaborative Applications