Huddle room video conference costs don't need to break the bank
As office layouts change, huddle rooms and small collaboration spaces are becoming popular. The video tools in these spaces can provide cost-effective communications.
With all the hubbub about huddle rooms, everyone from SMBs to enterprises is looking to reap the productivity benefits of informal team collaboration. Setting up small meeting rooms, corners or common areas to support teamwork sessions is arguably the hottest trend in AV right now. With that in mind, many people are asking about video conference costs for huddle rooms.
Businesses of all sizes are changing how they work and collaborate, said Chris Thorson, senior director of product marketing at Polycom, based in San Jose, Calif. As companies shift to open-office floor plans, the need for huddle rooms increases so employees have a place to connect with colleagues and customers across the globe.
"These spaces must offer simple ways to collaborate over video, share content with all participants and place audio calls while being easy for IT staff to deploy, and [it] can't break the bank," Thorson said.
With huddle rooms and video conference costs, the first question might be: Why spend anything at all? After all, in most small groups, someone will have a laptop. Can't we just use that to call into a free cloud video service and connect with remote team members?
Unfortunately, that setup is simply not acceptable for most team meetings. When actually budgeting for video conference costs, companies are looking for a quality team meeting experience and workflow.
Huddle room series
In part two of this series on huddle room video conferencing, we'll explain why you might need more hardware than just a laptop for a quality meeting experience. In part three, we'll consider the software that's needed to support a team meeting.
Video needs to empower remote team members
Companies are under pressure to create collaborative spaces that meet various needs and team structures, said Mark Strassman, chief product officer at BlueJeans, based in Mountain View, Calif. Companies are increasingly adopting affordable, cloud-based meeting services that provide video benefits, spatial audio sound and integration with workflows for increased productivity.
"There is a misconception that modern meeting rooms and intelligent spaces have to be expensive," Strassman said. When IT leaders realize the meeting spaces their users demand are within reach, they have a "great aha moment," he added.
However, with huddle room collaboration, no one size fits all. Ideally, before you start to outfit a huddle room, you'd observe a few meetings to understand workflows and team dynamics. Then, you would start to outfit the meeting space with the appropriate tools to support how the team likes to work.
For example, if team leaders prefer to stand during the meeting, you might want a digital whiteboard so they can share project updates and other team information. On the other hand, if your team favors a more democratized meeting, you might consider software that enables each user to share information from their personal devices.
Regardless, most huddle spaces have one common element: the need for video conferencing to enable full participation from remote team members. To fully support your teams, however, you may need other collaboration tools that could increase your huddle room costs.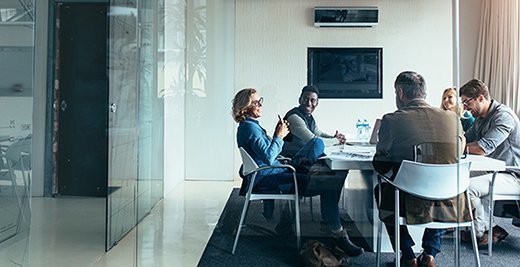 Per-room video conference costs must be scalable
Many companies are looking for flexible, affordable video devices that work across multiple platforms, whether they're on premises, cloud-based or both, said Joan Vandermate, head of marketing for Logitech's collaboration business unit, based in Newark, Calif.
"There's absolutely no reason to invest thousands of dollars in a video endpoint when you can have a high-quality video call using plug-and-play USB devices," she said.
Most huddle spaces have one common element: the need for video conferencing to enable full participation from remote team members.
There's no limit to how much you can spend for quality video conferencing. High-end TelePresence systems, which provide a similar experience to being in the same room with remote people, can cost hundreds of thousands of dollars. There's also no limit to how little you can spend. FaceTime and basic Skype are free, for example.
With huddle rooms, you need to find the right balance of quality and affordability. While you may have just one boardroom to outfit, you could have dozens or even hundreds of huddle spaces. Your per-room video conference costs must be scalable.
"Pricing is a critical element in huddle room design," said Janelle Raney, product marketing executive at Zoom, based in San Jose, Calif. "Companies can have hundreds or thousands of huddle rooms. To video-enable these at scale, you need to find an affordable solution."
Finally, for video conference costs, you need to consider two elements. For hardware, you should expect to spend roughly $1,500 to $2,500 per room for a basic setup. For software, you should expect to spend between $0 to $100 per room.
In future articles for this huddle room series, I'll explain what you get for those costs and what you gain or give up by moving to higher or lower ends of the price ranges. Note: These costs do not include other in-room collaboration tools and multiuse tools, such as monitors. The video conference costs include specific tools, such as a camera, codec, microphone, speaker and control peripherals.
Dig Deeper on Business Video Conferencing and Telepresence Technology