sommai - Fotolia
Fully integrated UC&C challenges vendors, enterprises
Vendors are busy integrating UC&C applications into one platform and moving to cloud-based services. But enterprises only want the specific features their business needs demand.
Even though people are often facedown in a phone, tablet or laptop, plenty of pure talk still goes on in the business world. And as enterprises move toward using more unified communications and collaboration tools, networking pros often start trying to integrate UC&C technologies as a way to manage one old-fashioned thing: the telephone.
That's what happened to Eric Prosser, IT officer for the Santa Clara County Fire Department in Santa Clara, Calif. "The original intention we had was strictly taking care of telephones," Prosser said. But the department recently integrated the Glip platform from RingCentral, based in Belmont, Calif., to go along with the company's VoIP service. Using Glip, the firefighters and business staff can now communicate via fax, email, text, chat and conference calls -- all from the RingCentral application on the Glip platform.
Voice service is one component of an expanding suite of unified communications and collaboration tools that vendors aim to offer in a single application or environment. So yes, unified communications -- talk, text, instant message and conferencing -- has been around long enough to be considered a mature market. But new collaboration tools, including document and screen sharing, are recent additions, and vendors are working to enhance those applications with cloud services and new features. Microsoft's recent announcement to replace Skype for Business with Teams demonstrated the push vendors are making to create a single hub for all workplace communications.
Whether enterprises will buy into that level of integrated UC&C remains to be seen.
Unified communications and collaboration applications are a critical element for enterprises to explore since people spend about 69% of their workday on communication and collaboration tasks -- from talking on the phone to sharing screens -- according to a March 2017 Webtorials workplace productivity study.
Right now, "very few vendors can offer true unified collaboration," said Zeus Kerravala, founder and principal analyst of ZK Research in Boston. "It's become such a broad term. And with so many vendors participating, I think it makes it difficult for buyers to build any type of strategy around it."
[V]ery few vendors can offer true unified collaboration.

Zeus Kerravalafounder and principal analyst, ZK Research
The Santa Clara County Fire Department has close to a full suite of UC&C tools that streamline work communications. But Prosser's department doesn't have full integration yet. The firefighters use native iPhone apps, not RingCentral, while on duty. But business office employees go through the RingCentral application to communicate in a variety of ways.
"It's a little harder [to achieve full UC&C integration] when you're dealing with a fire department," Prosser said. "If I had a business, I'd say absolutely, as much as possible because you could technically eliminate desk phones and run everything from a cellphone or laptop."
Unified strategy struggles
Part of the UC&C struggle is defining what the enterprise means by unified communications and collaboration, according to Kerravala. Enterprises go into UC with different ideas and needs.
RingCentral's set of unified tools offers some of the best options for users because it's fast and easy to deploy, Kerravala said. Microsoft's plan to integrate Teams with Office 365 is a step in the same direction, but the move initially creates some confusion for enterprises that might not be sure which products to use or even how to use them. Cisco Spark also has the potential to offer a full unified suite of applications. But Spark is cloud-based, and large organizations still prefer on-premises services, he added.
But as these technologies and unified platforms mature, new tools are created, and that's where enterprises can start seeing benefits to implementing fully integrated unified communications and collaboration, Kerravala added.
For example, web conferencing itself is a mature tool, but team collaboration is an emerging area. Imagine if users could record and move a whole conference into a Cisco Spark or Microsoft Teams room. Enterprises then would have something entirely new and helpful for their workflows, he said.
Enterprises have two major areas to consider when determining their need for UC&C: telephony and meetings, according to Bern Elliot, a vice president and analyst with Gartner Research.
Products in the telephony area include phone, text, chat and conferencing technologies. Meetings can include anything from two people grabbing time for a quick chat to a routine, scheduled large group event. The meeting area is emerging to include more collaboration, he added.
According to Elliot, users are looking for persistent meeting environments that fit into the workstream. These applications will allow groups of any size to conduct meetings, transcribe what is being said and allow participants to view tasks and complete action items. More and more, UC providers see collaboration tools as something they need to integrate into their offerings, Elliot said.
Consider the business need
At the Santa Clara County Fire Department, Prosser said he found himself on the UC&C journey almost by accident after implementing VoIP for the fire department's phones. A lot of different apps will accomplish the business need; RingCentral just happened to do it in a single app and now brings the Glip collaboration piece with it too, he said, which worked well for the fire department. But for other enterprises trying to decide what's best, the journey can be a challenge.
"Other businesses may run email, scheduling, drive/collaboration space and messaging," Prosser said. "Everybody uses a piece of this, that and the other thing. And [vendors] are throwing in their 2 cents on how they go about [UC&C]," Prosser said. "You have so many choices, you don't know how to choose. How do you pick?"
For Raytown Quality Schools in Kansas City, Mo., the choice came down to integrating and adopting new tools when the lifecycle of an older technology ended. Just like the Santa Clara County Fire Department, Raytown needed to improve its telephone service.
The school district, with 9,000 students and 1,400 employees across 25 sites, needed to upgrade and replace its aging telephone system. It ultimately decided on Ottawa-based UC provider Mitel Networks Corp. to install 1,400 handsets across the classrooms and school business office, according to Melissa Tebbenkamp, Raytown director of institutional technology.
The Mitel offer included a desktop client and virtualized infrastructure in Raytown's data center, so users would be able to use their cellphones and devices off site. This was key to supporting advanced functionalities like paging and reliability that staff needed, Tebbenkamp said.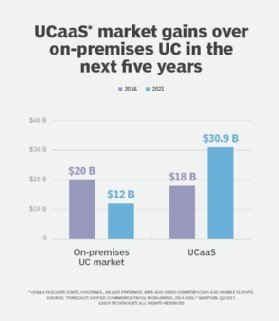 For the school system, flexibility in making phone calls and being able to chat internally have had the most significant impact among staff since Mitel voice and chat services were integrated, said Raytown's Jon Coleman, assistant director of technology operations. It's simplified the networking, too, he added. "Everything was a fairly simple switch over to the digital phones."
Raytown is looking at integrating other features, but for now, the school is satisfied with the tools it's using, Tebbenkamp said. Just because features are available doesn't meant they should be integrated immediately.
"Tools have to improve [users'] ability to do their jobs. Sometimes giving them too much becomes an obstacle," she said. "Not all of our users will use all the bells and whistles."
If the school decides to integrate more UC&C tools, it will start with looking at the business need. Enterprises and their IT departments must work together when it comes to integrating new technology, Tebbenkamp added. "As long as you know your culture, and you know how your users use technology, then I think you can find the tool that's the right fit."
Cloud on the Horizon
As UC&C tools continue to emerge, so do their delivery methods. Unified communications as a service (UCaaS), delivered via the cloud, is a growing market, Gartner's Elliot said. Particularly as networks phase out old systems, they'd rather replace them with cloud-based services that allow them to then focus on core business processes. In that situation, products like UCaaS and SaaS become attractive, he said.
On-premises UC still accounts for about 70% of products to large organizations, according to Gartner's 2017 Magic Quadrant for UCaaS, which pointed to vendors like RingCentral, Microsoft, Verizon, 8x8, Fuze and Mitel as having strong UCaaS offerings.
Whether UC&C is delivered on-premises or through the cloud, enterprises still must determine which tools and applications fit their business needs and how they get integrated. Successful IT shops will study how their users talk and communicate before implementing a wide range of potentially unnecessary tools.
Dig Deeper on Collaboration Applications for Unified Communications