Exploring the Blue Jeans video conferencing service and apps
High interoperability with other video conferencing providers and no on-premises hardware are the fabric of the Blue Jeans video conferencing service.
Since 2009, Blue Jeans Network Inc. has offered a cloud video conferencing service. The technology began initially as an interoperable video bridge in the cloud, but has since expanded into a full video product. The Blue Jeans video conferencing tools service customers of all sizes and are well-suited for medium to large organizations. The vendor focuses primarily on the North American and European regions.
Blue Jeans' scalable cloud service has a capacity of 100 participants per meeting. The greatest benefit for customers is removing the need to manage expensive video conferencing hardware on premises. Key features include:
Interoperability that connects standard and nonstandard video systems;
Scalable multiparty meetings;
Mobile, browser-based and phone connectivity;
Content sharing;
Meeting recording; and
Interactive live streaming.
Who, how and what's new with Blue Jeans' video conferencing service
For customers transitioning to a new vendor or connecting with a partner that may have proprietary video systems, interoperability is crucial. One key advantage of Blue Jeans is the ability to connect different manufacturers' video systems together. The Blue Jeans video conferencing products interoperate with Cisco, Polycom, Lifesize, Microsoft and Google, to name a few.
By developing its own mobile and web browser clients, Blue Jeans has expanded beyond just being a bridge in the cloud. The mobile and web browser clients allow customers to connect to Blue Jeans meetings using their desktop, tablet or smartphone.
More recently, Blue Jeans expanded into the video streaming and webinar space with Primetime, a scalable service that supports up to 3,000 attendees. Primetime is different than traditional web-conferencing services in that it allows attendees to be "promoted" to a presenter role during the event. This feature creates a more interactive experience than the traditional streamed presentation.
Pricing plans balance features, integrations, management tools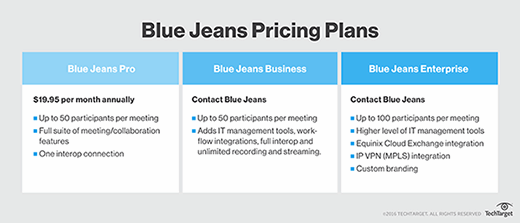 Blue Jeans offers three pricing plans for its cloud-based video conferencing products. A free, 14-day trial of the Blue Jeans service, including its full feature set, is also available.
Support plans offer reliable response times
Three service plans are available through Blue Jeans support. Basic support is offered to Blue Jeans Pro accounts and includes email support, with a 24-hour response time. The Standard service plan -- available only to Blue Jeans Business or Enterprise customers -- offers email and phone support, with a 12-hour response time. The Advanced service plan -- also only available to Business or Enterprise customers -- includes 24/7 support, with response times within one hour, as well as prioritized queuing deployment and consultation services, live meeting assist and other support services.
Go-to-market strategy
Blue Jeans sells its service directly and through value-added resellers. Customers can contact Blue Jeans' sales representatives directly through its website.
In addition, Blue Jeans offers a 14-day, fully functional trial of its cloud-based software, including Primetime. Presales services and evaluation can be performed through Blue Jeans or a value-added reseller.
Dig Deeper on Business Video Conferencing and Telepresence Technology