Kurhan - Fotolia
End-user training, internal marketing key to UC adoption
You put the future in front of them, yet users still embrace 1-800 conferencing lines. The disconnect often stems from insufficient end-user training and internal marketing.
As an IT manager, Neeraj Malhotra knows technology. But that wasn't the only area of expertise he and his team called upon to help ensure the success of their unified communications deployment.
Their strategy was also based on a universal truth about the human condition: People love free stuff.
To promote the adoption of Cisco's Jabber client among the 8,400 employees at Avago Technologies -- a designer and manufacturer of telecommunications signaling components -- Malhotra and his team started handing out headsets to users. The lure of a complimentary gadget was enough to raise awareness about the new unified communications (UC) app and encourage employees to use it.
"Whenever you give something [for] free, people love to come and talk to you," Malhotra says. "We had some pretty good turnout at some of our sites because they heard from their [office] neighbor that there's a free headset involved."
Since the headset giveaway, users have started requesting access to Jabber on their mobile devices, Malhotra says, noting that productivity has also improved. But for many enterprises, adoption is the toughest nut to crack in UC. It often drops off after enthusiasm dies down following the initial roll-out and first end-user training session.
"I'd say the single biggest factor that people are struggling with is demonstrating the value of the investment," says Irwin Lazar, vice president and service director at Nemertes Research. "Meaning that if I go out and spend a lot of money to roll out this new capability to the desktop, do I know if anyone's actually using it? Do I know if it's impacting the business in any positive way? How do I measure that value?"
This may be one reason why 2015 has shown a dip in IT professionals' confidence in their companies' success in UC. In a series of interviews Nemertes conducted earlier this year with 50 senior-level IT executives, only 43% of respondents described their UC deployment as "successful" or "very successful," down from 61% in 2014.
The fog around utilization obscures another factor that continues to impede UC success: the adoption rate itself. A repeated refrain among IT professionals -- particularly as UC proliferates in larger, more conservative corporate spaces -- is that employees never use the UC tools provided to them. Because of either a lack of awareness or an overt resistance to new technology, users persist in making conference calls via 1-800 numbers or sending email messages inquiring if a co-worker is available to chat.
To encourage adoption, Lazar says IT departments sometimes have to get creative. That means not only engaging employees in conversations about the new tools and providing ongoing end-user training, but also deploying resourceful marketing strategies.
"I think my favorite company story that I ever heard was they found the most effective way of introducing new IT capabilities wasn't email [and] it wasn't putting posters around the kitchen," Lazar says. "It was putting them in the bathrooms. They taped them to the mirror above the sink or, in the men's room, above the urinals, and suddenly everybody started using what they were rolling out."
Adoption was low because people don't read email from IT.

Nareej MolhatraIT manager, Avago Technologies
At Avago, Malhotra has seen firsthand what aggressive outreach can accomplish.
"I've come from an acquisition, and we never went to this extreme in my previous company. It was usually just an email that was sent," he says. "Here, we've gone to the point of actually having rooms set aside [for training and] having a booking tool available for people to book the training that they want to take. We've followed up with additional communications. So I think we're taking it a little further than what the average company would."
Compare that to the relatively low level of success with UC where he previously worked.
"Adoption was low because people don't read email from IT," Malhotra says. "That was one of the things we always saw."
Don't overlook end-user training
Once users know which UC tools are available to them, the next step is making sure they know how to use them. Brenda Emerson, the CIO of Landmark Bank -- which operates 18 branches across Missouri, Oklahoma and Texas -- recently orchestrated the bank's implementation of Avaya's Scopia platform for video conferencing. The goal was to cut down on board members' travel between the bank's multistate offices.
Educating users was a significant challenge in the path to UC success, Emerson says. She learned that IT should treat end-user training and education around UC as an ongoing process -- not just a one-time session after the initial rollout and for new hires.
"Training is hard. Even if you have a scheduled training time, not everybody can come," Emerson says. "You wonder, 'Is a repetitive way a better way?'"
As part of the financial industry, Landmark Bank had honed its ability to train employees efficiently and effectively in regulatory compliance requirements. Emerson says her IT department applied similar principles to training users in Scopia.
"There's lots of regulatory training in banking, so we know how we make that process [of training employees] better," she says. "We added the recording feature and really started leveraging video in the [UC] training environments. Now we have the expert talking, and everybody's getting the same message."
End-user training becomes especially important in businesses where a shift from legacy telephony to UC tools signals a broader shift in office culture, explains Blair Pleasant, cofounder of UCStrategies.com and president and principal analyst of consultancy COMMfusion LLC. If IT departments don't provide the instruction employees need to know to approach new technology, Pleasant says it's unrealistic to expect UC success.
"Users aren't getting the training," she says. "They're not understanding, 'Why am I getting this new system? The old system was fine, what's the value of this? How do I use it?' So the users aren't really getting the information they need."
She suggests IT departments do some internal "marketing" to highlight the usefulness of the new tools in addition to end-user training.
"Before you deploy UC systems, get people excited about it," Pleasant advises. "Get the users to understand why you're moving to this new system, what to expect from it, why it's going to be useful to them and how it's going to help them get their jobs done more effectively."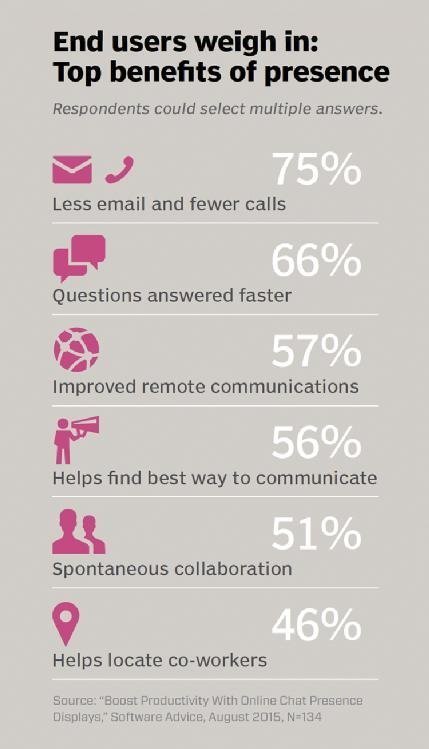 Account for corporate culture
Not everyone agrees, however, that a lack of sufficient end-user training is what holds back UC adoption.
"A lot of these solutions are fairly intuitive, and if it requires an awful lot of training, I would say that it's unlikely to get off the ground," says Tim Banting, principal analyst for collaboration and communications at Current Analysis. "People need something that's easy to use and fits with their work style and their work flow. And if it's complicated, it's very rare for it to gain widespread adoption."
Nevertheless, Pleasant cautions against assuming the tools will be intuitive to employees.
"So many companies think that UC is kind of intuitive and everyone knows how to use it, so they don't have to train people on it. But it's really a mistake," she says. "If [you're] trying to become a more collaborative organization, it doesn't just happen. You don't just give people the tools and say 'OK, go collaborate.' It really is more of a cultural type of change."
That's a familiar dilemma for Dodie Carlson, a senior telecommunications engineer at window covering manufacturer Hunter Douglas. Finding a UC solution that was both innovative and -- perhaps more important -- intuitive was key. In 2012, the company rolled out Google Apps in combination with the Esna Officelinx client for their voicemail.
It turned out that Hunter Douglas' employees "aren't really super users" of the voicemail client, Carlson explains, in part because of the company culture. Employees were, however, eager to adopt the collaboration tools in Google Apps.
"We're not really a very heavy phone usage type," she says. "We're a manufacturing company, so it isn't like we're a high-tech company or a sales organization or anything like that that would benefit from it."
IT pros should try to avoid the trap of inundating users with all the possible ways to use a new set of tools, when only a few options might be necessary for certain work groups, says Joe Rittenhouse, president of business development at Converged Technology Professionals, a UC reseller and consulting firm.
"The reality is, successful UC deployments are utilizing tools to make the business more productive," Rittenhouse says. "And the caveat to that is making sure that the training course is put together in a way where you just don't go over everything to where it keeps you out of the orbit."
Listen to users' needs
Even tools that have a demonstrable business case can seem overwhelming or unnecessary at first. Carlson says one barrier to users taking hold of new tools comes in the form of old habits that employees have a difficult time relinquishing.
"People have picked pieces of all the applications that we have here that mean something to them at the time, and forget about the rest of it," she says.
Carlson says her department's tactic of holding two annual training sessions largely seems to be working. Not everyone in the company is using the UC suite to the fullest, she readily admits, but adds that even for the most technologically cutting-edge business, that is not the ultimate goal.
Demand for UC analytics grows
With so much uncertainty around UC adoption, IT professionals are searching for ways to assess just how often employees are using the tools available to them.
Enterprises have recently shown a lot of interest in applying analytics that would give more insight into user adoption of UC tools, according to Irwin Lazar, vice president and service director at Nemertes Research.
"IT doesn't really have a lot of insight into utilization," he says. "It's because the tools themselves don't have those kinds of capabilities. We're just now starting to see vendors delivering analytics around unified communications. I think it's one of the hot areas coming up next year."
Learn more about how early adopters are using analytics to track video conferencing usage.
Experts and IT pros like Carlson acknowledge that every enterprise has employees with positions and personalities that are not compatible with certain collaborative apps or other communications tools. And rather than force people to use all the options a certain technology offers, IT should respond to the needs of the business.
Thus, the implementation of UC will look different for every enterprise. For a high-tech company such as Avago, the right strategy turned out to be provisioning new UC tools to company leadership relatively late in the game.
"Typically, we do not have our leadership involved in new deployments," Malhotra says. "You don't want to disrupt their work."
In contrast, the needs of Landmark Bank's corporate executives drove the business case with their need for a board meeting tool, making executives the first to adopt the new solution. This worked as an effective marketing strategy for wider corporate adoption and ultimately made sense because it fit the needs of the company.
It's successful because [our users] are driving the needs and we're solving it, versus us sort of shoving it down their throats.

Brenda EmersonCIO, Landmark Bank
"I think it is a constant effort of listening to people's needs and making sure we're informing them of solutions we have," Emerson says. "I'm not going to tell you I think we're perfect. There are 700 people who work here; not everyone knows the tools we have."
Still, if she had to rate her company's success with UC on Nemertes' one-to-10 scale, Emerson believes Landmark would do well.
"It's been pretty successful. I would say it's an eight," Emerson says. "Because, interestingly enough, [we're using it for] things that I didn't even think about when we started, and that really was driven by the end user."
For example, she explains, an executive who had a good experience with video conferencing for a board of directors meeting later went on to use it for internal calls. That led to inquiries about how to use video for employee training, recording on-demand video and using the technology externally with customers.
"In that way, it's successful because they're driving the needs and we're solving it, versus us sort of shoving it down their throats," she says.