tiero - Fotolia
Employee consultation needed before deploying new UC tools
Organizations that don't seek an employee consultation before deploying communications tools may struggle with adoption. Learn how to deploy tools that employees want to use.
Most organizations roll out unified communications tools to improve business workflows and employee productivity. But what happens when these deployments flop?
Organizations that fail to get employees to adopt new communications tools will take a hit financially and could face security, management and regulatory concerns if employees turn to outside services. Normally, enterprises don't see success in a UC rollout if they don't include an employee consultation.
"You may be missing out if you're not consulting users on really good tech and some good ways of improving business processes," said Melanie Turek, vice president of research at Frost & Sullivan.
Roughly 77% of employees are not consulted when a new unified communications tool is deployed, like video conferencing or a social collaboration platform, according to a report from IT service provider Softchoice. The report surveyed 250 IT managers and 750 line-of-business (LOB) employees in industries ranging from technology to healthcare.
When organizations don't seek an employee consultation, the tools they roll out tend to be "over-engineered" with IT spending more money on features than necessary, said Erika Van Noort, director of consulting at Softchoice. The report found that employees won't use a communications tool if they believe it won't make them more productive or if they already have other tools.
You've chosen a tool or two and get immediate buy-in from [users]. They told you what they want; now you're giving it to them.

Melanie Turekvice president of research, Frost & Sullivan
Often, when users are presented with communications tools they don't need or understand, they will deploy their own tools. This disconnect can lead to security and compliance issues -- especially if employees are deploying consumer-grade tools.
IT departments may also be overwhelmed by tools they didn't roll out. Turek said dozens of unsolicited tools can be used in mid- to large-size organizations.
"IT simply can't support an endless number of apps and services," she said. "Even if you roll out one and people start using other things, they're guaranteed to come to you for help when they need it."
Taking responsibility for user training
User training -- or lack thereof -- has a major impact on the success of a unified communications rollout. In her research, Turek has found the biggest adoption barrier for LOB managers and end users is a lack of training.
"A lot of times these tools are positioned as easy and intuitive," she said. "But enterprise apps tend to be more complex and feature-rich than consumer apps."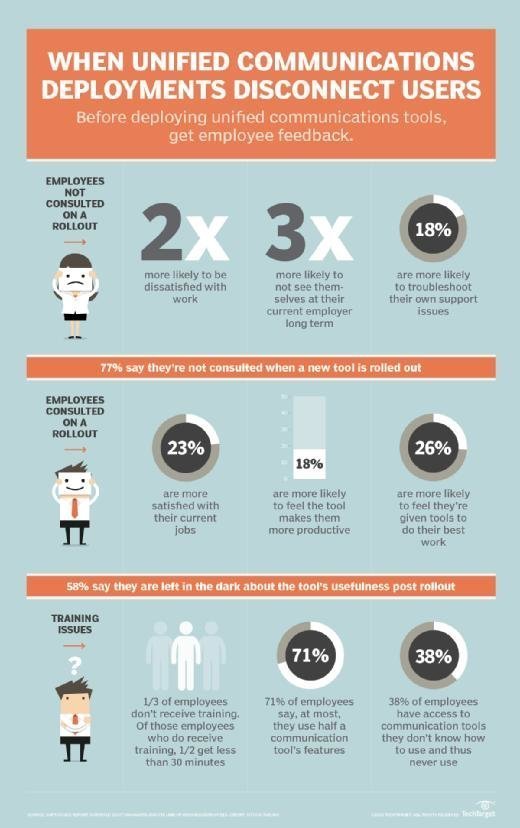 Van Noort said when IT rolls out unified communications tools, one employee or department is not usually responsible for the adoption. And if employees don't know how to use a tool, they won't go to IT because they don't view IT as a resource for training.
That responsibility often sits in a gray area between IT and LOB. Organizations should determine if IT alone should do the training or if IT should partner with others in the organization. The most successful training programs are specific to user roles and the technology, Van Noort said.
Organizations should make training available on a continuous basis, especially if your company will roll out new features or integrations. Resources can be available on demand through a video library or a user forum, said Turek.
Approaching employee consultation and training
When rolling out communications tools, the first step to an employee consultation is to benchmark what tools are currently used in the organization, Turek said.
"You want to identify key power users in lines of business and engage with them," Turek said. Ask these power users how they're using tools, what features they like and dislike, what features they wish they had, and what recommendations they have for integrating tools into their business processes. Then an organization can make a request for proposal.
Employee consultations shouldn't end when the UC deployment is complete. Continue to engage users by asking them about the tools that are rolled out. Find what works for them, what doesn't and make improvements.
Turek said engaging with end users makes the process a little longer and more intensive, but there will be a payback. "You've chosen a tool or two and get immediate buy-in from a large percentage of the user base," she said. "They already told you what they want and need; now you're giving it to them."
Dig Deeper on Unified Communications ROI