koya979 - Fotolia
Cloud UC benefits extend to disaster recovery
If a disaster knocks out on-premises UC systems, business grinds to a halt. But that's also when cloud UC's benefits around disaster recovery shine.
Like everyone else in New York, Nicholas Giordano wanted to believe meteorologists were overreacting as they tracked Hurricane Sandy up the East Coast in late October 2012. Maybe it would be just another one of those storms that were great for TV ratings but fizzled out before doing any real damage.
As it turned out, that hope couldn't have been farther from reality. Hurricane Sandy pummeled the New York metropolitan area for several days -- knocking out power, flooding streets and subway stations, and in some cases, washing away entire waterfront neighborhoods. The devastation ultimately cost the state $32 billion and more than 50 lives.
Giordano, a tech support specialist at TheLadders.com, an online job search and recruiting service, knew his telephony infrastructure would never be a match for a hurricane of Sandy's magnitude. Thanks to the aging infrastructure in lower Manhattan where the TheLadders is headquartered, even a few rainy days were generally enough to submerge the copper phone lines and wreak havoc on call quality for several days.
And while the post-Sandy flooding caused its own slew of problems, the bigger obstacle Giordano faced at the office was the extended loss of electricity in the aftermath of the storm. Although the company's data center was in New Jersey and virtual private network (VPN) connections into it remained functional, its PBX was in the downtown New York office. Without power, the telephony system was rendered inoperable. Productivity plummeted.
"There were absolutely zero phone calls coming in or out of the office," Giordano says. "We have a large customer service team, so they were unable to assist customers for about a week. That was pretty painful for us."
Even though communications tools are a critical component of most businesses -- especially during a crisis -- experts say few enterprises realize how vulnerable their on-premises unified communications (UC) infrastructure really is until a disaster like Hurricane Sandy strikes.
One possible solution is to purchase, deploy and maintain redundant PBXes and UC platforms at another site. But the reality is that it's far too expensive and complex an approach for many IT departments. Some enterprises are finding success with an alternative: cloud-based UC services, also known as UC as a service (UCaaS), which can become part of a disaster recovery and business continuity plan at a much lower barrier to entry.
When disaster strikes, UCaaS ensures employees aren't shut out of their core communications and collaboration tools. That's because access to the system doesn't depend on users being in a certain location, according to Zeus Kerravala, founder and principal analyst of ZK Research, an independent consultancy in Westminster, Mass. Users can go anywhere there's an Internet connection and have their full suite of tools available again.
"The beauty of a UCaaS service is it's ubiquitously available," Kerravala says. "Even if your primary location goes down and you've got to work from home, the UCaaS service works as if you're in the office. It's one of the benefits to cloud -- the business continuity capabilities are built into it."
But it's not just headline-grabbing crises like hurricanes and earthquakes that enterprises need to be prepared for, he adds. Anything from a chemical spill to a building fire to a medical quarantine can block employees' access to on-premises communications tools. And no one is immune.
It's only a matter of time, I'm sure, before something like that happens again. It's a good feeling to know we have that backup and redundancy.

Nicholas Giordanotech support specialist, TheLadders.com
"There's a number of different reasons why a physical building may be unavailable, and it's not just [natural] disasters," Kerravala says. "That's the sort of thing most people focus on, and I think it's very myopic."
After seeing its operations paralyzed by Hurricane Sandy, TheLadders tossed its on-premises PBX and subscribed to a UCaaS offering from ThinkingPhones, Giordano says. The service supports softphones, instant messaging, mobility and contact center features like call recording and reporting. In the event of another outage, Giordano explains, call center agents will be able to work remotely using ThinkingPhones' mobile app to log into their customer service queues via the Internet.
"It's only a matter of time, I'm sure, before something like that happens again," he says. "It's a good feeling to know we have that backup and redundancy."
The role of UCaaS in disasters
Although UCaaS may be a natural fit for disaster recovery and business continuity, it is still somewhat of an off-label use for it. Most enterprises investing in UCaaS today are doing so primarily because they want to shift UC from a capital expense to an operating one. They're looking for more flexibility in scaling their deployments up or down as needed, according to Irwin Lazar, a vice president and service director at Nemertes Research in Mokena, Ill.
But while it may not be a big selling point, built-in cloud UC benefits around disaster recovery and business continuity benefits shouldn't be overlooked.
"I don't believe I've ever talked to anybody where the primary driver of UCaaS was business continuity … although I think it could be when you think of how important communications continuity is for companies," Kerravala says. "You should look at taking some of the business continuity budget and allocating it toward cloud services. It's one of the big benefits they provide. If you're not doing that, you're probably leaving some money on the table."
Trying to replicate those benefits internally would require a redundant PBX and redundant cluster of UC servers at a backup location, in addition to paying a carrier every month to maintain a network connection to that site, Lazar explains.
"I don't think companies spend enough time thinking about the potential cost savings from having to build their own resilient infrastructure versus leveraging someone else's," he says. "By going to a cloud provider, all they need is multiple connections out to the Internet."
If you incorporate it into your daily operations, you know it'll work well in an emergency because you know it works well on a daily basis.

Jack Schnirmancity manager, Long Beach, N.Y.
Using the same UCaaS tools for daily communications and disaster situations also means users and IT departments won't have to worry about familiarizing themselves or fumbling with a backup system in the midst of a crisis.
"[The goal] is not 'break glass in case of emergency.' We should be using the same equipment day in and day out," says Jack Schnirman, the city manager of Long Beach, N.Y., which is testing Polycom's cloud-based collaboration and video conferencing service, RealPresence CloudAXIS. "If you incorporate it into your daily operations, you know it'll work well in an emergency because you know it works well on a daily basis."
Long Beach, located on a barrier island off the South Shore of Long Island, was also devastated by Hurricane Sandy, which gutted the city's iconic boardwalk and ravaged its beachfront properties. Residents and businesses remained without electricity or running water for several days. Cellular service was intermittent.
"We ended up running our emergency operations really without any communications capability," Schnirman says. "We lost the ability, to some extent, to coordinate with our first responders."
City officials now hope to construct a more resilient emergency operations center that would serve as a satellite to a similar facility in nearby Bethpage, N.Y. The two facilities would work closely with each other during emergencies. If standard Internet connectivity drops off during a disaster, the facilities would fall back on a satellite-based Internet service to make sure the line of communication never gets cut, Schnirman says.
For both municipalities to coordinate their efforts, it will be vital to have the right mix of collaboration tools, Schnirman says. Large conference calls can get chaotic, which is why the he believes video conferencing will help officials avoid wasting time identifying speakers or clarifying miscommunications.
"You need to be able to facilitate communication among multiple people at the same time. If you have a room full of people in Long Beach, you want them to be able to speak to a room full of people in Bethpage or wherever else," Schnirman says. "Video is probably the most efficient way to do that."
UCaaS to the rescue
Most disasters don't make national news, but that doesn't make them any less disruptive for enterprises affected by them.
Kevin Kelleher, CEO of Icon Voice Networks in Coppell, Texas, found that out the hard way last July when a water main feeding the company's sprinkler system burst -- flooding its former office building in Irving, Texas, with 150,000 gallons of water.
Facing massive amounts of structural damage, the facility that once housed engineering labs, executive suites and an inventory warehouse was no longer safe for employees to enter. Kelleher secured a temporary office the day after the flood, but it was only a fraction of the size of the company's original 35,000 square-foot headquarters. With only 4,000 square feet available, half of Icon's employees were forced to work from home for the next six months.
Disrupting operations and communications for that long could be devastating for any company. But Icon Voice Networks, which bills itself as a distributor and platform integrator for networking and UC equipment, had launched a UCaaS offering based on Alcatel-Lucent's OpenTouch Enterprise platform just four months earlier. Employees were already using the application internally and went back to business as usual right after the flood, at least in terms of their UC tools.
"Immediately, there was no loss of communication because in the UC app from Alcatel-Lucent, you can [link one phone number to] multiple devices," Kelleher said. "You couldn't ring my phone at the office, but the reality is I've got my iPad no matter where I am. Once I'm up and running, I can take that call on my iPad or iPhone, no matter where I am."
The flood had also washed away access to the 100 Mbps Internet connection at the original facility that connected on-site employees to the data center in Dallas that hosts Icon's UCaaS platform. Setting up a new Internet or wide area network (WAN) connection at the temporary office could take weeks -- way too long -- so Kelleher and his team deployed several of Alcatel-Lucent's 4G LTE routers to keep the business running.
Drawing on Icon's own experiences with disaster and the tools it used to respond to it, the company released a so-called crash kit a few months later, formally called its Rapid Deployment Hosted Voice Service. It combines the services, equipment and applications a customer would need to reestablish its communications post-disaster, including the OpenTouch UC apps and 4G LTE routers, Kelleher says.
"I've been in the industry for 30 years, and everybody talks about the term business continuity like 'It'll never happen to me.' Well, when it happens to you, let me tell you -- and excuse my French -- it sucks," he says. "You've got to be up and running as quickly as possible, and fortunately we were able to do that."
Using a cloud-based approach to communications has also helped Aquent, a Boston-based staffing agency, mitigate the effects of an outage or disaster. ShoreTel Sky has become a valuable tool for the agency's customer-facing operations around the United States and Canada, says Kelly Griffin, manager of the internal and external support team at Aquent.
"It's extremely important to us that our clients … are able to reach us at any point," she says.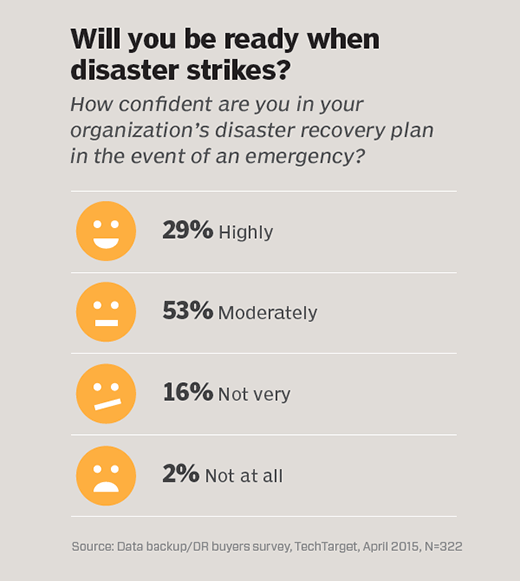 When an ice and snowstorm hit southeastern Pennsylvania in February 2014 and caused a record number of power outages in the region, Aquent's clients were none the wiser. The agency has an office in Conshohocken, Penn., that became unreachable during the winter storm that left more than 600,000 homes and businesses around the state without power. Logging into the ShoreTel Sky cloud-based dashboard, the IT team was able to route those calls on the fly to another office.
"The power was out in the majority of the Philadelphia area for, in some cases, upwards of a week," Griffin says. "We were able to carry on business as usual without people even knowing."
Having access to the enterprise UC tools users rely on every day is imperative for achieving true business continuity, says ZK Research's Kerravala. Although there's nothing preventing employees from simply using their personal cellphones or a free IM client like AOL Instant Messenger, it won't be seamless for customers, partners and coworkers that have to keep track of the new contact information, he explains.
"You want the work style to be uninterrupted," Kerravala says. "Ideally, what you want is no matter where you work, you have the same set of collaboration and communications tools."
Dig Deeper on Unified Communications Architecture and Service Models