Cisco vs. Microsoft: Cloud becomes latest battlefront for UC
As these industry giants wrestle for dominance in UC, their fight moves to the cloud. But as their offerings increasingly overlap, how do you decide which best fits your business?
When Cisco and Microsoft came out with plans to strengthen their respective collaboration abilities in the cloud last December, you could empathize with enterprises struggling to figure out the differences between them.
After all, Microsoft's newly released Office 365 Enterprise E5 and Cisco's Spark both claim to focus on the core functions of meet, message and call for small to midsized businesses. Both tap the benefits of the cloud to avoid the hassles and upfront costs of on-premises equipment. And while Office 365 Enterprise E5 includes collaborative conferencing tools like Skype for Business Online, Spark has always-on messaging and file sharing and offers video meetings with screen sharing. What's a buyer to do?
The renewed focus on cloud marks the latest twist in the vendors' ongoing battle for control of the unified communications (UC) and collaboration market. Experts say it's a natural outgrowth of where businesses are headed with their UC strategies as they consider Cisco vs. Microsoft.
"Both companies' moves are a testament to the fact that [businesses] are thinking of moving unified communications to the cloud," says Marcus Schmidt, senior director of products at West Unified Communications, a service provider based in Omaha, Neb., that implements both Cisco's and Microsoft's UC products.
The greatest clue to deciphering the benefits of each vendor's approach lies in their origins, he says.
"Cisco comes at cloud-based unified communications from its traditional strong suit of voice, video and larger group meetings," Schmidt says. "Microsoft comes at it from the productivity and collaboration angles."
Cisco's plans for Spark seem to be twofold, according to Irwin Lazar, a research leader at Nemertes Research. The goals: to attract a new customer base and get existing customers more comfortable with the cloud.
"Cisco and Microsoft both have the long-term goal of delivering an entire breadth of services as hosted cloud solutions," Lazar says.
But when it comes to Cisco vs. Microsoft, the former, whose UC products have historically been closely tied to its hardware, has to tread carefully. Cisco doesn't want to cannibalize its existing base of on-premises installations, nor can it risk jeopardizing its channel partners' hosted services business.
"Cloud is where they are going, though, so they can push out rapid updates, deliver APIs and evolve much quicker than they can with on-premises," Lazar says.
Where they fit in
Verticals that might be interested in Spark would include software development, real estate and financial services, according to Lazar. The reason is that Cisco's new technology is most appealing to companies with distributed teams that need to collaborate in real time internally and externally, he says.
Skype for Business Online might be more tempting for those with more limited collaboration needs. "They might not need real-time persistent chat, but rather require single-click from a calendar entry to join a bridge or Web conference," Lazar says.
The bigger challenge Cisco faces in gathering market share is that 45% of companies are moving to Office 365 for email and calendar, according to a Nemertes study. This move makes it easier for those Microsoft customers to then say "yes" to voice services for a few dollars more a month.
"Where Cisco will win, though, is with companies that have strong Cisco relationships already and that have non-Microsoft applications they want to support," Lazar says.
If you've got subject-matter experts in place and you've already made the investment, then you stick with what you know.

Bill Leopresident and senior consultant, Summit Technology Group
Bill Leo, president and senior consultant at Summit Technology Group, a New York-based consultancy, is also trying to help businesses decide, of Cisco vs. Microsoft, which approach is best suited for them.
One of his clients, a small tax firm with multiple locations, is considering Spark because it already has a Cisco phone system installed. Spark's ability to integrate with Cisco's Unified Communications Manager would allow the firm to continue using its existing IP phones, thus protecting a previous investment. Leo adds that the company also likes the idea of staying with Cisco because of its comfort level with the vendor.
"If you've got subject-matter experts in place and you've already made the investment, then you stick with what you know," Leo says.
Cisco vs. Microsoft: Understanding your needs
Another of Leo's clients, a small advertising agency with three locations, wants to roll out Microsoft's full portfolio of applications, including Skype for Business Online because its staff is most comfortable with Microsoft's software.
But Leo warns that the word portfolio is not synonymous with the word interconnected, and Skype for Business does not integrate as seamlessly with Microsoft's other applications. Lazar agrees, saying that while Microsoft may have 20 applications, it fails to present a "unified vision." Instead, he contends, Microsoft encourages customers to use the pieces they want.
Leo has found that disconnect to be a problem in areas like file sharing during a Skype session, which can produce a duplicate version of the document that affects version control, compliance requirements and storage demands. Also, if video and audio conferences need to be stored and backed up, that could require additional storage space.
"You might even need deduplication capabilities to ensure that storage is optimized," he says.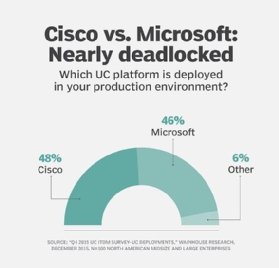 With each strategic plan he generates for businesses considering Cisco vs. Microsoft, Leo also digs into infrastructure requirements.
"I want to see if the network can support additional stresses from video, voice and collaboration," he says. For instance, he looks at the carrier capacity to ensure it can handle the demands of high-resolution video conferencing and the greater volume of traffic.
At West Unified Communications, Schmidt has uncovered some support hurdles as well. While Cisco has rolled out a feature with Spark that lets users register their phones into the system with a QR code, it only works for certain models.
"Some customers have made a big investment and aren't willing or able to do a wholesale switch-out of their endpoints," Schmidt says. As a result, they won't be able to use all the new features.
Still, he applauds Cisco for keeping its platform open so that developers can create APIs, and he hopes Microsoft follows suit.
"Microsoft should open the Skype for Business Online platform as much as they can so developers can keep doing integration," he says.
As small and midsized businesses weigh Cisco vs. Microsoft and adopt these cloud-based services, Schmidt encourages enterprises to take notice because both platforms will undoubtedly move upmarket.
"Both companies are clearly investing in the cloud," he says, "and clearly believe this is where the industry is going."