Cisco Unified Communications Manager Architecture
Understanding the role that Cisco Unified Communications Manager (CUCM) plays in a converged network from various IT perspectives is necessary for a successful installation and configuration. This chapter describes the architecture, hardware and software requirements and the licensing model of the Cisco Unified Communications Manager.
This tip is excerpted from "Cisco Unified Communications Manager Architecture," Chapter 1 of Implementing Cisco Unified Communications Manager, written by Dennis Hartmann and published by Cisco Press. You can read the entire chapter for free at the link above.
CUCM extends enterprise telephony features and functions to packet telephony network devices. These packet telephony network devices include Cisco IP Phones, mediaprocessing devices, VoIP gateways, and multimedia applications. Additional data, voice, and video services, such as converged messaging, multimedia conferencing, collaborative contact centers, and interactive multimedia response systems, interact with the IP telephony solution through the CUCM application programming interface (API).
CUCM provides these functions:
Call processing: Call processing refers to the complete process of originating, routing, and terminating calls, including any billing and statistical collection processes.
Signaling and device control: CUCM sets up all the signaling connections between call endpoints and directs devices such as phones, gateways, and conference bridges to establish and tear down streaming connections. Signaling is also referred to as call control and call setup/call teardown.
Dial plan administration: The dial plan is a set of configurable lists that CUCM uses to perform call routing. CUCM is responsible for digit analysis of all calls. CUCM enables users to create scalable dial plans.
Phone feature administration: CUCM extends services such as hold, transfer, forward, conference, speed dial, redial, call park, and many other features to IP phones and gateways.
Directory services: CUCM uses its own database to store user information. User authentication is performed locally or against an external directory. Directory synchronization allows for centralized user management. Directory synchronization allows CUCM to leverage users already configured in a corporate-wide directory. Microsoft Active Directory (2000 and 2003), Netscape 4.x, iPlanet 5.1, and Sun ONE 5.2 directory integrations are supported. The local CUCM database is a Lightweight Directory Access Protocol (LDAP)-compliant database (LDAPv3) component in the IBM Informix Database Server (IDS).
Programming interface to external applications: CUCM provides a programming interface to external applications such as Cisco IP SoftPhone, Cisco IP Communicator, Cisco Unified IP Interactive Voice Response (IP IVR), Cisco Personal Assistant, Cisco Unified Personal Communicator, and CUCM Attendant Console.
Backup and restore tools: CUCM provides a Disaster Recovery System (DRS) to back up and restore the CUCM configuration database. The DRS system also backs up call details records (CDR), call management records (CMR), and the CDR Analysis and Reporting (CAR) database.
Figure 1-3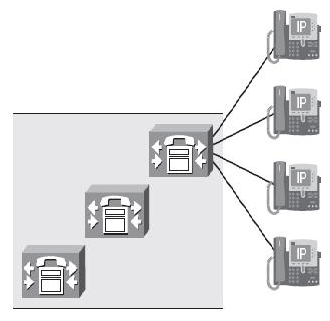 Figure 1-3 shows IP phones that logically register with one of the CUCMs in the cluster. Multiple CUCM servers share one database, and the phone maintains an active connection to both the primary and backup CUCM server. The figure shows the phone's logical TCP/IP connections to the primary server.
Download and read the entire chapter.
Reproduced from the book Implementing Cisco Unified Communications Manager. Copyright 2008, Cisco Systems, Inc.. Reproduced by permission of Pearson Education, Inc., 800 East 96th Street, Indianapolis, IN 46240. Written permission from Pearson Education, Inc. is required for all other uses.
Dig Deeper on Unified Communications Architecture and Service Models