Evaluate
Weigh the pros and cons of technologies, products and projects you are considering.
Cisco Spark vs. Unify Circuit: Comparing collaboration apps
Collaboration apps that target mobile workgroups are making their way into the enterprise. Our chart compares two high-profile apps: Cisco Spark and Unify Circuit.
Simple and sleek messaging applications, like Slack and HipChat, are creeping into the enterprise as workers look for better ways to collaborate. And larger vendors have responded by rolling out collaboration apps with the sophisticated capabilities that enterprises expect in their unified communications. A couple of high-profile apps on the market include Cisco Spark and Unify Circuit.
Cisco, Unify and other vendors are looking to make collaboration more about the process and team function rather than the technology, according to Nemertes Research Vice President and Service Director Irwin Lazar.
"We see the early adoption of these tools typically in distributed workgroups that have to move pretty quickly," Lazar said.
These WebRTC-based, software as a service collaboration apps create persistent meeting rooms that allow users to communicate in real time and asynchronously, and offer features like screen sharing, document sharing and conferencing.
While most organizations already have these capabilities, the features are often found in disparate applications. Cisco and Unify are tasked with convincing enterprises to unite those features with one application, Lazar said.
"The larger enterprise market doesn't see the value outside of specific workgroups," he said.
Circuit generated some buzz during its development, but didn't live up to the hype when it failed to deliver on promised features like social tools. Cisco unveiled Spark in March partly as a response to the smaller messaging apps flooding the market now, Lazar said.
Our chart compares some of the features of Spark and Circuit to help you decide which collaboration app meets your enterprise's needs.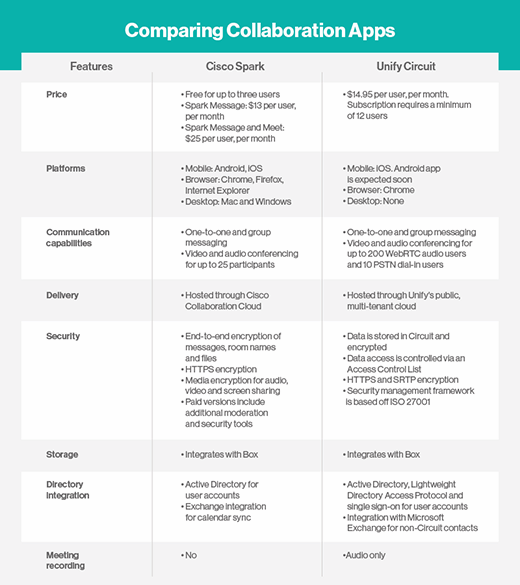 Dig Deeper on Collaborative Applications