Benefits of video conferencing unlock with flexible setups
There's a dizzying number of products for enterprise video conferencing, and it's unlikely that a single type of endpoint will fulfill all your needs.
Daniel DiVito, director of technology at Shelton Public Schools in Shelton, Conn., has never been a fan of the large room-based video conferencing systems.
"Trying to corral hundreds of second graders into an auditorium for a video conference just doesn't work that well," he says.
Instead, the school district, which has 4,900 students from pre-kindergarten through 12th grade, has embraced the newer, more flexible era of video conferencing that includes software- and cloud-based options. This includes its use on desktops and mobile devices, as well as in huddle rooms -- small meeting rooms for groups of two, three or four -- equipped with a video-enabled laptop to allow a handful of people to collaborate. DiVito says moving away from or avoiding the complex and costly fixed infrastructure associated with traditional room-based systems gives teachers the opportunity to reap the benefits of video conferencing and find an approach that best aligns with their curriculum.
"In education, teachers will not use technology unless they are comfortable [with it]," he says. "And when you're using taxpayer dollars, you don't want to give them a shiny bright trinket that will collect dust."
Enterprises and IT pros like DiVito are increasingly finding that a one-size-fits-all approach can tank a video conferencing deployment, and the room-based systems are no longer their only option. The changing design of workspaces, including open plans and distributed workforces, necessitate a more flexible strategy -- and now there's no shortage of approaches to achieve that and see the full benefits of video conferencing.
Companies that have already made the investment in large in-room systems will likely keep them in the short term while simultaneously moving to video-enabled huddle rooms and other types of meeting spaces, according to Andrew Davis, senior analyst and partner at Wainhouse Research. That said, he notes there is a growing interest in "personal" video conferencing -- that is, not room-based.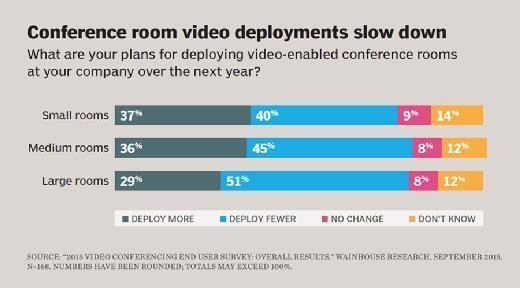 The shift is being driven by millennial workers being more comfortable with video and by personal systems becoming far easier to use and more reliable, he says. As a result, video conferencing has become much more of a mainstream application.
With that, Davis explains, has come "a cataclysmic change" from dedicated hardware systems for video infrastructure, which have flattened in sales, to software-driven platforms that run on industry-standard servers and in virtualized environments. This "game changer," as he calls it, sets the stage for greater use of cloud-based video conferencing services -- changing the economics and broadening the technology's reach. Some larger vendors, such as Avaya, Cisco and Polycom, are connecting their infrastructure to the cloud to support a hybrid environment.
"Infrastructure that once only supported dozens of conference rooms now can extend to thousands of video-enabled users," Davis says, making cloud services truly cost-effective.
Banking on ease of use
A previous district where DiVito had worked had a $15,000 proprietary video conferencing system that was used infrequently. It's a common scenario among enterprises that failed to achieve the benefits of video conferencing.
"It became a pain because not everyone we needed to conference with had that product," DiVito says. He knew he wanted an agnostic approach for Shelton Public Schools.
With four techs supporting the district's eight buildings, DiVito wanted video conferencing tools that were easy to use and self-service. Proprietary systems, he found, required dry runs to make sure the conference would work.
"We needed our strategy to be plug and play so teachers could set the video conference up themselves on the fly," he says.
We needed our strategy to be plug and play so teachers could set the video conference up themselves on the fly.

Daniel DiVitoDirector of technology, Shelton Public Schools
The district settled on using Google Hangouts and Citrix's GoToMeeting. Every classroom is equipped with an interactive whiteboard and projector that connect into the teacher's desktop computer, which links to a 10 gigabit fiber network.
With this standard setup, teachers are able to get the benefits of video conferencing at any time. For instance, using Google's Connected Classrooms to schedule a Google Hangout, third graders were able to take a virtual field trip to the Monterey Bay Aquarium in California. Workers there put on GoPro cameras and streamed their activities live to the students, who were able to push a button and ask questions in real time.
Chris Maeder, an engineering director at CivilGEO, a civil engineering software firm headquartered in Madison, Wis., ran into similar challenges with ease of use. He says the company, which has 55 employees worldwide, used to have a "high-maintenance," proprietary video conferencing system. But after it sucked up IT's time with an ongoing need to tweak protocols and codecs to get it working properly, Maeder literally pulled the plug.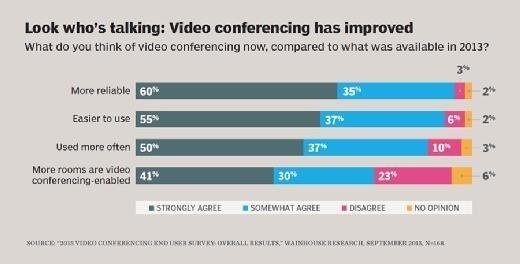 CivilGEO now relies on a combination of Skype and GoToMeeting to meet employee demands. For instance, the company's two conference rooms are outfitted with a television set that mimics an in-room system that can run either video conferencing service. For daily meetings with a team in New Delhi, employees use GoToMeeting; for more informal sessions, they use Skype.
To ensure high-quality video conferencing to India at CivilGEO, Maeder purchased three high-quality, leased-line internet connections there and used Mushroom Networks' broadband bonding technology to create a bonded IP tunnel optimized for latency, jitter and packet loss. During monsoon season, if call quality on one line fluctuates, it is seamlessly transferred to another line.
"Worst thing that can happen when we are presenting to customers about a key new feature is to have the line sputter," he says.
Dave Robinson, CIO of Lockton Companies, a private global insurance broker with more than 6,000 associates worldwide, also found out the hard way that rigid and traditional video conferencing setups didn't meet end users' needs. In the past, associates had been slow to be comfortable with face-to-face communication technologies, and Robinson says he "wrestled with that as a technology leader."
The company, based in Kansas City, Mo., opted for Avaya's Scopia to connect its associates. Robinson started the deployment slowly, setting up Scopia video conferencing stations on desktops around the company's U.S. offices. Because Lockton already had Avaya's telephony products, there was awareness and comfort with the environment among IT and end users, and Robinson didn't have to rip and replace any infrastructure to install the video component.
"As a broker in a highly regulated industry, our key differentiator is our people, and we want to foster the entrepreneurial spirit through communications and linking our global workforce together," Robinson says.
From roving robots to African classrooms
As video conferencing adoption rises and the technologies become more flexible, many IT shops find more innovative and cost-saving use cases for it.
In the Shelton School District, IT pros rely on GoToMeeting for scheduled, one-to-many video conferences. When one of the district's elementary schools won a writing contest, its students and faculty got to virtually meet a famous author. Using a Windows-based laptop and a projector in the auditorium, the students were able to interact with the author in real time.
The district's faculty and administrators use video conferencing for professional development as well to save travel time between schools, which are across town from one another. DiVito aims to deploy Google Chromebook carts so that students can use them for small-group instruction or on-demand learning, such as partnering with a sister class in Africa.
"I want video conferencing to not just be a class-based activity, but for three or four students at a time at an individualized level," he says.
Meanwhile, CivilGEO has found an unusual way to enjoy the benefits of video conferencing: Its workspaces are outfitted with Nest Dropcams so that remote employees can see if their co-workers are in the office for a meeting. Employees then can log into the Double Robotics system, which remotely operates a telepresence robot running Skype, and drive the robot into someone's office to meet face-to-face.
"Engineers can easily see what their colleague is working on and help problem-solve over a conference call," Maeder says.
Different approaches for small teams
Enabling small groups to collaborate has been the primary driver for deploying video conferencing at Heaven Hill Brands, a manufacturer of distilled spirits in Bardstown, Ky.
Brittany Capito, a senior brand manager at Heaven Hill, has nailed down three use cases for video conferencing: collaboration among employees at multiple sites, including those in Louisville, Ky., and Austin, Texas; working with outside partners, such as advertising agencies; and connecting and collaborating with the 50 field sales managers who work mostly out of home offices throughout the country.
The company uses a combination of Lifesize's in-room systems in conference rooms and cubicle/meeting room access via desktops. As adoption rates rise, Capito's biggest struggle has been getting end users to break the habit of tying up conference rooms for individuals or meetings consisting of smaller groups.
"We had high demand, and in the beginning had a big problem with scheduling conflicts for the six conference rooms," she says. She wants to educate users on the capabilities on desktops and laptops so they opt for those when appropriate. "I want to set up guidelines so we free up those larger spaces," she says.
Capito says Heaven Hill made a conscious decision not to deploy mobile carts because "we didn't want to have the responsibility and time requirement to move a system around. We wanted everything in place when people wanted to start a video conference." However, mobile users can access video conferencing via a laptop or tablet using Lifesize's cloud service.
At Lockton Companies, Robinson makes mobile carts available so that smaller groups can connect in huddle rooms. He aims to experiment with Scopia's mobile capabilities in the near future, and has quickly realized that video conferencing is not "one-size-fits-all." While adoption has not reached critical mass yet, Robinson already is trying to measure the value for the organization.
"We need to make sure that experience helped the people involved and made a positive impact on the business," he says.
Dig Deeper on Business Video Conferencing and Telepresence Technology