Bobboz - Fotolia
As iPads multiply, enterprises look to take UC mobile
In UC, mobile features have always been one step behind -- and when BlackBerrys dominated, that was OK. But times, and requirements, have changed.
For architecture, engineering and construction companies like Knight E/A, there's nothing more important than communicating in the field. That's why finding the right mobile unified communications product became a priority in the past year for the Chicago-based firm, which specializes in constructing large roads and bridges.
"In the past, there were always delays getting drawings and documents reviewed and signed and moving them on to the next stage," explains Won Cho, the company's director of information technology.
Now, using cloud-based unified communications (UC) tools from Lifesize, engineers at Knight E/A can interact with clients and other satellite offices in real time -- directly from work sites -- on mobile devices running iOS or Android. Laptop users can also take UC mobile by accessing the Lifesize Cloud application in the field via Chrome or Internet Explorer.
Many companies that have worked with video conferencing and UC are searching for ways to use the technology to better suit how their employees work, says Rich Costello, a senior research analyst at IDC.
And increasingly, these enterprises are looking to make UC a larger part of their mobility strategies.
Twenty-five percent of IT managers surveyed by IDC in 2014 said they planned to deploy UC to create a more mobile workforce. A recent TechTarget survey of 940 IT pros found that 33% planned to invest in mobile UC over the next 12 months.
"More recently, we've seen a renewed focus on UC driven by the growing interest in mobility, video and collaboration, and I can't help but think that many of these organizations may already have some basic UC experience in the past," says IDC's Costello.
Originally, most UC vendors attempted to support mobile users by adding extensions to their existing UC products, Costello says. The mobile UC features of yesteryear let end users enjoy a set of basic voice and messaging features on mobile devices.
But that was also a simpler time in enterprise mobility -- when BlackBerrys were the device holstered on every executive's belt, 4G LTE was a distant dream, and carrying both a "work phone" and a personal cell phone was the norm.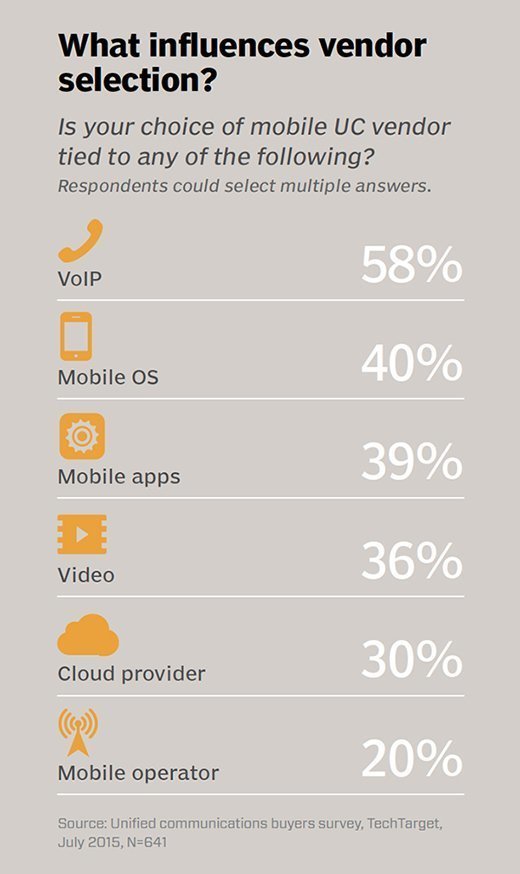 Since those early days, much has changed. And as a result, UC vendors such as Avaya, Cisco, Mitel, ShoreTel and Unify have aggressively developed and added new collaborative capabilities that are optimized for mobile devices. In UC, mobile features now include softphone capabilities, single-number reach, instant messaging, chat, presence, video conferencing, white boarding, calendar management and screen sharing. Meanwhile, startups like Talko and Slack have designed their collaboration apps to be natively mobile from the start.
"Along with these growing capabilities, IT continues to work on how to support, manage and secure the applications that are accessed from mobile devices," Costello says.
Mobile video 'on the fly'
Knight E/A started using Lifesize Cloud in the spring of 2014, and the deployment was fully operational last fall. Cho says the cloud-based video conferencing platform provides many benefits in addition to making UC mobile-friendly. Chief among these advantages is how it enables the Knight E/A employees to hold meetings in whatever way they prefer to collaborate. Through the Lifesize platform, staff members send email, transfer files via FTP or access cloud-based solutions like Dropbox. They also organize ad hoc meetings while design and construction projects progress throughout the day.
"The on-the-fly meeting capability was huge for us," Cho says. "With Lifesize, we don't have to wait several hours to set up video conferences. We can schedule one within minutes, plus have all the collaboration tools we need to run meetings readily available. For a while, we did pretty well with Cisco WebEx, but it didn't have that on-the-fly capability, at least when we were ready."
One of our senior executives had a meeting in the Southeast and we set him up to call into an executive board meeting [via video] on his iPad. It worked so well that we started looking into it for the rest of the company.

Marty Kanevideo conferencing engineer, International Bank of Commerce
The company has a Lifesize Cloud license that supports up to 25 users, which costs about $8,000 annually. To extend the reach of the cloud service, Knight E/A deployed Lifesize's Icon 600 units -- video conferencing systems for large meeting rooms -- in each of its six satellite offices and at multiple job sites. At $6,000 per device, the Icon 600 consists of video conferencing hardware, including a camera, video encoder and a touchscreen controller called Lifesize Phone. While the connections are initiated in Knight E/A's various satellite offices, Lifesize hosts the video bridge in one of IBM's SoftLayer data centers.
"The beauty of this setup is that just about everything runs in the cloud," Cho says. "I don't have to spend several thousand dollars to set up communications servers in my data center."
IT pros see growing use for mobile UC
When it comes to UC, mobile support is an increasingly important requirement for other companies as well. Marty Kane, a video conferencing engineer at the International Bank of Commerce based in Laredo, Texas, says the bank has run mobile video conferencing sessions for some of its executives.
"One of our senior executives had a meeting in the Southeast, and we set him up to call into an executive board meeting on his iPad," Kane says. "It worked so well that we started looking into it for the rest of the company."
At the time, Kane was using Cisco's TelePresence Video Communications Server and Expressway gateway. When he contacted customer support at Cisco to learn how he could support more mobile users with those products, a representative pointed him to Cisco Unified Communications Manager (CUCM), a single integrated appliance for video conferencing and other UC features.
"They told me that they would send a box that would support both iOS and Android devices that would run over CUCM for a very affordable cost," he says.
Once Kane works out the details with Cisco, he expects that the bank, which operates 217 branches in Texas and Oklahoma, will expand its use of mobile UC.
"I can foresee cases in which our regional sales managers will want to run conferences with their branch managers, so they'll arrange for everyone to get together on their iPads," he says. "I just see it growing bigger and by leaps and bounds."
And Matthew Quatroche, service manager for video conferencing at Sanofi US, a multinational pharmaceutical company with U.S. headquarters in Bridgewater, N.J., also envisions expanded use of mobile UC.
"For now, some of our IT staff use the chat feature inside of Microsoft Lync on their mobile devices. It's mostly for texting," he says. "But all our desktops come with Lync and most of them have video. Next up is a pilot of Microsoft Lync on mobile devices. I definitely see us moving in that direction."
Next Steps
Mobile UC + voice over LTE = perfect harmony
The truth about mobile UC and collaboration uptake
Ten mobile UC questions to ask vendors