Evaluate
Weigh the pros and cons of technologies, products and projects you are considering.
A closer look at video conferencing solutions, technology and vendors
Understanding the physical pieces of video conferencing solutions is key to implementation success. Take a closer look at the individual elements of your video conferencing system.
Editor's note: In part two of our Expert Lesson on video conferencing, Katherine Trost, research analyst with Nemertes Research, discusses the physical components of video conferencing solutions, how vendors differentiate various parts of the video conferencing architecture and the types of video conferencing vendors competing within the marketplace.
Don't miss the rest of this Expert Lesson on video conferencing:
To understand the requirements for a successful video conferencing implementation, it is important to understand the physical components of video conferencing solutions. Video conferencing systems consist of a variety of interrelated components, standards and connectivity options, with multiple vendors offering video conferencing solutions that address one or more of these parts. Key pieces of video conferencing architecture include:
Cameras and video conferencing codecs for encapsulation and decapsulation of video images at the endpoints;
Screens for displaying images;
Bridges, gateways and video conferencing multipoint control units (MCUs) for interconnecting multiple endpoints, transcoding between different codec encapsulations, interconnecting video conferencing systems with other applications, policy and security enforcement, and external connectivity across network boundaries;
Management tools for scheduling of video conferencing sessions and management of session quality; and
Data network resources to deliver video packets between endpoints and other components.
Endpoint options (a combination of camera, codec and screen) are divided into three distinct classes:
Desktop video conferencing: Designed for a single user. May be Web-based, software-client-based, a dedicated standalone video appliance or a video-enabled IP telephone.
Room-based: Designed for groups within conference rooms, using one or more large screens.
Telepresence: Designed for group conferencing, but also includes audio and visual enhancements, such as furniture, sound and lighting arrangements designed to give participants the feeling that they are sitting across the table from their colleagues.
It's important to note that endpoint options are not, in and of themselves, a single system. That is, an organization does not have to choose one of the above; rather, a complete video conferencing architecture may include one or more of the different endpoint classes. The ability to create a seamless conference among different classes of endpoints will vary based on the type of video conferencing solutions offered by vendors.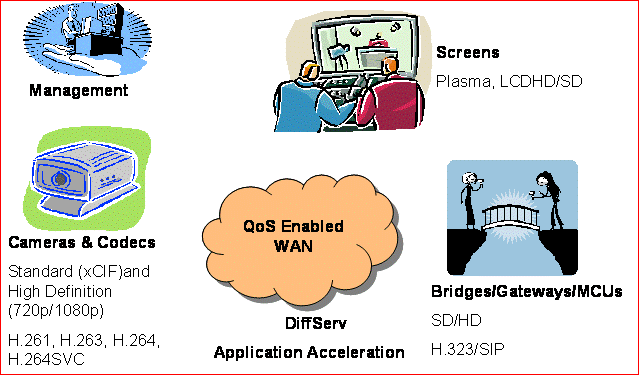 Source: Nemertes Research. Click the image to view the full-size graphic.
Nemertes defines the market for video conferencing solutions as having two classes of vendors: video conferencing system vendors and video conferencing support providers. System vendors sell the components required to establish video conference sessions, while support providers deliver design and implementation services, management performance monitoring, and managed network connectivity between locations or externally to business partners or public meeting rooms.
These two classes aren't mutually exclusive and involve a great deal of overlap. Many video conferencing system vendors offer management services, while most support providers also resell equipment. Either system vendors or support providers may deliver hosted video services that leverage a shared infrastructure to support multiple customers.
Within each of these categories, key differentiators include types of endpoints, support for open standards (which we'll discuss shortly), resolution capabilities and management offerings.
There is an increase in the number of options available in the marketplace. New entrants such as LifeSize (now part of Logitech), Radvision and Vidyo compete with incumbents that include Cisco/Tandberg and Polycom, while vendors such as Alcatel-Lucent, Avaya, Cisco, IBM Lotus, Microsoft, Mitel, ShoreTel and Siemens increasingly deliver video as part of their unified communications offerings. Avistar, BT Conferencing and Glowpoint provide hosted bridges and/or management services, while service providers including AT&T, Global Crossing, Masergy, Tata and Verizon deliver dedicated network services, extranet connectivity and a full suite of management options.
Read more on video conferencing solutions, including articles on tracking video conferencing adoption trends and deployment strategies, video conferencing standards and interoperability considerations, how SIP-based video conferencing can smooth the UC-video integration process and how deploying video management software can aid video conferencing support.
More resources on video conferencing solutions
About the author:
Katherine Trost is a research analyst with Nemertes Research, where she focuses primarily on managed and professional services. She develops and manages research projects, conducts strategic seminars, and advises enterprises, vendors, resellers and service providers. Katherine's primary areas of expertise include hosted, managed and professional IT services, as well as channel strategies. Her secondary areas include contact centers, UC trends, enterprise and SMB organizational best practices, and branch-office strategies.
Dig Deeper on Business Video Conferencing and Telepresence Technology