Evaluate
Weigh the pros and cons of technologies, products and projects you are considering.
Why UC cloud services are what enterprises need now
This Network University Classroom explores how UC cloud services offer enterprises many benefits, from faster deployment times to more consistent features.
Introduction
UC cloud services and applications are ready to support a mobile workforce and simplify UC for enterprises. Many enterprises have only the most basic of UC deployments due to a lack of in-house expertise and vendor interoperability. But the cloud can change all that, says UC expert Zeus Kerravala. In this university classroom, Kerravala examines how cloud-based UC can move infrastructure and complexity into the cloud, provide faster deployment times, cut costs and provide consistent features for the workforce regardless of their location.
About the classroom instructor: Zeus Kerravala is the founder and principal analyst of ZK Research. Kerravala provides a mix of tactical and long-term strategic advice to constituents, including end-user IT and network managers; vendors of IT hardware, software and services; and the IT investment community. Prior to ZK Research, Zeus Kerravala was a senior vice president and distinguished research fellow with Yankee Group.

Download this free guide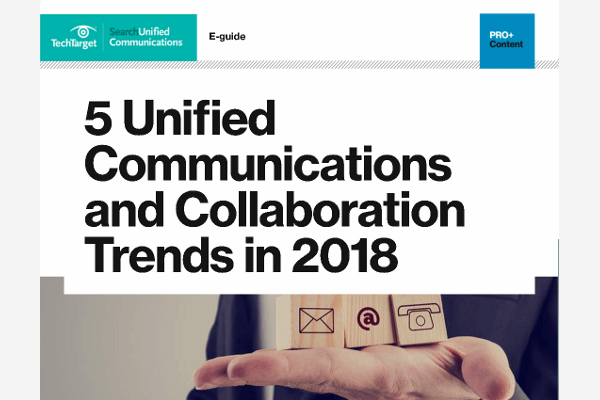 Instant Download: Top 5 UC & Collaboration Trends
What does the future of UCC have in store for enterprises? In this e-guide, Jon Arnold from J Arnold & Associates looks back at the history of UCC Technologies. Then, Nemertes Research VP and Service Director Irwin Lazar reveals 5 must-know UCC trends.
1

Learning Links

-
How cloud-based UC can solve enterprises' UC challenges
Cloud-based UC has become the delivery model that best fits today's computing environment, according to Zeus Kerravala. In two lessons, Kerravala discusses why it's time for enterprises to make the leap into the UC cloud. He explains the benefits of bringing UC to the cloud, from deployment simplification to lowered costs, and how it offers the best support for a mobile workforce. Then, take our quiz to test your understanding of cloud UC services.
Tip
Cloud UC has become the delivery model that best fits today's computing environment and mobile workforce. Continue Reading
Video
Adopting UC cloud services means faster deployment times, lower costs and more consistent features. Learn why in this video. Continue Reading
Quiz
Many organizations are moving their UC services to the cloud and migrating to unified communications as a service. Test your UCaaS IQ with our quiz. Continue Reading