 BACKGROUND IMAGE: iSTOCK/GETTY IMAGES
What makes enterprise unified communications work
Editor's note
VoIP, messaging, presence and conferencing -- these communication components are the main facets of unified communications (UC) technology. But what do these components run on, and what technologies make enterprise unified communications work?
This essential guide talks about the network infrastructure needed to support robust communications and the deployment strategies that make a successful rollout. Take a look at influencing technologies, like mobility and social collaboration, and how they are being incorporated into an enterprise's UC infrastructure. Get started learning everything you need to know to make enterprise unified communications work for you.
1

Making the enterprise mobile

One of the defining characteristics of the evolution of enterprise unified communications is mobility. Workforces are becoming mobile and expect enterprises to accommodate those mobile needs. Adopting mobile unified communications can create a productive and efficient workforce while cutting costs. But mobile UC isn't without its challenges. Read on for resources on avoiding deployment pitfalls and making mobile UC successful.
2

Integrating social platforms

Social media has become another outlet for employees to perform their business processes. Social media allows for better collaboration among employees through document sharing, presence and more. But enterprises must do more than simply purchase social software. Social platforms must be integrated with existing UC tools to enhance employee productivity, which requires a robust deployment strategy. Read on for advice on how to incorporate social media and build an enterprise social strategy.

Download this free guide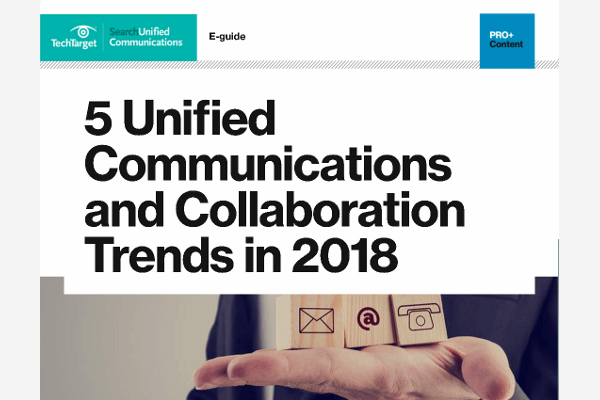 Instant Download: Top 5 UC & Collaboration Trends
What does the future of UCC have in store for enterprises? In this e-guide, Jon Arnold from J Arnold & Associates looks back at the history of UCC Technologies. Then, Nemertes Research VP and Service Director Irwin Lazar reveals 5 must-know UCC trends.
3

Making enterprise collaboration work

Effective collaboration is essential for employees to do their jobs. Collaboration is comprised of many UC components, including messaging, conferencing and presence. These components come together to allow employees to work together and effectively achieve business goals. Emerging UC technologies, like WebRTC, are also having a huge impact on collaboration. Learn more about collaboration trends and how to successfully implement it.
4

Defining a UC strategy

It's not enough to adopt enterprise unified communications technology. Enterprises must have a defined strategy to ensure deployments are rolled out successfully. Clearly defined strategies help enterprises understand the needs of employees and roll out the UC features and tools that suit their needs. Learn more about how to develop a UC strategy and implement it effectively.
5

Enterprise UC definitions to know

Deploying enterprise unified communications means knowing what exactly terms like "bring your own device" and "collaboration" mean. Knowing exactly what UC services, technology and trends are is crucial to UC deployment. Learn what terms you need to know for deploying using our glossary.