Evaluate
Weigh the pros and cons of technologies, products and projects you are considering.
Take advantage of embedded communications with CPaaS
This guide breaks down the basics of communications platform as a service and the current state of the market. Explore the use cases for embedded communications, the technology behind the platform and its effect on UC.
Introduction
The concept of integrating communications with business processes has been around since the dawn of unified communications. Communications platform as a service, or CPaaS, has been hailed as the next step in UC that fulfills this vision.
The technology offers embedded communications through APIs that integrate capabilities such as voice and video with business applications to optimize workflows and business processes. But the CPaaS market is still relatively young and rapidly changing, with acquisitions and new products.
In this essential guide, learn how organizations can take advantage of embedded communications and select the right CPaaS vendor and platform for their communications needs.
1

The basics

-
What is CPaaS, and how do you use it?
Understanding the basics of CPaaS starts with learning the use cases that drive enterprise deployments. Learn how embedded communications through CPaaS is the next wave of UC and how CPaaS compares to other technology, such as unified communications as a service. For organizations looking to deploy CPaaS, find out the different ways communications capabilities can be integrated with business apps.
2

The market

-
The state of the CPaaS market
The CPaaS market is incredibly active, with new startups entering the market and legacy UC players adding CPaaS capabilities to their portfolios. Learn how the market has evolved and the direction the market is headed. For organizations looking deploy communications APIS, get to know the major market players and their offerings.

Download this free guide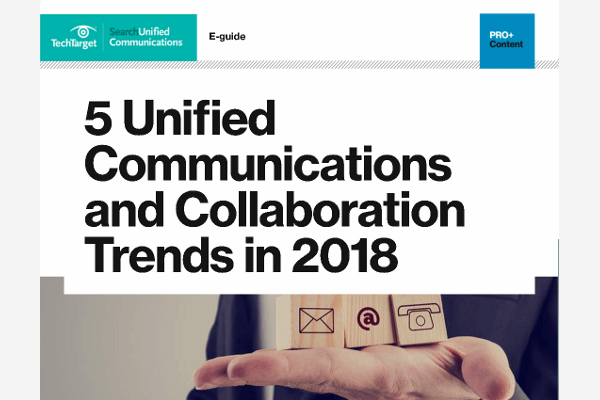 Instant Download: Top 5 UC & Collaboration Trends
What does the future of UCC have in store for enterprises? In this e-guide, Jon Arnold from J Arnold & Associates looks back at the history of UCC Technologies. Then, Nemertes Research VP and Service Director Irwin Lazar reveals 5 must-know UCC trends.
By submitting your personal information, you agree that TechTarget and its partners may contact you regarding relevant content, products and special offers.
You also agree that your personal information may be transferred and processed in the United States, and that you have read and agree to the Terms of Use and the Privacy Policy.
3

The technology

-
The technology behind CPaaS
Communications APIs are central to CPaaS, as well as communications-enabling business apps and workflows. Learn how organizations can evaluate the platform offerings from CPaaS vendors to find the right API to build communications capabilities, such as voice and video, into business apps.
4

CPaaS in action

-
An analytical take on the CPaaS market
Take a deeper dive into CPaaS and embedded communications with these videos, as analysts discuss the relationship between CPaaS and UC, as well as the benefits of deploying CPaaS in the enterprise.
5

Quiz

-
Test your CPaaS IQ
Every UC vendor seems to have some kind of API offering. Test your knowledge of CPaaS offerings, API development and enterprise use cases.
Take This Quiz
6

Definitions

-
CPaaS terms to know
Becoming an expert in CPaaS means knowing a few key terms. Take a look at our glossary of important CPaaS and API-related definitions.