Get started
Bring yourself up to speed with our introductory content.
Successfully deploying your enterprise social network
Learn how to successfully build and deploy an enterprise social network your employees will want to use.
Introduction
Enterprises are looking for new ways to increase productivity and improve collaboration among employees. An enterprise social network is one way to help employees share information and work more quickly and efficiently. But if enterprises don't have a strong foundation to the social network, adoption rates among employees will be low.
This essential guide discusses how to successfully deploy an enterprise social network, from evaluating social media tools to building a strategy to engaging users. Get started learning how you can make an enterprise social network thrive for your enterprise.
1

Strategy

-
Define an enterprise social strategy
The key to a successful enterprise social network deployment is a strong social strategy. Enterprises that don't develop a strong social strategy run the risk of employees opting out of social tools, leading to wasted time and money. Learn the key factors that should be included in an enterprise social strategy and who should be involved in developing a strategy.
2

Tools

-
Find the right tools
Social tools and software can make or break an enterprise social network deployment. Enterprises must evaluate all the options available, from consumer to enterprise-grade tools, to know which option is the right fit. Choosing the right social tools means increased adoption among employees and improved collaboration. Learn what social tools are available and how to determine which is the best fit for your enterprise.

Download this free guide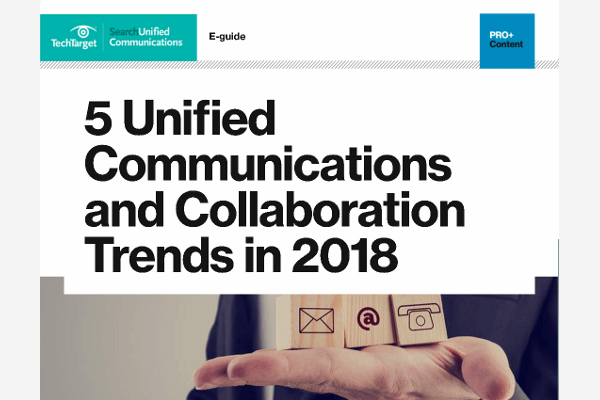 Instant Download: Top 5 UC & Collaboration Trends
What does the future of UCC have in store for enterprises? In this e-guide, Jon Arnold from J Arnold & Associates looks back at the history of UCC Technologies. Then, Nemertes Research VP and Service Director Irwin Lazar reveals 5 must-know UCC trends.
3

Engagement

-
Engage users to improve collaboration
User engagement is the key indicator of an enterprise social network's success. If employees aren't engaged and encouraged to use social tools, then they won't use them at all. Employees who find social tools engaging use them in their daily responsibilities and collaboration and productivity are improved as a result. From social gamification to breaking cultural barriers, learn the different ways enterprises can engage users when deploying social tools.
4

Integration

-
Integrate with workflows and applications
Integrating social tools and software into current applications and workflows means increased adoption across the enterprise. Users don't want standalone social tools that can be seen as a burdensome addition to the tools they're already using. Learn more about the importance of integration and how enterprises can approach integration during deployment.
News
Social media integration into UC applications boosts social media adoption. Learn why enterprises want better integration of social media with their UC tools. Continue Reading
News
Enterprise social networking can make collaboration more efficient. But users won't adopt social tools unless they integrate with the UC tools they use daily. Continue Reading
News
Enterprises don't want standalone social software, but they shouldn't cram social tools where they don't belong. Learn how to strike a balance when deploying an enterprise social network. Continue Reading
5

Definitions

-
Terms to know
Deploying an enterprise social network means knowing the difference between a social network and social media. Knowing the different social enterprise terms is valuable to deployment success. Learn the social terms you need to know in our glossary.