Manage
Learn to apply best practices and optimize your operations.
Steps to successful mobile unified communication deployment
To improve communication and collaboration, mobility must be a part of your plan. Philip Clarke explains how to deploy mobile unified communication, from using cloud-based services to choosing a mobile UC vendor.
Introduction
The workforce is evolving as employees are no longer chained to their desks. They're working from home and on the road, using mobile devices like smartphones and tablets. This shift in the workforce has changed traditional enterprise communication. Enterprises must face the fact that their unified communications products that didn't have mobile users in mind are no longer unified. IT professionals must now bring mobility into the mix to put the unified back in unified communications. Read our guide to learn what it takes to successfully deploy mobile unified communication.
1

First steps

-
Taking the first step to mobility
Mobility is now a standard part of any enterprise's unified communications strategy as employees move away from the confines of their offices. But mobile unified communication is more than just letting employees use their mobile devices. Enterprises must develop a robust plan to ensure their UC strategy is truly unified. Learn how to get the mobility ball rolling in your enterprise.
Tip
Before deploying mobile UC, you must make sure your enterprise is ready. Continue Reading
2

The cloud

-
Making the cloud part of your mobile UC strategy
One major decision for enterprises is where to deploy mobile unified communication technology and applications: on-premises or in the cloud. According to Contributor Philip Clarke, enterprises that don't take advantage of mobile cloud services are missing out. There are a multitude of reasons why the cloud should be factored into a mobile UC deployment, from the lower cost of deployment to the variety of features available in a cloud-based application.
Tip
The cloud is an integral part of a mobile UC strategy and offers many advantages. Continue Reading

Download this free guide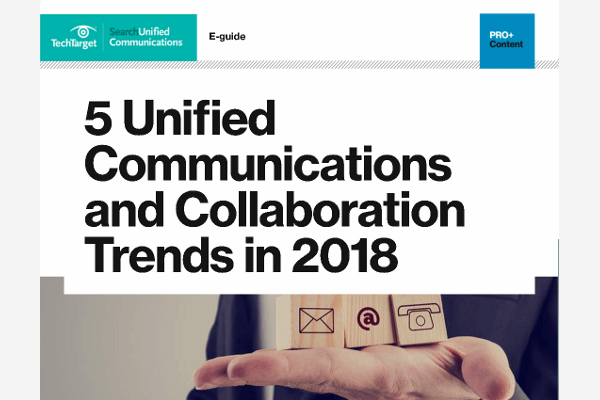 Instant Download: Top 5 UC & Collaboration Trends
What does the future of UCC have in store for enterprises? In this e-guide, Jon Arnold from J Arnold & Associates looks back at the history of UCC Technologies. Then, Nemertes Research VP and Service Director Irwin Lazar reveals 5 must-know UCC trends.
3

Standards

-
Understanding mobile UC standards
There are fundamental standards that impact mobile unified communication deployments, from signaling protocols like SIP to audio-visual communication protocols like H.323. Enterprises must also be aware of emerging standards such as the VP8 format for video compression and browser-based WebRTC applications. A basic understanding of these current and emerging standards is necessary when you're preparing your enterprise for mobility.
4

Use cases

-
Mobile UC use cases
One of the most important steps an enterprise must take is to evaluate the roles and business processes of its employees. This evaluation will determine what mobile unified communication platform will serve them best. Enterprises must have a platform that can support mobile technology and applications; otherwise, employees will turn to mobile services outside the enterprise for their daily responsibilities.
Tip
Learn how use cases help you build the right mobile UC platform for your enterprise. Continue Reading
5

Feature sets

-
Mobile UC features
With the rise of enterprise mobility, unified communications and collaboration (UCC) has evolved to include such features as mobile video calls and file sharing. Integrating these mobile features and capabilities will lead to a successful UCC implementation. IT professionals should have a handle on these mobile capabilities through such management services as mobile device management. Learn how mobile devices differ from other UC technologies and how you can develop them beyond simple call-forwarding capabilities.
Tip
Learn which options are available to extend mobile UCC in your enterprise. Continue Reading
6

UC vendors

-
Evaluating mobile UC vendors
A successful mobile unified communication deployment means having a mobile UC vendor that can support your enterprise's needs, from offering physical products to security features. Choosing a mobile UC vendor means knowing the right questions to ask about a vendor's services and features.
Tip
Learn the 10 questions every enterprise should ask when it's evaluating mobile UC vendors. Continue Reading
7

UC integration

-
Preparing your enterprise for integration
Knowing how to integrate mobile unified communication products effectively is a key piece in finalizing a mobility strategy. Enterprises can use evaluation programs to define their requirements for mobile devices, applications and other features. These defined requirements will establish the level of integration needed.
Tip
Learn how to integrate mobile UC products into your network infrastructure. Continue Reading
8

UC architecture

-
Building UC architecture around mobility
Enterprises must have the proper UC architecture in order to support their mobile unified communication initiatives. Part of building a UC architecture involves defining the company's technology requirements and weighing financial factors. This final step in a mobile UC strategy ensures that enterprises can successfully deploy and support mobility.