Evaluate
Weigh the pros and cons of technologies, products and projects you are considering.
Reaping the business benefits of collaboration tools
Use this Priority Report to help you develop the right strategy around cost considerations, requirements and product offerings to reap the benefits of current collaboration tools.
Introduction
Collaboration tools are an essential part of optimizing your team's workflow. In this guide, learn how to unlock the benefits of collaboration tools by finding the right tools that meet your organization's needs across teams and meeting rooms. Develop a collaboration strategy by examining cost considerations, deployments, and hardware- and software-based collaboration offerings.
1

Collaboration tools

-
Navigating the plethora of business collaboration tools
There are countless available collaboration tools in the market, making it essential to understand exactly which tools are necessary for improving workflow for your teams. You'll reap the benefits of collaboration tools when you understand what tools are most effective and how to deploy them successfully.
2

Team collaboration

-
Options and tips for implementing team collaboration applications
Once you know which enterprise collaboration tools you need, it's time to think about deployment and implementation. How you deploy team collaboration applications will dictate how effective they are in optimizing workflow.

Download this free guide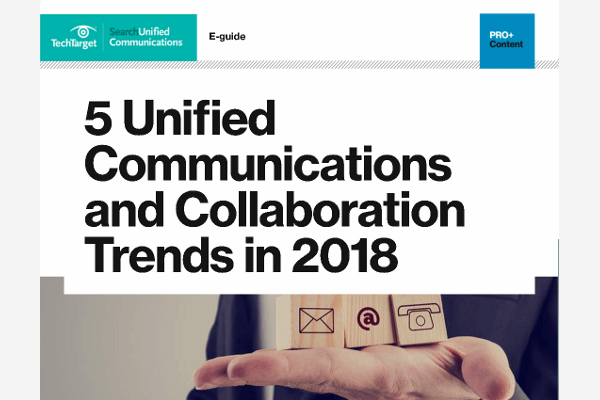 Instant Download: Top 5 UC & Collaboration Trends
What does the future of UCC have in store for enterprises? In this e-guide, Jon Arnold from J Arnold & Associates looks back at the history of UCC Technologies. Then, Nemertes Research VP and Service Director Irwin Lazar reveals 5 must-know UCC trends.
3

Video collaboration spaces

-
How video collaboration and huddle rooms work together
Creating the appropriate space is essential to workflow and collaboration; without the right space for the job, more issues than solutions can crop up. Here's how to assess your needs for conference rooms, huddle rooms and more.
4

Cloud collaboration services

-
Navigating options to choose a cloud collaboration service
There is no shortage of enterprise collaboration tools available and, depending on your communication and collaboration needs, the cloud is a great option. Learn about what benefits the cloud can have for communication and collaboration.
5

What is collaboration

-
Collaboration defined
Unified communications vocabulary is extensive and sometime complex. It's important to understand the language when navigating new technology. Here are some selected terms to get familiar with.