Manage
Learn to apply best practices and optimize your operations.
Preparing your enterprise for video integration
Successful video integration means knowing how video will affect your UC architecture and network and the ways your enterprise can use video to improve collaboration.
Introduction
Video has become a vital technology as enterprises look to expand their collaboration capabilities. To fully take advantage of video integration, enterprises must look at the needs within their organization and architecture, as well as the standards that affect video performance. Irwin Lazar, vice president and service director for Nemertes Research, explains what is driving the need for video integration and what enterprises can do to ensure their UC architecture and network are prepared for video.
1

Collaboration

-
Improving collaboration with video
One of the main reasons enterprises opt for video integration is to improve collaboration among employees. Enterprises that do deploy video see benefits that range from better nonverbal communication during meetings to increased employee productivity. But enterprises must do more than just deploy desktop video if they want to improve collaboration within their organization.
Video
Learn how video integration can improve how employees collaborate and where the future lies in enterprise video.
2

Architecture

-
Integrating video with UC architecture
Integrating video in the enterprise is just adding another piece to the UC architecture puzzle. But enterprises ultimately want a cohesive architecture where UC applications are seamlessly tied together. To achieve it, enterprises must make sure their architecture is prepared and be ready to solve the organizational challenges that can arise during implementation.
Video
Learn the three phases of successful video integration in UC architecture.

Download this free guide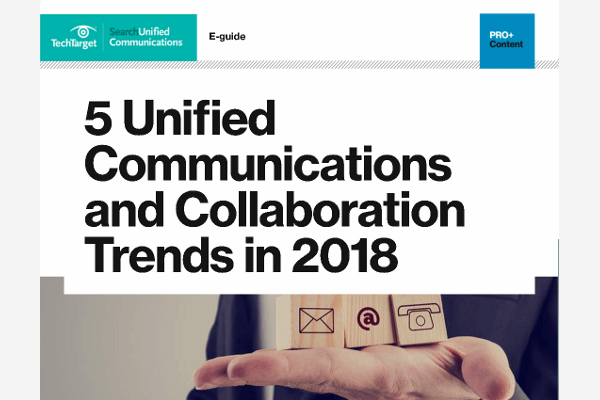 Instant Download: Top 5 UC & Collaboration Trends
What does the future of UCC have in store for enterprises? In this e-guide, Jon Arnold from J Arnold & Associates looks back at the history of UCC Technologies. Then, Nemertes Research VP and Service Director Irwin Lazar reveals 5 must-know UCC trends.
3

Network

-
Getting your network ready for video
Many enterprises discover that video is one of the worst types of traffic to bring to their networks due to its intensive bandwidth and latency requirements. Enterprises must make sure their networks can support the heavy demand from video without sacrificing the performance of other applications. There are many options available to enterprises to help them prepare for and support video.
Video
There are five solutions available to enterprises to ensure their network is ready for video integration.