Building a unified communications and collaboration strategy
Last updated:November 2018
Editor's note
The benefits of UCC are many for enterprises that want to improve how employees communicate and work with each other and with customers. But to deploy unified communications and collaboration (UCC) successfully, and access those benefits, requires a strong strategy. This comprehensive collection of articles provides a comprehensive explanation of UCC benefits, the role of unified communications and collaboration strategy and how to incorporate cloud services and mobility.
1

Taking collaboration to the cloud

Enterprises looking to alter their UCC strategy to increase the benefits of UCC should consider cloud services. Many enterprises struggle with UCC deployments due to a lack of expertise or network resources, but the cloud can ease these struggles by providing a simple, scalable and affordable platform that gives them control of the complex UCC infrastructure.
2

Benefits of UCC rise when video added to the mix

Video is increasingly a central consideration when enterprises formulate a unified communications and collaboration strategy. But there are multiple ways in which video can fit into a UC strategy. Discover what video adds to meetings, collaboration apps and more what tools vendors are rolling out to meet demand.

Download this free guide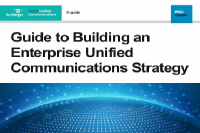 Exclusive Download: Guide to Building an Enterprise Unified Communication Strategy
IT needs a unified communications strategy for voice/video conferencing, chat, and other tools. This 25-page step-by-step guide helps you implement, evaluate, and manage UC in the enterprise.
3

Read about current trends in UCC

The many benefits of UCC are in the IT headlines every day. Read the latest unified communication news and keep up on major developments and trends in the industry.