Definition
unified communications (UC)
Unified communications (UC) is a framework for integrating various asynchronous and real-time communication tools. The goal of UC is to enhance business communication, collaboration and productivity. Unified communications do not represent a singular technology; rather, it describes a strategy for integrating interconnected systems of enterprise communication devices and applications that can be used in concert or successively.
Some business communication tools -- like Internet Protocol (IP) telephony and video conferencing -- facilitate real-time communication, also called synchronous communication. Other enterprise communication tools, like email, facilitate asynchronous communication, which takes place at a person's convenience.
Content Continues Below

Download this free guide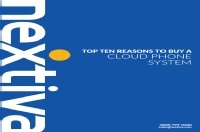 Top 10 Reasons to Buy a Cloud Phone System
As cloud computing strategies continue to evolve, Internet telephony is quickly becoming the preferred choice for business communication systems. If your organization is unsure about making the transition, here are the top 10 reasons why a cloud phone system could be the right move.
Increasingly, team collaboration tools have emerged to offer messaging-centric workflows and near-real-time communication. These tools also offer voice and video capabilities, API integrations and, ultimately, expound on instant messaging services by providing better UC features.
The goal of unified communications is to integrate the software that supports synchronous and asynchronous communication, so the end user has easy access to all tools from whatever device is in use.
How unified communications works
A unified communications environment is typically supported by one or more back-end systems, often referred to as UC platforms, that facilitate integration among services, as well as the front-end clients that provide access. For example, a web conferencing system would make use of an audio conferencing system -- which, in turn, would be built on an underlying IP telephony platform -- and a unified messaging client would allow click-to-talk (CTC), click-to-chat or click-to-video functionality.
UC also supports users moving from one mode of communication to another within the same session. For example, a user may start communicating via email but then decide to escalate the interaction to real-time communication, transitioning the session to a voice call with one click and then to a video conference with another click without any disruption.
Unified communications systems and their components can be deployed on premises, in a public or private cloud, or a combination of all three. Cloud-based unified communications is also called UC as a service (UCaaS). An open source project called WebRTC, for example, enables real-time communications to be embedded into web browsers.
Historically, single-vendor UC environments have demonstrated the tightest integration and compatibility. Interoperability among vendors remains an ongoing challenge in UC, but it has also been mitigated, in part, by partnerships, common protocols and open APIs.
Types of UC technologies
User-facing components of UC include the following technologies:
text-based tools, such as email, text messaging and chat;
voice-based applications, such as telephony, voicemail and audio conferencing;
video-based services, such as desktop video conferencing, room-based video conferencing and telepresence;
web conferencing platforms, virtual meeting spaces and interactive whiteboards;
real-time presence; and
enterprise social networking and collaboration platforms.
On the back end, a strong communication system may comprise the following:
a single- or multivendor unified communications platform or server;
a traditional, IP or cloud-based private branch exchange (PBX);
devices such as phones, headsets, cameras and microphones, which are also user-facing tools;
business communication gateways, such as session border controllers (SBCs); and
a multipoint control unit (MCU), or video bridge, for video conferencing with three or more endpoints.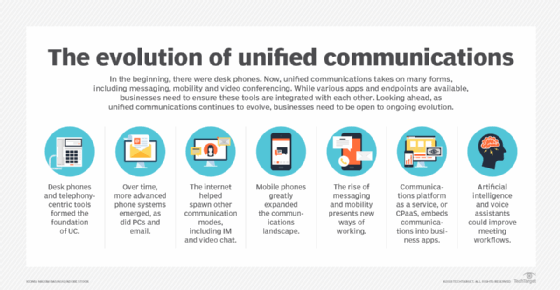 Features of unified communications
Unified communications and team collaboration tools overlap significantly. Collaboration tools often incorporate communication features, such as team chat, or integrate with external UC systems for those functions. UC also overlaps with contact center and technologies -- for example, in the form of automated call distribution (ACD), interactive voice response (IVR) systems, video chat and messaging capabilities.
Other types of UC technologies embed enterprise communication tools into business processes. This concept, known as communications-enabled business processes, has evolved into communications platform as a service (CPaaS) and the use of communications APIs. This involves integrating services like presence, chat and telephony into enterprise applications -- for example, enabling users to launch a voice call directly within a customer relationship management (CRM) application.
Benefits of unified communications
By enabling users to communicate and collaborate in a more flexible and intuitive way, UC is often credited with increasing employee productivity and improving collaboration.
Additionally, specific technologies, such as video conferencing, are linked to reduced travel costs and enhanced ROI. Remote employees who often work from mobile devices, including tablets and smartphones, with audio and video capabilities and apps native to the device, are afforded more flexibility by UC.
UC can help employees in a variety of contexts. Traditional office environments, for example, accommodate users on computers and equip employees with a desktop business phone or softphone, and desktop video conferencing. Conference rooms, too, are often equipped with speakerphones, a shared display system and video conferencing, which might be a traditional conferencing service or a high-end telepresence system.
The benefits of unified communications can also stretch to an organization's customer base. Organizations that integrate UCaaS solutions with social media can directly engage with their customers through real-time feedback and improved customer service. This helps to improve customer satisfaction.
UC risks and security issues
The biggest security challenges a business faces when implementing and maintaining their UC infrastructure are identity and access management, as well as data security. UC strategies focus on connecting disparate technologies operating on an array of different networks, so the challenge becomes ensuring that each disparate access point is secure, no matter the device or the network it's operating on.
Additionally, UCaaS and bring your own device (BYOD) environments are becoming increasingly prevalent in the enterprise. Both approaches spread out an organization's data and increase the attack surface. UCaaS also places a portion of the security responsibilities in the hands of a third-party vendor and requires an organization to thoroughly vet the security practices of the service provider.
Another potential UC security vulnerability is the exploitation of open APIs. Normally, open communication APIs are used to streamline workflows by allowing an organization to add customizable communication features to existing applications, removing the need for employees to switch between apps for communication. However, the open nature of the API leaves room for access credentials to be stolen. If credentials fall into the wrong hands, potentially sensitive data could be leaked.
Other significant security issues enterprise UC faces as a result of compromised access procedures and poor encryption include:
content theft, in which a malicious actor intercepts enterprise traffic;
denial of service (DoS) attacks, in which an attacker targets specific IP ports related to UC services and overloads them with traffic to damage service; and
service hijacking, in which an attacker sells access to a company's UC applications such as VoIP and consequently causes UC costs to increase dramatically.
Organizations can take a few steps to ensure that it is practicing good access management, including:
Granular access -- Define user roles and levels of authorization based on those roles to limit access to sensitive data.
Audit trail -- Keep track of which users are accessing an API and how they are doing it. Doing this will help organizations monitor suspicious activity.
Encryption -- Organizations using a CPaaS provider should inquire about their service provider's level of encryption.
Security awareness -- Employees should understand the importance of data security and practice good security habits, such as creating strong passwords and using trusted networks when accessing enterprise UC applications.
Unified communications platforms
When choosing a unified communications platform, an organization should ensure that the chosen vendor offers a product that both meets the organization's unique needs and has robust security practices in place. Criteria an organization should consider during the decision-making process include:
Range of services -- Different vendors offer different levels of service. Some vendors offer only a small range of foundational UC applications like telephony, instant messaging and basic conferencing, while others offer comprehensive, full-scale services such as call-recording, video, screen sharing and file sharing. Many vendors offer a large range of services and allow customers to start with the basics as needed.
Specialization -- Different vendors are specialized in different areas of unified communications. For example, one vendor might focus on telephony-based communications, whereas another might focus mainly on mobility and collaboration. An organization should consider its use cases for a unified communications solution and choose a vendor that best applies.
Deployment model -- Organizations can choose between implementing on-premises UC platforms, cloud-based platforms, or a hybrid solution that mixes both models. Organizations with an apt IT department may consider operating on-premises solutions, whereas smaller businesses may opt for a hybrid or hosted option in which aspects of the platform are managed by a third-party provider. Many vendors are making the transition to cloud-based services.
Interoperability -- If an organization is utilizing multiple vendors at once, or a hybrid infrastructure, it should ensure that all provided platforms can function efficiently together.
User experience (UX) -- As organizations continue to adopt BYOD and mobility initiatives, and the rate of device turnover increases, it becomes increasingly important to have an intuitive, adaptable and unified user experience to streamline the use of UC platforms on those devices. A poor UX will render an organization's UC architecture useless, no matter how well integrated its back-end services are.
Some popular UC platform vendors are:
Avaya -- offers the Avaya OneCloud UC platform. Avaya is one of the few UC vendors that still offers adequate on-premises solutions in a field that is moving swiftly to the cloud.
Mitel -- offers a range of telephony and UC options that cover businesses of all sizes, including MiCloud, MiCollab and MiVoice. Mitel is another one of the few vendors still investing in on-premises UC solutions.
8x8 Inc. -- offers a contact center integrated with Google Cloud's Contact Center AI, which adds real-time customer experience analytics and a virtual agent capability that can answer routine customer calls. Virtual agents can improve customer service by reducing call times.
CounterPath -- recently introduced its new team collaboration platform, Bria Teams. The cloud-based service is best suited to small and midsize businesses. One feature of the platform is a dedicated HD virtual meeting room, which eliminates the need for team members to schedule a physical meeting. Bria Teams and Bria Teams Pro also include chatrooms that track conversation history across multiple devices.
Microsoft -- offers Microsoft Teams for Office 365, which integrates chats, meetings, calls, files and collaboration tools in one place. Users can customize their Teams platform with 'add-ins' (applications) from either a third-party or Microsoft. Users can also build their own application for Teams under the Office 365 developer program.
Cisco -- offers a variety of UC solutions for on-premises deployment and for the cloud, including Webex Edge, Cloud Calling and a variety of UC applications such as Unity Connection for voice messaging, Jabber and Single Number Reach for extensive telephony features.
What is the future of unified communications?
Several trends indicate that the unified communications market is going through a significant transformation. One major change UC users should prepare for is UC's migration to the cloud and the dominance of UCaaS over purely on-premises deployments. According to a 2019 research study conducted by Nemertes, 67% of organizations utilized the cloud in some way for unified communications and collaboration, and almost one-third of organizations use exclusively cloud UC solutions.
Vendors have responded by shifting their focus from on-premises products and support to investment in cloud-based products and will likely continue to do so. Organizations that plan to stick to on-premises solutions for the foreseeable future should be aware that only select few vendors are still making a point of investing in on-premises UC, and that there may not be adequate support for these infrastructures in the near future.
In addition to continued cloud migration, users can expect vendors to continue to partner up and collaborate in creating stacks of UC tools, which can help each company capitalize on the other's strengths and improve compatibility between their respective products.
For example, in 2019, Microsoft and Cisco joined forces to improve interoperability between their video conferencing room systems. This is especially notable because the companies had previously been longtime rivals. Microsoft has also teamed with the company Zoom for the same purpose.
Team collaboration tools are also expected to play a more significant role since most UCaaS vendors provide a team collaboration experience as the central user interface. Right now, many organizations view these tools as simply a messaging application, but their prominence in UCaaS may influence organizations to use these tools as a full work hub.
Lastly, emergent technologies such as AI and machine learning are expected to have an impact on the field, although its less clear exactly how. In addition, only 5% of companies surveyed by Nemertes used AI in their UC and collaboration experiences, 43% of companies were considering it for the future. Some possible uses for AI in UC in the near future could be to break down language barriers and to improve user experience.
This was last updated in
January 2020
Continue Reading About unified communications (UC)
Dig Deeper on Understanding Unified Communications