 BACKGROUND IMAGE: iSTOCK/GETTY IMAGES
Definition
unified communications (UC)
Unified communications (UC) is a framework for integrating various asynchronous and real-time communication tools, with the goal of enhancing business communication, collaboration and productivity. Unified communications does not represent a singular technology; rather, it describes an interconnected system of enterprise communication devices and applications that can be used in concert or successively.

Download this free guide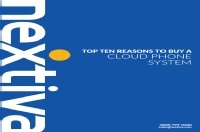 Top 10 Reasons to Buy a Cloud Phone System
As cloud computing strategies continue to evolve, Internet telephony is quickly becoming the preferred choice for business communication systems. If your organization is unsure about making the transition, here are the top 10 reasons why a cloud phone system could be the right move.
Some business communication tools -- like Internet Protocol (IP) telephony and video conferencing -- facilitate real-time communication, also called synchronous communication. Other enterprise communication tools, like email, facilitate asynchronous communication, which facilitates communication that takes place at a person's convenience.
Increasingly, team collaboration tools have emerged to offer messaging-centric workflows and near-real-time communication. These tools also offer voice and video capabilities, API integrations and, ultimately, expound on instant-messaging services by providing more robust UC features.
The goal of unified communications is to integrate the software that supports synchronous and asynchronous communication so the end user has easy access to all tools from whatever device is in use.
How unified communications works
A unified communications environment is typically supported by one or more back-end systems, often referred to as UC platforms, that facilitate integration among services as well as the front-end clients that provide access. For example, a web conferencing system would make use of an audio conferencing system -- which, in turn, would be built on an underlying IP telephony platform -- and a unified messaging client would allow click-to-talk (CTC), click-to-chat, or click-to-video functionality.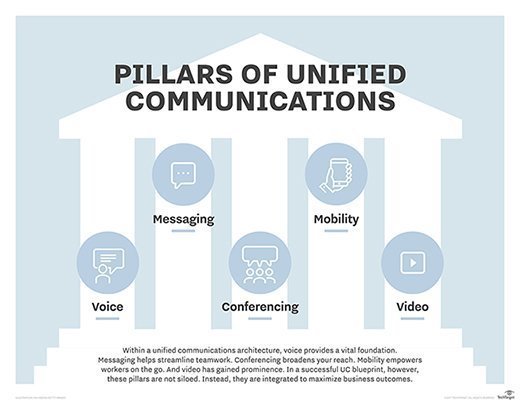 UC also supports users moving from one mode of communication to another within the same session. For example, a user may start communicating via email but then decide to escalate the interaction to real-time communication, transitioning the session to a voice call with one click and then to a video conference with another click without any disruption.
Unified communications systems and their components can be deployed on premises, in a public or private cloud, or a combination of all three. Cloud-based unified communications is also called UC as a service (UCaaS). An open source project called WebRTC enables real-time communication to be embedded into web browsers.
Historically, single-vendor UC environments have demonstrated the tightest integration and compatibility. Interoperability among vendors remains an ongoing challenge in UC, but it has been mitigated, in part, by partnerships, common protocols and open APIs.
Types of UC technologies and features
User-facing components of UC include the following technologies:
Text-based tools, such as email, text messaging and chat
Voice-based applications, such as telephony, voicemail and audio conferencing
Video-based services, such as desktop video conferencing, room-based video conferencing and telepresence
Web conferencing platforms, virtual meeting spaces and interactive whiteboards
Real-time presence
Enterprise social networking and collaboration platforms
On the back end, a strong communication system may comprise the following:
A single- or multivendor UC platform or server
A traditional, IP or cloud-based private branch exchange (PBX)
Devices such as phones, headsets, cameras and microphones, which are also user-facing tools
Business communication gateways, such as session border controllers (SBCs)
A multipoint control unit (MCU), or video bridge, for video conferencing with three or more endpoints
Unified communications and collaboration tools overlap significantly. Collaboration tools often incorporate communication features, such as team chat, or integrate with external UC systems for those functions. UC also overlaps with contact center& technologies -- for example, in the form of automated call distribution (ACD), interactive voice response (IVR) systems, video chat and messaging capabilities.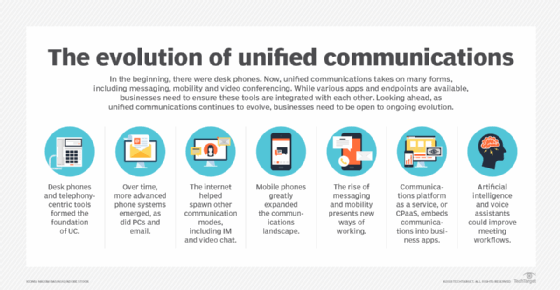 Other types of UC technologies embed enterprise communication tools into business processes. This concept, known as communications-enabled business processes has evolved into communications platform as a service (CPaaS) and the use of communications APIs. This involves integrating services like presence, chat and telephony into enterprise applications -- for example, enabling users to launch a voice call directly within a customer relationship management (CRM) application.
Benefits of unified communications
By enabling users to communicate and collaborate in a more flexible and intuitive way, UC is often credited with increasing employee productivity and improving collaboration. Additionally, specific technologies, such as video conferencing, are also linked to reduced travel costs and enhanced ROI.
UC can help employees in a variety of contexts. Traditional office environments, for example, accommodate users on computers and equip employees with desk phones or softphones and desktop video conferencing. Conference rooms, too, are often equipped with speakerphones, a shared display system and video conferencing, which might be a traditional conferencing service or a high-end telepresence system.
The benefits of unified communications also stretch to remote employees who often work from mobile devices, including tablets and smartphones, and use audio and video capabilities and apps native to the device.
Continue Reading About unified communications (UC)
Dig Deeper on Communication Integration with Enterprise Applications