Definition
real-time communications (RTC)
Real-time communications (RTC) is any mode of telecommunications in which all users can exchange information instantly or with negligible latency or transmission delays. In this context, the term real-time is synonymous with live.
In RTC, there is always a direct path between the source and the destination. Although the link might contain several intermediate nodes, the data goes from source to destination without being stored in between them. In contrast, asynchronous or timeshifting communications, such as email and voicemail, always involve some form of data storage between the source and the destination. In these cases, there is an anticipated delay between the transmission and receipt of the information.
Real-time communications can take place in half-duplex or full-duplex modes:
Half-duplex RTC. Data transmission can happen in both directions on a single carrier or circuit but not at the same time.
Full-duplex RTC. Data transmission can occur in both directions simultaneously on a single carrier or circuit.
RTC generally refers to peer-to-peer (P2P) communications, not broadcast or multicast.
The evolution of real-time communications
The development of the public switched telephone network (PSTN) in the early 1900s introduced RTC to the American masses, radically changing the nature of long-distance communication. In 1915, the debut of a new transcontinental telephone line meant that, for the first time in history, users separated by more than 3,000 miles could hold an interactive conversation as though they were in the same room.
Later in the 20th century, high-speed internet, mobile telephony and smart devices further revolutionized real-time communications, enabling instant messaging (IM), Internet Protocol (IP) telephony, video calling, video conferencing and more.
Google's release of the open source WebRTC project in 2011 marked another major milestone for real-time communications technology. WebRTC uses JavaScript application programming interfaces (APIs) to enable live, P2P audio and video communication within standard web browsers, without the need for special plugins or standalone applications.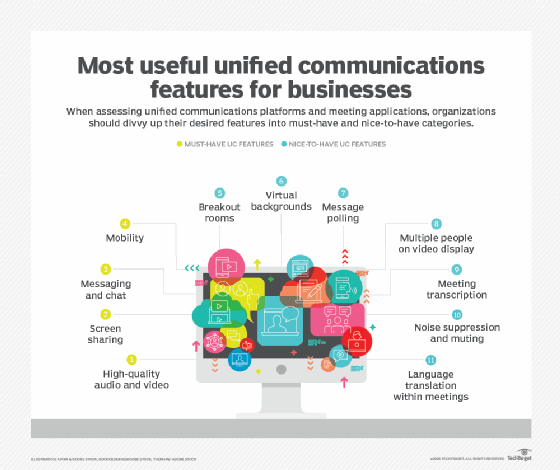 The importance of real-time communications
Today's enterprise users expect to connect in real time from any location and device, making RTC a critical element of unified communications and collaboration (UCC). Team messaging platforms, file-sharing tools and video conferencing systems enable geographically distributed and mobile teams to engage virtually from almost anywhere, enabling a highly flexible workforce. Many businesses rely on IP-based real-time communications technology to minimize travel expenses, support remote employees and maximize team productivity.
The COVID-19 global pandemic dramatically underscored the importance of modern RTC tools, which enabled many organizations to remain functional and productive even while accommodating unanticipated and potentially long-term work-from-home requirements. With live telecommunications and collaboration technology, enterprise users can accomplish shared tasks that they otherwise would have needed to tackle in person in a formal office setting.
Real-time communications examples
Real-time communications tools and applications are many and varied, ranging from old-school telephony to cloud communications services.
They include the following:
fixed-line telephony
mobile telephony
voice over IP (VoIP

)

teleconferencing
video calling
video conferencing
file sharing
screen sharing
automatic, live meeting transcription
team messaging (real-time or near-real-time)
one-to-one IM (real-time or near-real-time)
live customer chat (real-time or near-real-time)
two-way or multiway amateur radio
Real-time communications vendors and products
Enterprise RTC providers run the gamut from major telecommunication carriers to small cloud startups. Real-time communications products and services in the UCC space include the following:
8x8 Virtual Office
Adobe Connect
AT&T Collaborate
Avaya Cloud Office by RingCentral
BlueJeans Meetings
CenturyLink UCaaS
Cisco Webex
Dialpad Talk
Fuze
Google Hangouts, Meet and Voice
Highfive
Lifesize
LogMeIn GoToConnect
Microsoft Teams
Mitel MiCloud
Pexip Infinity
Poly Studio X Series
RingCentral Office
Slack
Verizon Unified Communications and Collaboration
Vonage Business Cloud
Zoom Meetings
This was last updated in
August 2020
Continue Reading About real-time communications (RTC)