Definition
hundred call second or centum call second (CCS)
The hundred call second -- also known as the centum call second (CCS) -- is a unit of telecommunications traffic density that is the equivalent of one call (including call attempts and holding time) in a specific channel for 100 seconds in an hour. The 100 seconds need not be, and generally are not, in a contiguous block.
In digital telecommunications, the voice signals are compressed. This makes it possible for one channel to carry numerous calls simultaneously by means of multiplexing. In theory, there are many ways in which a channel can carry a particular number of CCS. Here are three specific examples for a traffic density of 360 CCS:
Content Continues Below

Download this free guide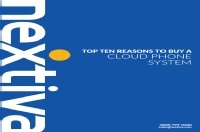 Top 10 Reasons to Buy a Cloud Phone System
As cloud computing strategies continue to evolve, Internet telephony is quickly becoming the preferred choice for business communication systems. If your organization is unsure about making the transition, here are the top 10 reasons why a cloud phone system could be the right move.
10 calls, each consuming the full hour during an hour
20 calls, each of which consume 1/2 hour during an hour
600 calls, each of which consume one minute during an hour
The CCS is a more convenient unit in some applications than the erlang, which is the equivalent of one call occupying a channel for an hour. In some instances, a smaller unit than the CCS, known as the call-second, is used. One call-second is equivalent to one call occupying a channel for one second. Thus, 1 CCS = 100 call-seconds = 1/36 erlang.
This was last updated in
March 2008
Continue Reading About hundred call second or centum call second (CCS)