Definition
Microsoft Teams
Microsoft Teams is a cloud-based team collaboration software, that is part of the Office 365 suite of applications. The core capabilities in Microsoft Teams include business messaging, calling, video meetings and file sharing. Businesses of all sizes can use Teams.
Teams is Microsoft's core cloud-based unified communications offering, and it competes with similar products such as Slack, Cisco Webex Teams and Google Hangouts. As a business communications app, Teams enables local and remote workers to collaborate on content in real time and near-real time across different devices, including laptops and mobile devices. Microsoft Teams integrates with other Office 365 applications, including Exchange, PowerPoint and SharePoint.
Microsoft Teams launched in March 2017. In September 2017, Microsoft announced Teams would replace Skype for Business Online in Office 365. Microsoft has been rolling Skype for Business Online features into Teams over the past several months, including messaging, meetings and calling capabilities. New features are added to Teams frequently.
Due to the COVID-19 pandemic, Microsoft Teams has been used extensively as a communication platform for remote work.
Microsoft Teams core capabilities
At its core, Teams is a chat-based workspace that features group and private messaging, with threaded and persistent conversations. Within each team, users can create different channels to organize their communications by topic. Each channel can include a couple of users, or scale to thousands of users.
In this video, check out the core capabilities of the Microsoft Teams app.
Within a team-based messaging thread, users can schedule voice and video meetings -- a workflow that provides contextual communications. Users can also edit PowerPoint files within the Teams app. Like other messaging services, Teams messages can also incorporate emojis and GIFs.
The guest-access feature in Microsoft Teams allows users to invite people outside their organizations to join internal channels for messaging, meetings and file sharing. This capability helps to facilitate business-to-business project management.
With the Teams app, users can make voice over IP calls between Teams clients. With Microsoft's Office 365 Phone System, formerly known as Cloud PBX, and Calling Plan (formerly known as PSTN Calling) users can make, receive and transfer calls to and from landlines and mobile phones on the public switched telephone network (PSTN).
Microsoft is also introducing direct routing, which lets customers connect an existing PBX or Session Initiation Protocol trunk to Teams. Other Teams calling features include voicemail, E911 support, speed dial and several other capabilities. The final calling features, which include enterprise-grade capabilities, rolled into Teams at end of 2018.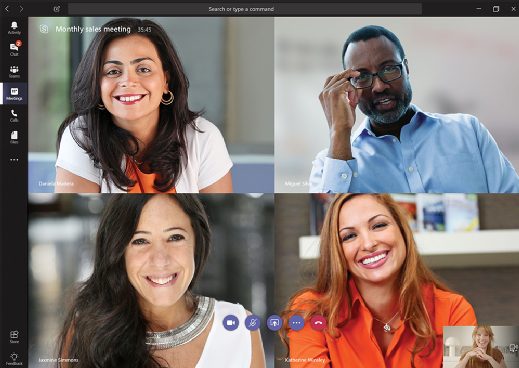 Microsoft Teams integrations
While Teams video calls are possible through desktops and laptops, Microsoft has expanded its partnerships with video conferencing hardware vendors for room-based video meetings. In a video meeting, users can share live video from their mobile phones and project it into the meeting. Microsoft is also expected to integrate Teams into its Surface Hub 2, a digital whiteboard and meeting room display slated for release in 2019.
In addition to hardware integrations, Microsoft has also increased its software integrations. In January 2018, Microsoft launched the Microsoft Teams app store, in which users can search for third-party apps and use them in Microsoft Teams to augment their workflows. Some of the apps in the store include Asana, Trello and Zendesk. Teams competitor Slack largely popularized this type of app integration.
The Microsoft Teams App Studio, launched in beta in January 2018, enables developers and businesses to build apps using the design language of Teams.
Microsoft Teams is available in several Office 365 plans, including business, education, enterprise and nonprofit packages. Initially, Teams had no free tier and did not offer stand-alone pricing. A free version of Teams, which limits the number of users and memory space, was announced in June of 2018 an released in July of 2018. Several competitors, including Slack and Atlassian Stride, offer freemium options. Microsoft Teams works on Android, iOS, Mac and Windows systems and devices. It also works in Chrome, Firefox, Internet Explorer 11 and Microsoft Edge web browsers. In early 2020, a push-to-talk walkie talkie feature was announced for Teams, for release in summer 2020.
This was last updated in
August 2020
Continue Reading About Microsoft Teams