Definition
E911 (Enhanced 911)
In the United States, E911 (Enhanced 911) is support for wireless phone users who dial 911, the standard number for requesting help in an emergency. Since wireless users are often mobile, some sort of enhancement is needed to 911 service that allows the location of the user to be known to the call receiver. E911 support is mandated by the U.S. Federal Communications Commission (FCC) for traditional mobile phone service and, since May 19, 2005, for certain VoIP service. Phase 1 of the E911 program required a service provider to provide the telephone number of a 911 caller and the location of the antenna receiving the call to a local Public Safety Answering Point (PSAP). Phase 2 requires the provider to furnish more precise information about the caller's location, usually to within 50 to 300 meters. Phase 2, which requires new technology, is to be completed by the end of 2005.
On May 19, 2005, the FCC also required that Internet service providers who interconnect VoIP calls with the public switched telephone network (PSTN) must provide E911 service for these callers and call dispatchers. Providers are required to inform users of the capabilities and any limitations of their 911 service. Providers were given 120 days to comply. Previously, as a general policy, the FCC had taken a "hands-off" position about regulating Internet traffic on the argument that the Internet is an information service rather than a communications service. Providers do not have to furnish E911 service for VoIP callers who do not interconnect with the PSTN such as those using instant messaging and Internet gaming.
Content Continues Below

Download this free guide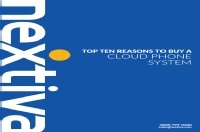 Top 10 Reasons to Buy a Cloud Phone System
As cloud computing strategies continue to evolve, Internet telephony is quickly becoming the preferred choice for business communication systems. If your organization is unsure about making the transition, here are the top 10 reasons why a cloud phone system could be the right move.
This was last updated in
March 2008
Continue Reading About E911 (Enhanced 911)