Evaluate
Weigh the pros and cons of technologies, products and projects you are considering.
UC products: A comprehensive buyer's guide
Buying UC products can be a challenge if you don't know which questions to ask. In this unified communications buyer's guide, Jon Arnold and Chris Partsenidis break down what you need to know before buying a UC service.
Introduction
Unified communications emerged from the limitations of legacy technology and the need to streamline collaboration and enhance productivity. The advent of voice over IP (VoIP) allowed telephony to be merged with other data streams, and gave rise to unified messaging. Following a natural progression, UC products have evolved to include messaging, desktop sharing, presentation capabilities and presence technology.
Despite rapid advancements in communication and collaboration, the value proposition for UC products can still be confusing for many organizations, even large businesses with well-established IT infrastructures. This buyer's guide describes the emergence of UC as an enterprise tool and explores the best use cases for its implementation. It also discusses critical purchasing criteria and provides a comparison of the leading UC products.
1

What is it?

-
How unified communications emerged for the enterprise
UC products emerged from a need to expand on the capabilities of traditional VoIP. Expert Jon Arnold discusses this evolution and the reasons why businesses deploy UC services.
Feature
Telephony expert Jon Arnold explores the emergence of unified communications and the evolution of UC technology as a response to changing business needs. Continue Reading
2

Do you need it?

-
The business benefits of adopting UC products
UC can offer several benefits over traditional or IP telephony, including worker productivity and company agility. These four use cases highlight those benefits, both for short- and long-term success.
Feature
Telephony expert Jon Arnold examines the benefits of UC as businesses look to improve individual productivity, team collaboration and overall organizational agility. Continue Reading

Download this free guide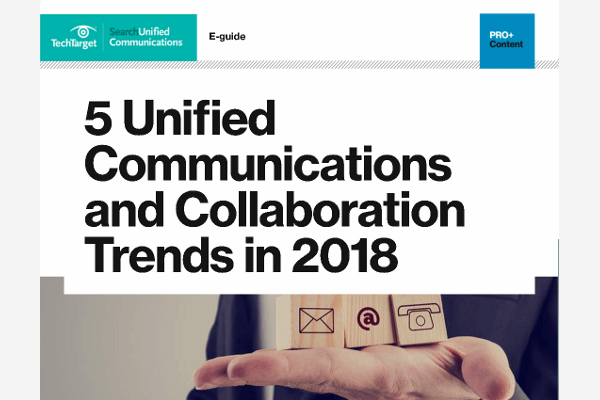 Instant Download: Top 5 UC & Collaboration Trends
What does the future of UCC have in store for enterprises? In this e-guide, Jon Arnold from J Arnold & Associates looks back at the history of UCC Technologies. Then, Nemertes Research VP and Service Director Irwin Lazar reveals 5 must-know UCC trends.
By submitting your personal information, you agree that TechTarget and its partners may contact you regarding relevant content, products and special offers.
You also agree that your personal information may be transferred and processed in the United States, and that you have read and agree to the Terms of Use and the Privacy Policy.
3

How to buy

-
Criteria to consider when choosing a UC service
Knowing the important questions to ask before buying any UC products for your enterprise is crucial. Here you will learn the criteria to consider before making any purchasing decisions.
Feature
After exploring possible use cases for unified communications systems, examine the value proposition, deployment models and vendor-partner relationship. Continue Reading
4

What to buy

-
Finding the service that fits your company
Compare the leading UC products and vendors on the market before you make your purchase in order to ensure your choice is best-suited to your organization.
Feature
Network expert Chris Partsenidis compares the leading unified communications vendors based on key purchasing criteria, such as end-to-end services and organization size. Continue Reading
5

Top product overviews

-
A look at the top UC products
Read our in-depth analyses of the top UC products on the market today. Each service offers a variety of features. Discover which service suits your organization.