Q
Evaluate
Weigh the pros and cons of technologies, products and projects you are considering.
H.323 vs. SIP: What's the difference?
In this comparison, discover the similarities and differences of H.323 vs. SIP standards, and learn why SIP has become the de facto standard for voice and video communications.
What is the difference between H.323 and SIP?
Continue Reading This Article
Enjoy this article as well as all of our content, including E-Guides, news, tips and more.
The H.323 protocol and Session Initiation Protocol, or SIP, both support voice over IP and multimedia communications, but the standards were developed by different standards-setting bodies and have developed in different ways. As a result, both target multimedia transmitted over IP networks, but have different capabilities, which can be a strength or a weakness, depending on network operator or enterprise needs.
While both protocols were developed starting in 1996, SIP has become the VoIP and multimedia standard of choice over time and is being used by large hardware and software vendors, including Microsoft and Cisco. While few manufacturers are working on new H.323 implementations, it is still in use in many legacy systems, and some standards work continues.
H.323 protocol overview
H.323 is a binary-based standard developed by the International Telecommunication Union to support rich-media communications over IP networks that was initially focused on video conferencing, but now includes audio and video conferencing. H.323 is a well-defined and well-structured protocol, with specific definitions for establishing sessions, which can be loosely compared to calls, services and session components. Because of its rigid services definition that comes out of the telecom-based standards body, all H.323 implementations are generally interoperable.
While H.323's rigid definition is an advantage in terms of interoperability, that rigidity can be its greatest challenge, because vendors are limited in their ability to layer additional features or services not supported by the protocol.
SIP overview
SIP was developed by the Internet Engineering Task Force. It was designed to set up a session between two points and to be a flexible component of the internet architecture. Unlike H.323, SIP's initial focus was voice communications, rather than video, but it was expanded to include video, application sharing, presence, instant messaging and other common communications applications.
SIP is an ASCII text-based standard leveraging much of the existing design of HTTP. SIP's text format, however, can result in large messages that aren't as suitable for networks that may have bandwidth, delay and processing issues. SIP is highly extensible, which allows developers to expand or add to its capabilities, and it supports rich-media communications, as well as data transfer. SIP uses the Session Description Protocol (SDP) to define the characteristics of a session, which enables the use of encryption, transport protocol, the selection of voice and video codecs, and compression.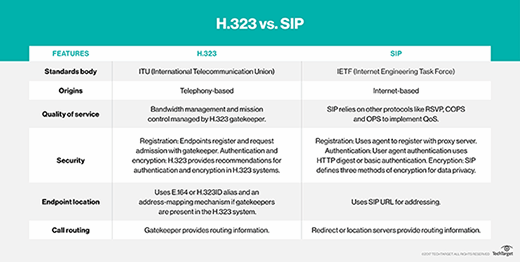 H.323 and SIP comparison
Unlike H.323, SIP leaves the specifics of feature implementations to developers, which gives them a great deal of flexibility when designing or using the protocol. SIP is also a simpler protocol than H.323, and it requires fewer messages to establish a session. H.323 requires a relatively large number of message exchanges to establish and manage sessions, but it is also highly reliable. Because of SIP's flexibility and extensibility, it quickly gained momentum among early vendors of IP telephony systems -- particularly those offering platforms for hosted telephony services.
Still, SIP has its challenges. SIP messages incorporate the IP addresses of the sender and receiver of a session request into the SIP header, creating difficulties in establishing sessions across network address translation boundaries. Its lack of tightly defined service implementations -- unlike H.323 -- means not all instances of SIP are interoperable and supporting SIP across firewalls is problematic.
The SIP Forum has led efforts to define interoperable implementations of SIP features, which are called primitives. The forum released version 2.0 of the SIPconnect specification in January 2017 to make sure it kept up with new requirements and trends, and to enable the interoperability between SIP-enabled IP-PBXs, session border controllers and SIP-enabled service providers.
Because of its flexibility and the near-ubiquity of IP networks, SIP has become the de facto standard for existing and emerging voice and video communications. SIP components like SDP are used within WebRTC to define session characteristics, for example.
SIP was originally designed for direct end-to-end communications, but the protocol has since been adapted to support multiparty conferencing, call recording and routing voice traffic. SIP supports highly reliable, secure and resilient communications across any network and with any network device.
SIP-based cloud services for voice conferencing, telephony, PSTN access and video conferencing are widely available. SIP will continue as the dominant protocol for multimedia session establishment and maintenance for the foreseeable future.
Dig Deeper on SIP and Unified Communications Standards
Is your call quality suffering? Network bandwidth may be growing, but demands on it are, too. Here's what you need to know to use QoS to help solve ... Continue Reading
Issues with VoIP calls can bring business to a halt, or at least cause headaches and undermine productivity. Learn how to troubleshoot VoIP issues ... Continue Reading
VoIP configuration requires significant preplanning to meet the requirements of voice traffic. Learn the steps to take when configuring VoIP on your ... Continue Reading
Have a question for an expert?
Please add a title for your question
Get answers from a TechTarget expert on whatever's puzzling you.