Evaluate
Weigh the pros and cons of technologies, products and projects you are considering.
Implementing a mobile unified communications (UC) solution
Mobile unified communications (UC) can provide many major benefits to an organization. In this tip, you will learn about the major strategies available to implement a mobile UC solution and fixed mobile convergence (FMC).
In the first part of this series, we defined unified communications (UC) and identified the major benefits an organization...
Continue Reading This Article
Enjoy this article as well as all of our content, including E-Guides, news, tips and more.
By submitting your personal information, you agree that TechTarget and its partners may contact you regarding relevant content, products and special offers.
You also agree that your personal information may be transferred and processed in the United States, and that you have read and agree to the Terms of Use and the Privacy Policy.
could reap through its implementation. This second part addresses the major strategies that are available to implement a mobile UC solution and its simpler cousin, fixed mobile convergence (FMC).
The increased availability and reliability of wireless networks has made it possible to mobilize UC. However, there are two types of wireless networks on which those networks will depend: wireless LANs and cellular services. Wireless LAN limits the range of the coverage, but once the network is installed, usage is essentially free. Cellular services can extend to mobile users nationwide, and potentially worldwide, but that ubiquitous access entails service charges. To get the best of both, enterprises are pursuing fixed mobile convergence solutions that provide the ability to integrate public cellular with private wired and wireless networks.
Two paths to fixed mobile convergence -- cFMC and eFMC
Fixed mobile convergence describes the ability to integrate public cellular with private voice networks, both wired and wireless, and pass calls between them. Various FMC solutions are available to enterprise users, and they can be differentiated on three primary metrics:
Control point: Carrier-controlled (cFMC) or enterprise-controlled (eFMC).
Handoff capability: None, manual handoff, or automatic handoff.
Functionality: Basic voice calls, voice/data service, mobile UC.
Carrier-controlled FMC -- cFMC
The most functional cFMC solution would be one where the cellular service is fully integrated and the carrier passes calls to/from the customer's private network, just as it would to another cell site. Unfortunately, the carriers have been reluctant to offer that level of integration.
Currently, cFMC services can be built using a technology called Unlicensed Mobile Access (UMA) or an alternative technology using femtocells. UMA is the technology used in T-Mobile's HotSpot@Home service, and it relies on dual-mode Wi-Fi cellular handsets with special software. When the user is within range, the handsets connect to the cellular carrier over their home WLAN and broadband Internet connection. When the user moves out of WLAN range, the call can be handed off to the cellular service in real time.
Sprint-Nextel has recently introduced a similar cFMC solution called Airave™ that uses femtocells. In this arrangement, the customer connects a small cellular base station to the broadband Internet service in his home. As shown in Figure 1, both options depend on VoIP delivered over the user's broadband Internet service as the alternative to cellular, and the difference is whether the local wireless connection uses Wi-Fi or cellular technology. For enterprise users, the major shortcoming in both of these implementations is that they are consumer-oriented voice-only services with no capability to interface to an enterprise PBX or mobile UC system.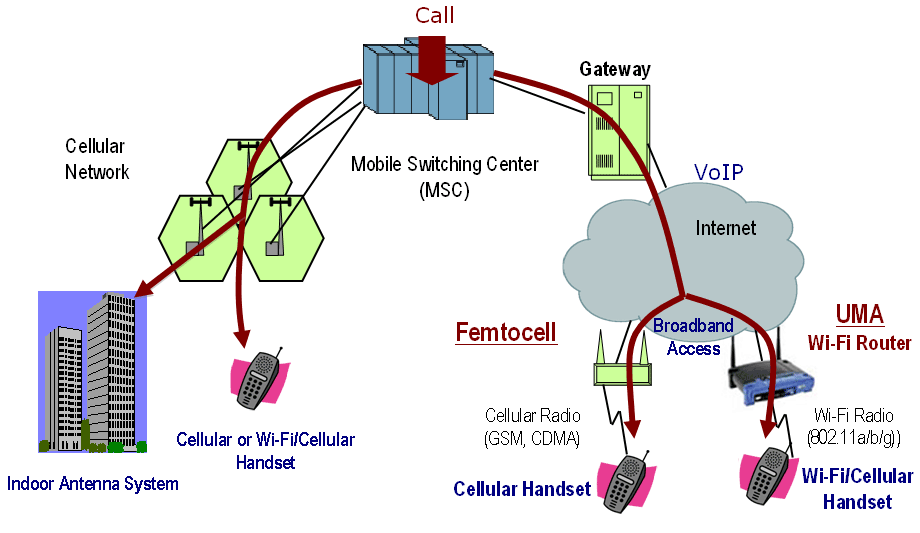 In the longer term, the carriers may choose to offer FMC-type services using a more all-encompassing architecture called the IP Multimedia Subsystem (IMS). No U.S. carrier has yet announced IMS-based cFMC services, however.
Enterprise-controlled -- eFMC -- options
The lack of carrier options for FMC leaves enterprise users to choose among eFMC options. The most basic eFMC solution is simultaneous ring, where the customer's telephone system or PBX is programmed to dial the user's cell phone number any time a call is placed to the desk set. The call rings on both devices, and when the user answers one, the ringing is stopped on the other. Some solutions provide the ability to manually transfer the call from the desk set to the cellular and vice versa. While not very elegant, simultaneous ring provides mobile accessibility and single-number availability, while allowing the organization to maintain control of the telephone number.
One key feature of the simultaneous ring solution is that it can support any cell phone and will operate over any cellular service; it does not require dual-mode Wi-Fi/cellular handsets. There are two problems with this solution, however. First, passing incoming and (in many cases) outgoing calls through the PBX is likely to increase cellular usage. Further, there is no way of ensuring that the user will answer the call on his wired phone when at his desk, so "lazy" users can lead to unnecessary cellular usage.
The more widely recognized eFMC implementation is mobile-to-mobile convergence, where users are equipped with dual-mode Wi-Fi/cellular handsets and the ability to transfer calls between the networks. A mobility controller on the PBX monitors whether users are reachable over the wireless LAN. If the user is in the office, the call is delivered over the WLAN. If the user is out, the call is routed to his cellular number. State-of-the-art solutions can hand off an active call from one network to the other without interruption in the connection.
Besides the added convenience of the automatic solution, there is also a management benefit. The network will know whether the user is available over the WLAN, so incoming and outgoing calls will always be routed over the more cost-effective alternative if it is available.
Moving from FMC to mobile UC
The initial FMC solutions focused solely on handing off voice calls, but leading-edge suppliers are now extending the whole UC experience to the FMC-enabled mobile user. With a mobile UC capability, rather than simply extending a voice call, the network can provide a presence-enabled directory feature allowing the user to view all of his contacts on the mobile device along with their availability status. From there, users will be able to send a text message or an email, establish a voice call, or set up a conference with almost the same ease as when using their desk phones.
Mobile UC operates on smartphones with special software and can be provided with or without WLAN/cellular handoffs. As shown in Figure 2, the configuration uses two connections between the network and the user's device: a cellular voice service and a 2.5G/3G cellular data connection. The data service provides the path to deliver the directory, visual voicemail and other mobile UC features, while the cellular voice connection supports the basic voice call. There are also versions that send DTMF commands over the cellular voice connection to emulate features like 4-digit extension dialing, but those cannot deliver features like directory access, visual voicemail or the rest of the mobile UC feature set.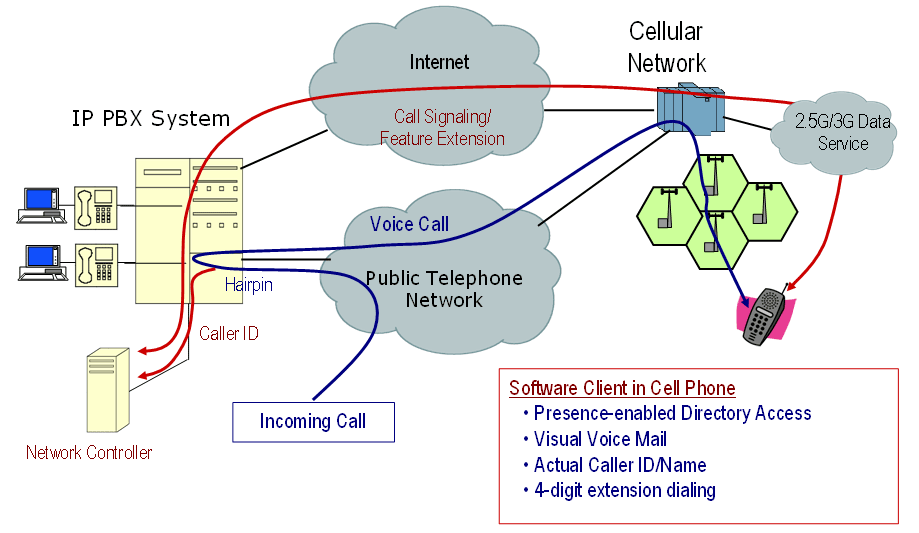 Conclusion
For enterprise users, it is important to note that providing a mobile service involves more than handing off calls between networks. That mobile device will be storing and accessing sensitive corporate information. Further, that information will be forwarded over a variety of wireless networks with different levels of security. An enterprise-grade solution must have tools to provision and manage a large number of devices, ensure the security of the information, and have procedures to address software updates, security threats, lost devices, and all of the other situations that are encountered in a mobile environment.
The key to selecting the most appropriate solution will be to understand the users' requirements, how they do their jobs, and how they can make use of these new capabilities. As confusion abounds, a well-managed pilot test will be essential to ensure that the solution is functional and manageable and meets the users' performance objectives before you advance to a large-scale rollout. The good news is that we can deliver a functional mobile UC capability today.
In the next section, we will review the products that implement FMC and mobile UC.
About the author:
Michael Finneran is an independent consultant and industry analyst who specializes in wireless technologies, mobile unified communications, and fixed-mobile convergence. With more than 30 years in the networking field and a broad range of experience, Finneran is a widely recognized expert in the field. He has recently published his first book, entitled Voice Over Wireless LANs -- The Complete Guide (Elsevier, 2008). His expertise spans the full range of wireless technologies, including Wi-Fi, 3G/4G Cellular, WiMAX and RFID.
Dig Deeper on Mobile Unified Communications
PRO+
Content
Find more PRO+ content and other member only offers, here.
Buyer's Handbook

Buyer's Handbook