sommai - Fotolia
Will WebRTC video blow up the network?
Initiating a video conference should be as easy as making a phone call, and WebRTC video is getting us closer to that. But could the network become a victim of WebRTC's success?
Looking for something else?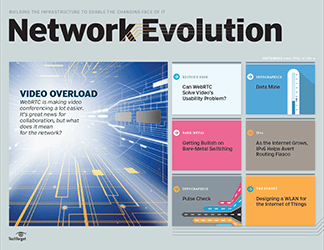 Download
Video calls are no longer just a popular choice for connecting with out-of-town relatives and friends. Applications like Skype and FaceTime have shown users how easy -- and enjoyable -- launching a video call can be, and businesses want the same option for their employees when a simple voice call or audio-only conference just won't cut it. Not only can traditional video conferencing be expensive and clunky, but it can also eat up precious meeting minutes with the time it takes to log in and launch a session.
This is where Web real-time communications (WebRTC) steps in. The emerging open source initiative enables Web browsers to turn into real-time audio and video clients through JavaScript APIs that don't require the use of any extra plug-ins, and these capabilities can be embedded into any website or application. Ultimately, WebRTC promises to deliver easy video calling to anyone with a webcam and browser -- though currently just for Chrome, FireFox and Opera users -- and the only technical know-how necessary to join a session is the ability to click on a link.
But while WebRTC makes video conferencing a lot easier to use and more appealing to businesses, could there be a dark side to making video so effortless and free flowing? Copious amounts of video traffic could strain unprepared enterprise networks, and WebRTC has a different set of bandwidth requirements compared to conventional video conferencing systems. Early adopters of WebRTC-based video say, however, that they have yet to see any doomsday scenarios on the network and that the ease-of-use benefits in WebRTC can't be beat.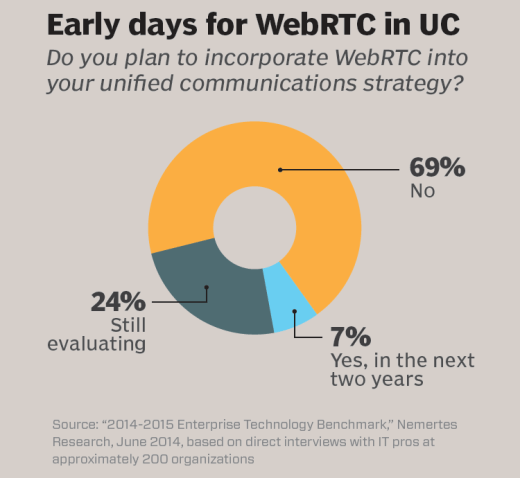 For Charles River Laboratories, a clinical laboratory services provider for the pharmaceutical, medical device and biotechnology industries, video is no longer a luxury -- it's a necessity, says Ray Beaulieu, senior director of network operations and infrastructure at the company. Charles River Laboratories, based in Wilmington, Mass., deployed video technology provider Acano's coSpaces virtual meeting room product to connect its 22 existing room-based systems to desktop video for its employees. WebRTC support ended up being a bonus feature, Beaulieu says. But because the standard has made video easier, the company has already expanded its use of video conferencing to meetings with clients, without any assistance from IT. Approximately 300 employees -- ranging from executives and scientists, to IT and HR -- currently use video conferencing.
"Most of our employees that have used video in meetings don't want to use audio calls anymore -- they really enjoy that face-to-face interaction," Beaulieu says. "And any way we can get it, even if it's not 100% in quality, we'll tolerate it to get that experience."
While some businesses are already video conferencing enthusiasts, others are just starting to get their feet wet with free video services to see how visual communications could work within their companies and how readily users will adopt it.
WebRTC differs in network requirements
Traditional video conferencing platforms used to require a lot of bandwidth to prevent jitter and packet loss. This consideration often made video an expensive endeavor for many businesses, especially small and medium-sized companies. But conventional video conferencing products have gotten better in recent years, and many vendors and providers are now offering video with an eye toward conserving network resources.
Like its predecessors, WebRTC-based video requires more bandwidth than IP telephony or real-time collaboration. But this type of video requires Internet bandwidth, as opposed to LAN or private WAN bandwidth, says Andrew Davis, senior partner and industry analyst at Boston-based Wainhouse Research. A reliable Internet connection is a must for WebRTC, and organizations must also ensure they have enough bandwidth to support the number of video calls expected to run over the network, he says.
While Internet bandwidth can sometimes be expensive, Davis says, WebRTC still doesn't require as many network resources as traditional video offerings. Educational Service Unit 10 (ESU 10) -- an agency that provides educational services to more than 40 K-12 school districts in the Lincoln, Neb., area -- has been beta testing LifeSize Cloud, a new WebRTC and cloud-based video service from video conferencing vendor LifeSize. ESU 10 has used video conferencing for trainings and meetings between teachers since the early 1990s, but because WebRTC relies on the Internet as the transport medium, its IT team can now roll out video to more schools, says John Stritt, distance learning director for ESU 10.
"We are very fortunate that we have good connectivity to the Internet in all our school districts. Because of that, it's not going to be a problem for us [to support] any of these types of services from a bandwidth perspective," Stritt says. The schools each have at least a 100 Mbps connection to Network Nebraska, a statewide network service from the Nebraska Information Technology Commission that provides a 2 Gbps, five-segment backbone that is burstable to 5 Gbps.
ESU 10 is planning to use the LifeSize Cloud service for distance learning and course sharing between schools that might not have a teacher on site for a particular subject or class.
"We're trying to get away from all the obstacles with [video] hardware, and we've had instances where an individual is in their car and has been able to participate in a meeting and get both live video and audio as long as they're Wi-Fi connected," Stritt says. "The flexibility for where you can connect and how you connect using whatever device you have is an extremely positive thing for all parties involved."
In addition to its efficient use of bandwidth, WebRTC-based video also doesn't require as much processing power as conventional desktop video, says Charles River Laboratories' Beaulieu. The call quality for WebRTC is lower grade than high-definition video, with the latter providing 1080p or 720p resolution. WebRTC-based video offers 480p. With conventional desktop video conferencing, launching or joining a session on an older endpoint meant that users ran the risk of encountering choppy video quality because their machines couldn't keep up.
"With WebRTC, that's obviously less of an issue because it's not consuming as much [processing power]," Beaulieu says.
WebRTC is also tolerant of changing network conditions, Beaulieu says. "Calls don't often drop. It might stutter once in a while, based on the network conditions, but the call stays up. If conditions really degrade, the technology throws the video frames away and uses audio to do the best it can," he says.
As WebRTC makes it easier for users to join video conferencing sessions via mobile device browsers, the wireless LAN -- which rarely played a role with traditional enterprise video conferencing -- must now also be considered.
"I think the only thing we are really going to have to focus on is our Wi-Fi network, because we never really intended that network to be a high-priority network for a real-time platform," Beaulieu says. "But that's definitely something we're looking at for next year."
Early adopters find WebRTC expands video use
WebRTC isn't a ratified standard yet. The initiative's API is still under development, and WebRTC won't be standardized by the World Wide Web Consortium (W3C) and the IETF until the final version of API is accepted. But this isn't stopping some IT pros from adopting WebRTC-based video offerings and products.
JurisLink, a company in Raleigh, N.C., that provides secure video conferencing services to defense attorneys connecting with clients in prison and detention facilities, built its core offering around Microsoft Lync. But now it's in the process of rolling out a new WebRTC-based conferencing application. The new service, based on technology from WebRTC startup CaféX Communications, is not only easier for both lawyers and inmates to use, but the new application also will be able to scale to meet the needs of JurisLink's customers, says JurisLink CEO Slade Culli Trabucco. While the legacy Lync client limits a video call to two people, the WebRTC-based client will enable up to four video participants to conference securely.
Although we're still testing, I don't see any limitations or any differences in the quality, in terms of WebRTC-based video versus WebEx, Lync or any other product.

Slade Culli TrabuccoCEO, JurisLink
JurisLink sets up the Internet connections to the prisons and correctional facilities. Even at some of the more remote locations it serves, such as a facility in Pamlico County in North Carolina that uses a DSL connection, there have been no performance issues so far during testing, Trabucco says. The technology is also compatible with legacy video equipment that JurisLink provides to its customers, he says.
"Although we're still testing, I don't see any limitations or any differences in the quality, in terms of WebRTC-based video versus WebEx, Lync or any other product," he says.
Perhaps most importantly, the WebRTC-based application is simple to use. Unlike with the Lync-based services, users don't have to set up the camera or the microphone, Trabucco says.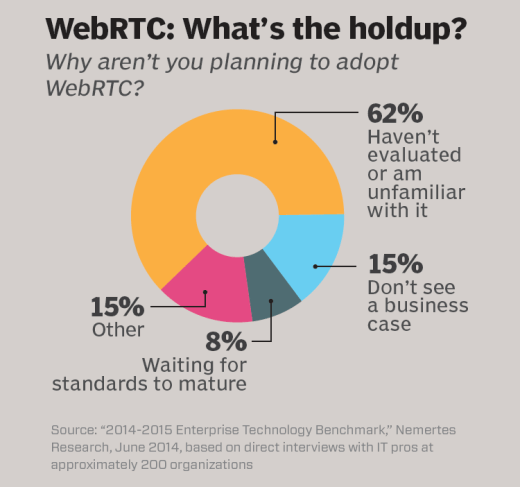 "The prison just sends the inmate into the room with the video kiosk at their appointed time, and the meeting occurs," he says. "It auto-initiates on the prison's end, and then the attorney just pops in and they have their meeting. [Inmates] just have to pick up the handset, which allows them to talk privately, and they can have a secure conversation with their attorney."
Charles River Laboratories has also found WebRTC-based video to be simpler for users. The company recently acquired an agency on the Galápagos Islands, and before the two entities integrated their IT infrastructure and video systems, users were able to conduct their first meeting easily with the WebRTC-based virtual meeting rooms.
"Blending the cultures is a lot easier over video. There's much more joking, [and] misunderstandings are harder to have when you can see somebody's reactions," Beaulieu says. "Because we've got that mixed model, we give folks choices. So the next phase for us is really going to be what we can do with our clients to make interactions with our scientists better."
Dig deeper on Business Video Conferencing and Telepresence Technology
Gina Narcisi asks:

How are you planning to use WebRTC-based video?