presence leveraging
Presence leveraging refers to any technology that supports and expands presence, the ability of a network subscriber to locate and identify any other user's computing device as soon as the other user connects to the network... (Continued)
Presence leveraging refers to any technology that supports and expands presence, the ability of a network subscriber to locate and identify any other user's computing device as soon as the other user connects to the network. Presence technology can be difficult to coordinate among servers and individual end users with divergent operating systems in large networks.
How UC Mobility Changes Your Enterprise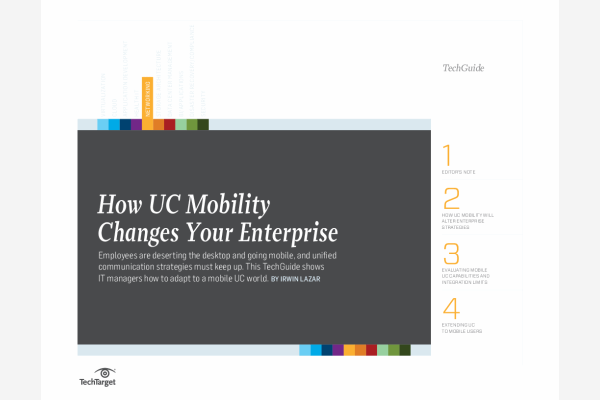 Employees have ditched the desktop and set their sights on mobile alternatives. But what does that mean for your Unified Communications (UC) strategy? Find out in this expert resource.
By submitting your personal information, you agree to receive emails regarding relevant products and special offers from TechTarget and its partners. You also agree that your personal information may be transferred and processed in the United States, and that you have read and agree to the Terms of Use and the Privacy Policy.

Presence leveraging is an integral feature of SIP for Instant Messaging and Presence Leveraging Extensions (SIMPLE), an add-on to the Session Initiation Protocol (SIP). Presence leveraging is also a feature of Extensible Messaging and Presence Protocol (XMPP), which is based on the Extensible Markup Language (XML). Both SIMPLE and XMPP are commonly used to support real-time communications (RTC) in instant messaging (IM) applications.
The ultimate objective of presence leveraging is to facilitate immediate, real-time, two-way communication among all users of the Internet who do not object to being located or identified, regardless of operating platform. Of course, certain users may not want to be located or identified at all times. It is to be expected, therefore, that presence-blocking software will evolve along a parallel track with presence leveraging technology.
Continue Reading About presence leveraging
PRO+
Content
Find more PRO+ content and other member only offers, here.