centrex (central office exchange service) definition
Centrex (central office exchange service) is a service from local telephone companies in the United States in which up-to-date phone facilities at the phone company's central (local) office are offered to business users so that they don't need to purchase their own facilities. The Centrex service effectively partitions part of its own centralized capabilities among its business customers. The customer is spared the expense of having to keep up with fast-moving technology changes (for example, having to continually update their private branch exchange infrastructure) and the phone company has a new set of services to sell.
How UC Mobility Changes Your Enterprise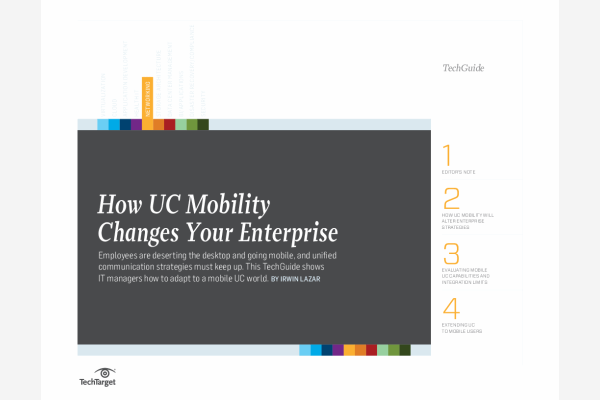 Employees have ditched the desktop and set their sights on mobile alternatives. But what does that mean for your Unified Communications (UC) strategy? Find out in this expert resource.
By submitting your email address, you agree to receive emails regarding relevant topic offers from TechTarget and its partners. You can withdraw your consent at any time. Contact TechTarget at 275 Grove Street, Newton, MA.
You also agree that your personal information may be transferred and processed in the United States, and that you have read and agree to the Terms of Use and the Privacy Policy.

In many cases, Centrex has now replaced the private branch exchange. Effectively, the central office has become a huge branch exchange for all of its local customers. In most cases, Centrex (which is sold by different names in different localities) provides customers with as much if not more control over the services they have than PBX did. In some cases, the phone company places Centrex equipment on the customer premises.
Typical Centrex service includes direct inward dialing (DID), sharing of the same system among multiple company locations, and self-managed line allocation and cost-accounting monitoring.
PRO+
Content
Find more PRO+ content and other member only offers, here.