ZRTP (Zimmermann Real-Time Transport Protocol) definition
ZRTP is a voice over IP (VoIP) encryption extension for the Real-Time Transport Protocol (RTP). The "Z" in "ZRTP" is the first letter of the surname of Phil Zimmermann, an engineer best known for inventing Pretty Good Privacy (PGP). ZRTP is a part of a software developer's kit (SDK) for an encryption program Zimmerman created called Zfone. It allows the user to encrypt any Session Initiation Protocol (SIP) VoIP voice stream, as long as the other person on the call is also using Zfone.
How UC Mobility Changes Your Enterprise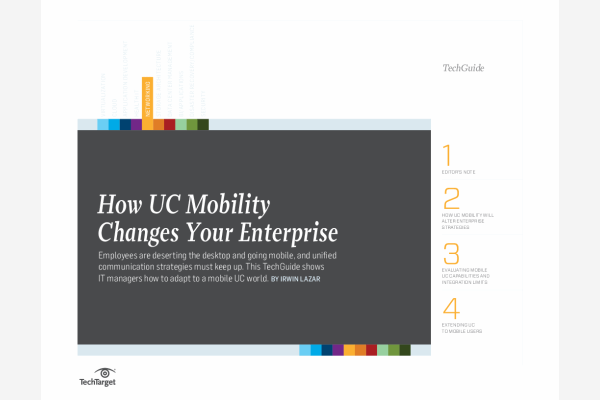 Employees have ditched the desktop and set their sights on mobile alternatives. But what does that mean for your Unified Communications (UC) strategy? Find out in this expert resource.
By submitting your email address, you agree to receive emails regarding relevant topic offers from TechTarget and its partners. You can withdraw your consent at any time. Contact TechTarget at 275 Grove Street, Newton, MA.
You also agree that your personal information may be transferred and processed in the United States, and that you have read and agree to the Terms of Use and the Privacy Policy.

Continue Reading About ZRTP (Zimmermann Real-Time Transport Protocol)
PRO+
Content
Find more PRO+ content and other member only offers, here.