Skype protocol definition
Skype protocol is a peer-to-peer Internet telephonyprotocol used to move encrypted voice over IP (VoIP) traffic between Skype members' computers (peers).
How UC Mobility Changes Your Enterprise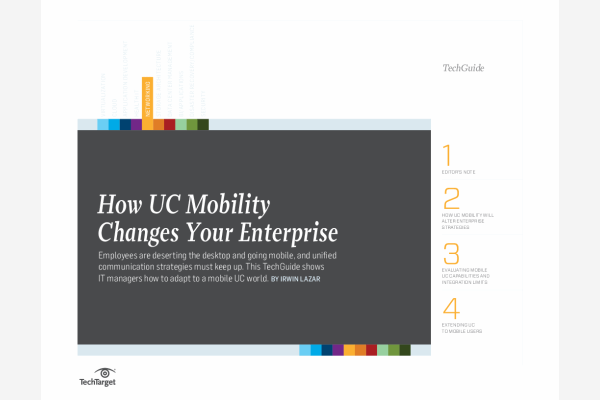 Employees have ditched the desktop and set their sights on mobile alternatives. But what does that mean for your Unified Communications (UC) strategy? Find out in this expert resource.
By submitting your email address, you agree to receive emails regarding relevant topic offers from TechTarget and its partners. You can withdraw your consent at any time. Contact TechTarget at 275 Grove Street, Newton, MA.
You also agree that your personal information may be transferred and processed in the United States, and that you have read and agree to the Terms of Use and the Privacy Policy.

Skype uses RC4 encryption for signaling and AES for voice data. The protocol is proprietary, created specifically for Skype sessions, and does not work with most standard VoIP networks without licensing from Skype.
Skype requires that Ports 80 and 443 be open for outgoing Transmission Control Protocol (TCP) transmissions and recommends that all destination ports above 1024 also remain open. In addition, Ports 5060 and 8000 should remain open for incoming and outgoing UDP transmissions. Skype prefers UDP for voice transmissions.
Because the Skype protocol is closed source, the vendor does not reveal how it works.
PRO+
Content
Find more PRO+ content and other member only offers, here.