Definition
Skype for Business
Skype for Business, formerly known as Microsoft Lync Server, is a unified communications (UC) platform that integrates common channels of business communication and online meetings, including instant messaging (IM), presence, voice over IP (VoIP), video conferencing, file transfer, web conferencing, voicemail and email.

Download this free guide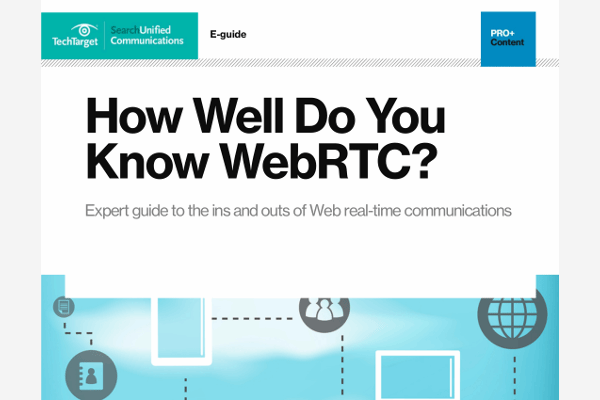 How Well Do You Know WebRTC? Find Out Now
WebRTC continued its gradual change in 2016 – but where is it going from here? Find out in this expert guide, and even test what you know in a 10-question WebRTC architecture quiz.
By submitting your personal information, you agree that TechTarget and its partners may contact you regarding relevant content, products and special offers.
You also agree that your personal information may be transferred and processed in the United States, and that you have read and agree to the Terms of Use and the Privacy Policy.
How does Skype for Business work?
Skype for Business can be used for communications within an organization and externally, including with individuals who do not use Skype for Business.
Skype for Business can be licensed as a stand-alone product or as part of the Office 365 application suite. It is available as an on-premises server, known as Skype for Business Server, or a cloud-based service, known as Skype for Business Online.
Skype for Business Server can be deployed on premises or in a hybrid model with cloud connections. The hybrid aspect can reflect where users are hosted between the server and cloud, or it can refer to deploying the Skype for Business Server with an online service, like Exchange Online.
The server is available for various deployment sizes, ranging from 4,000 to 100,000 users. In larger deployments, multiple servers are recommended for load balancing and high availability.
The Skype for Business client can also be configured in a Lync Server 2013 environment.
Skype for Business Online is hosted on multi-tenant servers in Microsoft data centers. For the stand-alone service, Microsoft sells licenses via two plans priced per user on a monthly basis. Uptime guarantees are included in the Office 365 service-level agreement.
Although they share similar names and user interfaces, Skype for Business and its consumer counterpart, Skype, are different products. The latter is free to use, but is limited in functionality and does not offer enterprise support.
Skype for Business features
Notable Skype for Business features include:
Functionality across Windows, Apple and Android devices;
Communication control across Windows 8 devices and architectures;
Integration into all Microsoft Office applications;
File sharing, whiteboarding and screen and app sharing within a communications session;
Multiparty high-definition (HD) video and content sharing for real-time collaboration;
The use of open standards, including the H.264 video codec;
Presenter controls optimized for meeting format, audience size and content sources;
Access to HD video, VoIP and IM within a browser;
Recording and archiving of IM, conferencing sessions and sign-in logs;
Custom and automated presence based on Outlook Calendar or Out of Office status;
Mobile push notifications, screen reader and external keyboard support;
Auto attendant system answers and routes inbound calls; and
Call queues send incoming calls to a customer support agent in the order they are received.
The availability of specific features depends on the type of deployment, such as desktop versus mobile and server versus cloud.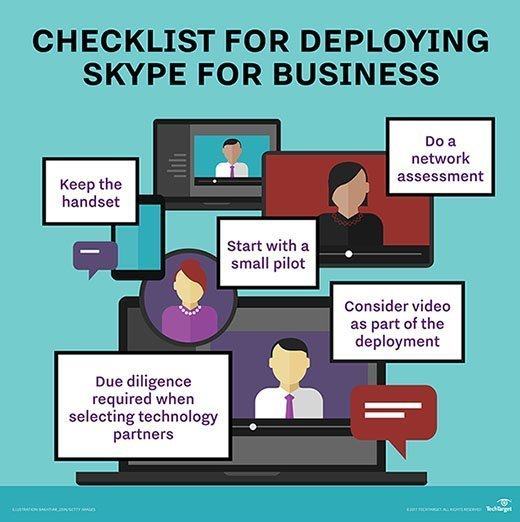 Features that are exclusive to Skype for Business Server include Enhanced 911 (E911) and persistent chat, a topic-based discussion session that remains intact after active users leave.
Skype for Business offers interoperability with Polycom video conferencing through Polycom RealConnect. The service allows Skype for Business users to conduct sessions with users on Polycom and Cisco video conferencing endpoints. Microsoft has also partnered with video conferencing hardware vendors Logitech and Crestron.
Add-on licensing options offer other features for additional cost:
Dial-in conferencing lets users call into a Skype for Business meeting from a traditional phone.
Cloud private branch exchange (PBX) features hosted voice services in Office 365.
Public switched telephone network (PSTN) calling telephone service includes calls to non-Skype for Business users.
Skype Room Systems v2 brings video, audio and content sharing to conference rooms.
Skype for Business history
Microsoft acquired Skype in 2011 for $8.5 billion. Microsoft Lync was rebranded as Skype for Business in 2015. Changes included a new client interface, a new server release and updates to the UC service in Office 365.
Prior to the acquisition, Skype tried to make inroads in the enterprise market with a Skype business version, previously called Skype for Business, as well. That service included multipoint video conferencing, a channel program and a partnership with Avaya. The business unit was then known as Skype Enterprise.
See a quick introduction to Microsoft Skype for Business:
Continue Reading About Skype for Business
PRO+
Content
Find more PRO+ content and other member only offers, here.